Trump lashes out over criticism from Senate leader Mitch McConnell
'Senator Mitch McConnell said I had 'excessive expectations,' but I don't think so,' the President tweeted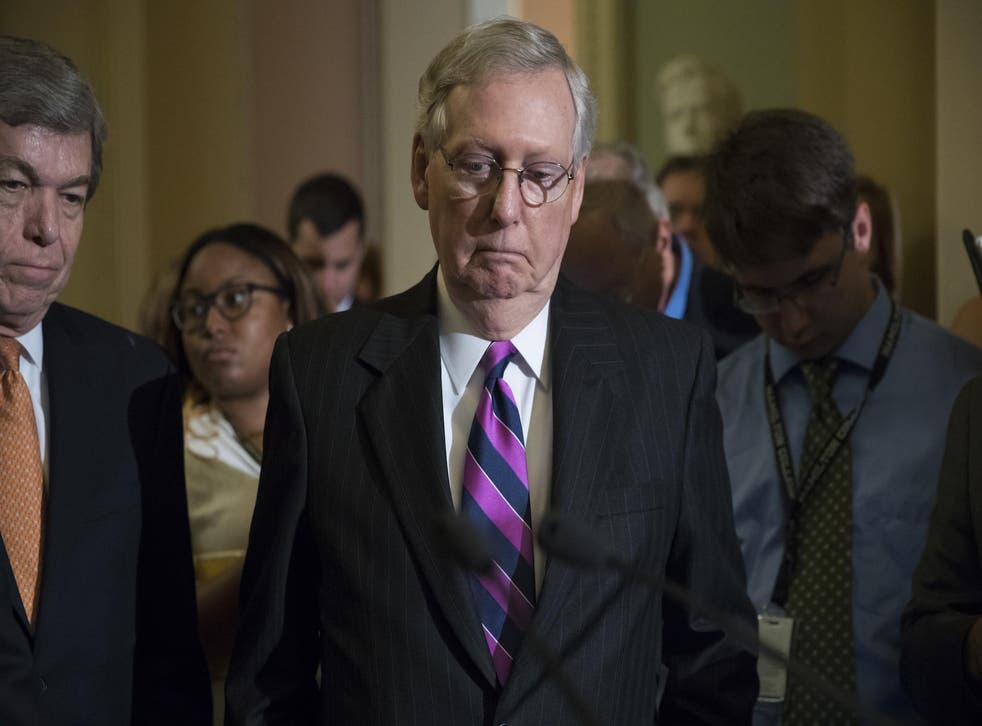 Donald Trump has pushed back against Senate Majority Leader Mitch McConnell's contention that the President had "excessive expectations" about the speed of the democratic process, further displaying the strained relationship between the White House and Congress over the failure of Republican efforts to dismantle Obamacare.
"Senator Mitch McConnell said I had 'excessive expectations,' but I don't think so," Mr Trump tweeted. "After 7 years of hearing Repeal & Replace, why not done?"
Mr Trump and Congress failed to secure a major legislative victory during the President's first 200 days in office. The Senate's Republican leaders also suffered a heavy loss less than two weeks ago when they were unable to garner enough support for legislation that would have rolled back portions of the Affordable Care Act, otherwise known as Obamacare.
After his last defeat on healthcare, Mr McConnell said the Senate would move on to other matters. But Mr Trump has continued to tweet about the issue, and wrote that "unless the Republican Senators are total quitters, Repeal & Replace is not dead!"
During a Rotary Club gathering in Kentucky on Tuesday, Mr McConnell expressed his frustration with what he sees as Mr Trump's tendency to make statements that do not match the realities of the legislative process.
"So part of the reason I think people feel we're underperforming is because too many artificial deadlines — unrelated to the reality of the complexity of legislating — may not have been fully understood," he said.
For example, as the House of Representatives was in the midst of negotiations about its Obamacare replacement bill in February, the President declared that Congress was in the "final stages" of its bill and said it would be ready for "submitting in March". While the House unveiled its bill in March, the lower chamber didn't pass the legislation until May. The Senate didn't even begin voting on a healthcare bill until July.
Donald Trump's international Presidential trips

Show all 22
"Our new president, of course, has not been in this line of work before. And I think he had excessive expectations about how quickly things happen in the democratic process," Mr McConnell said.
However, Republican leaders in Congress also set deadlines. Legislators left Washington for the August recess without having achieved any of the major legislative victories that top Republicans had promised in January to finish by now.
Mr McConnell warned the audience on Tuesday to not prematurely judge the current Congress and urged them to evaluate the performance of legislators "when it finishes". He also added that Mr Obama did not not sign his signature healthcare into law until more than a year after taking office.
Along with Mr Trump, Dan Scavino, the White House director of social media, hit back against Mr McConnell, tweeting: "More excuses. @SenateMajLdr must have needed another 4 years - in addition to the 7 years -- to repeal and replace Obamacare....."
Fox News host and Trump ally Sean Hannity called Mr McConnell "a weak, spineless leader" on Twitter and said the majority leader needed to retire.
Join our new commenting forum
Join thought-provoking conversations, follow other Independent readers and see their replies