Muslims in Congress blast Donald Trump's revised travel ban
New order excludes people with valid green cards but Democrats say it still won't stand up in court
Caroline Mortimer
Tuesday 07 March 2017 00:53 Comments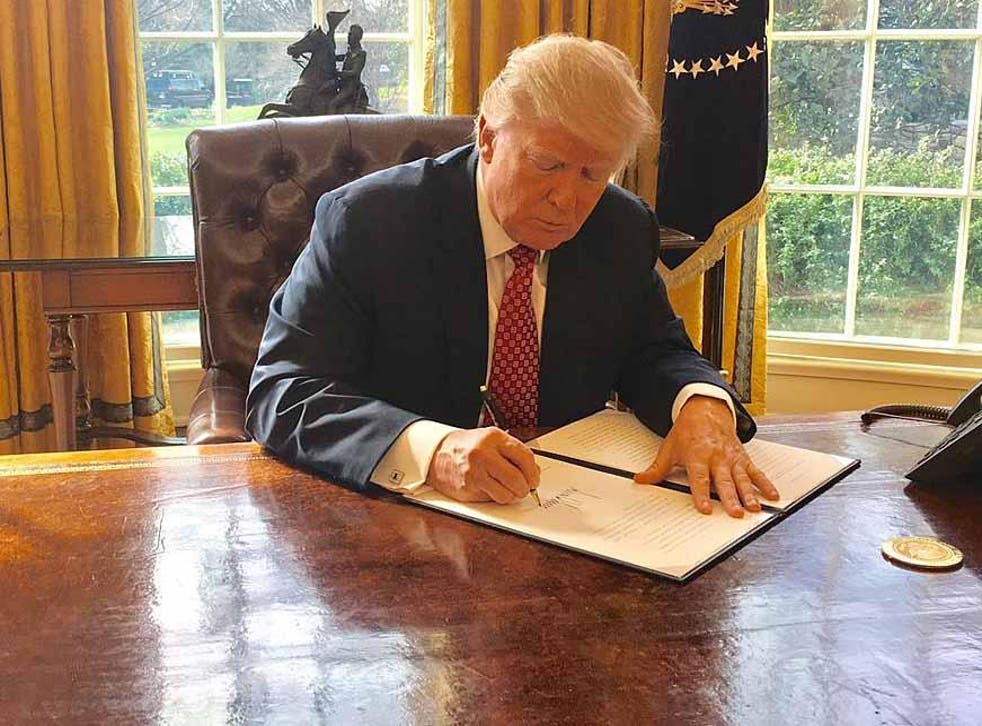 Two Muslim Congressmen have been quick to condemn Donald Trump's revised travel ban on people from several Muslim-majority countries.
Mr Trump privately signed the order on Monday morning. Homeland Security Secretary John Kelly, Secretary of State Rex Tillerson and Attorney General Jeff Sessions unveiled the directive in a low key press conference a few hours later.
Within hours Democrats Andre Carson of Indiana and Keith Ellison of Minnesota denounced what they called "Muslim Ban 2.0" – a revised executive order which means citizens of six Muslim majority countries will be banned from entering the US for up to 90 days.
The pair, who are the only Muslims to sit in the lower house, both vowed to fight the ban and Mr Ellison rejected the White House's claim that it was not designed to discriminate against one religion in particular.
The new directive is a revised version of the executive order signed in January which banned citizens of Sudan, Somalia, Yemen, Iraq, Iran, Libya and Syria from coming to the country.
The first order provoked mass protests and confusion as people flying to the US when the order was signed were detained for hours on end or deported on arrival.
It was eventually blocked by a federal court judge after just eight days.
The revised order also now mean Syrian refugees will only be subject to the ban for 120 days rather than indefinitely.
It has also removed Iraq from the list of banned countries seemingly at the behest of the Pentagon who said it undermined relations with Baghdad while both countries' militaries were co-operating closely in the fight against Isis.
The revised order also does not apply people with dual citizens or people who have already secured valid visas.
Several former critics of the ban have stated their support for the new order such as Republican Senator Lindsey Graham who said it does not discriminate on the basis of religion and focuses on immigrants from "compromised governments and failed states".
The controversial orders Donald Trump has already issued

Show all 9
In a statement he said: "This Executive Order will achieve the goal of protecting our homeland and will, in my view, pass legal muster."
But Democrat lawmakers are not convinced and still believe the "Muslim ban" will have "the same uphill climb" to be accepted by the courts.
The Senate's Democratic Leader Chuck Schumer told CNN: "Despite their best efforts, I fully expect this executive order to have the same uphill climb in the courts that the previous version had.
"A watered-down ban is still a ban. Despite the administration's changes, this dangerous executive order makes us less safe, not more, it is mean-spirited, and un-American. It must be repealed."
The list still does not include Saudi Arabia, United Arab Emirates or Egypt –where the 9/11 plane hijackers came from – which have business dealings with Mr Trump.
Meanwhile no citizen from the countries on the list has carried out a successful attack on US soil since 2001 and there has not been a single Syrian refugee charged with the intent to carry out acts of terror in at least 40 years, according to the Cato Institute.
Register for free to continue reading
Registration is a free and easy way to support our truly independent journalism
By registering, you will also enjoy limited access to Premium articles, exclusive newsletters, commenting, and virtual events with our leading journalists
Already have an account? sign in
Join our new commenting forum
Join thought-provoking conversations, follow other Independent readers and see their replies