Donald Trump: My son has no intention of running for New York mayor
Anthony Weiner, the disgraced former candidate for NYC mayor, declares: 'I'd come out of retirement just to beat Donald Trump Jr like a rented mule'
Rachael Revesz
New York
Tuesday 26 July 2016 20:56 Comments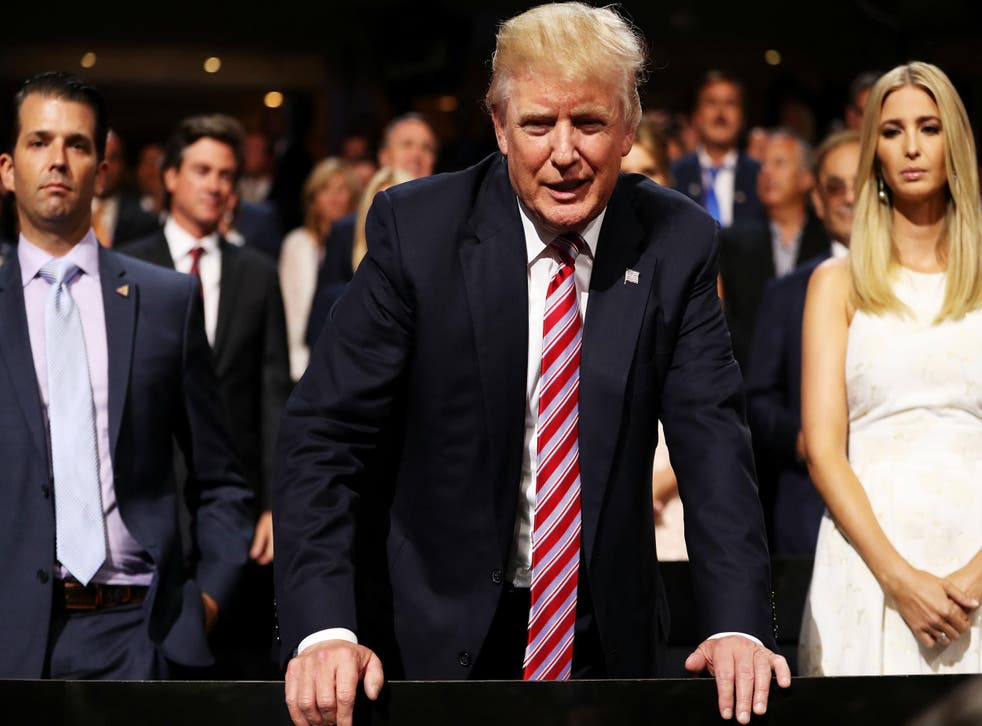 Donald Trump has quashed rumours that his son Donald Jr is going to run for New York City mayor in 2017, ending speculation about one of the least likely political comebacks of all time.
Anthony Weiner, forced to give up his campaign to become New York mayor in 2013 amid a sexting scandal, told Fox 5 News that only a Trump ticket could lure him from his enforced retirement.
He said during the Democratic National Convention: "I'd come out of retirement just to beat him like a rented mule."
Mr Trump Jr responded on twitter: "Too soon Anthony!!! You probably shouldn't be talking about beating anything ever again. Go back to your cave."
His father and Republican nominee gave a statement to Fox saying that his son had "no intention" of running for mayor.
"[…] But I was the one who predicted Anthony Weiner would flame out and not be able to run for mayor. People were amazed at how insightful I was," he added.
Mr Weiner was forced to quit Congress in 2011 after it emerged he had sent sexually suggestive pictures to several women via twitter. He launched a political comeback in 2013 but was forced to drop out of the race to become New York mayor when it emerged he had sent similar photos from another account - under the handle Carlos Danger - more than a year after leaving Congress.
A documentary of his rise and downfall, called "Weiner", was released this year.
Mr Weiner, who is married to Hillary Clinton's top adviser Huma Abedin, no longer has a verified twitter account and has largely kept under the radar since his attempt to run for public office.
The rumours surrounding the possible future career of Mr Trump's son were fuelled after he gave an interview to CNN's "State of the Union", saying he would "keep his options open".
"So if I can do that as a service to our country I'd love to do it," he said.
He also told the New York Post that he would "love to" take over Bill de Blasio's job, but did not say when.
Trump Jr gained credit last week for a strong speech last week amid an otherwise chaotic Republican National Convention, fueling speculation he might eventually run for public office.
Mayor Bill de Blasio also said he would welcome the challenge in 2017.
"In terms of Donald Trump Jr—I will predict something right here and now: that his father, and his values, will be rejected by the people of New York City in November," he said.
But during Sean Hannity's Fox News show on Monday night, Mr Trump senior put an end to the issue.
"Don's not going to run for mayor," Mr Trump said. "No, he has no intention of doing that. He wouldn't want to do that. And as a Republican in New York City …"
Register for free to continue reading
Registration is a free and easy way to support our truly independent journalism
By registering, you will also enjoy limited access to Premium articles, exclusive newsletters, commenting, and virtual events with our leading journalists
Already have an account? sign in
Join our new commenting forum
Join thought-provoking conversations, follow other Independent readers and see their replies