Donald Trump slammed by Hillary Clinton and Barack Obama for 'wacky' foreign policy positions
Obama will join Clinton on the campaign trail next week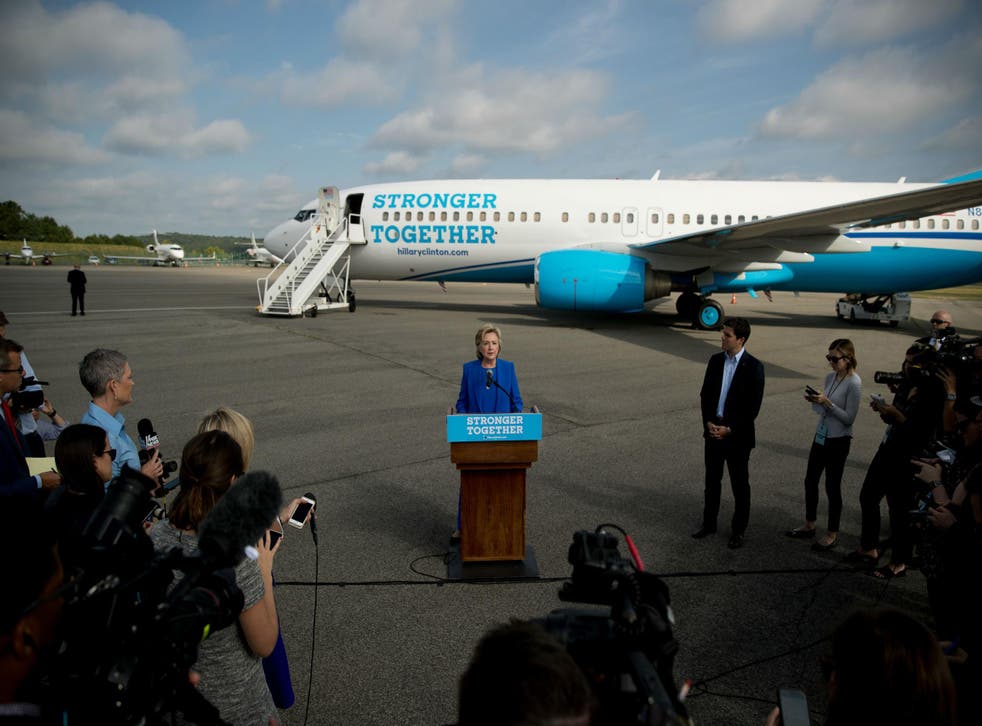 President Barack Obama and Hillary Clinton have joined forces slamming Donald Trump for his statements on foreign policy calling them variously "wacky" and " totally inappropriate".
The two top Democrats also evinced frustration that Mr Trump continued to offer wayward opinions on national security, including doubling down on his affection for Russian President Vladimir Putin, without facing the kind of media and public criticism they believe he deserves.
"The most important thing for the public and the press is to just listen to what he says and follow up and ask questions to what appear to be either contradictory or uninformed or outright wacky ideas," Mr Obama told reporters in Laos at the end of a multi-day tour of southeast Asia.
Democrats are livid that at a televised forum on national security broadcast live from New York on Wednesday night, Mr Trump appeared to get an easier ride from the NBC moderator, Matt Lauer, than she did.
Addressing the issue head-on at a press conference on Thursday morning in front of her campaign plane in White Plains, New York, Ms Clinton suggested she was sanguine about it.
"I have been somewhat heartened by the number articles recently about the quite disparate treatment of Trump and his campaign compared to ours. I do not understand the reasons for it, I find it frustrating. It's just part of the landscape that we live in and we just keep forging ahead."
With just half an hour each to lay out their stalls on foreign policy, Ms Clinton found herself forced to spend the first ten minutes on Wednesday defending her use of a private email server while Secretary of State. That gave her scant time to address other issues like Isis and Syria.
Hence the push on Thursday by her and by President Obama to press home their view that Mr Trump has continued to disqualify himself by his remarks on world affairs. The President, who is on his way back home, will campaign with Ms Clinton in Pennsylvania next week.
Speaking in Laos, Mr Obama offered some optimism that in the end American voters would see through the Trump facade. "Every time he speaks" he shows why he shouldn't be commander-in-chief, he said.
Arguing that Mr Trump says "quite outrageous things on a regular basis," Ms Clinton pointed to his remarks at the forum lauding Mr Putin and calling into question the competence of America's generals. Mr Trump said at the event they had been "reduced to rubble" serving Mr Obama.
His comments on Mr Putin received even greater attention. "The man has very strong control over a country," he said at the forum. "It's a very different system and I don't happen to like the system, but certainly, in that system, he's been a leader, far more than our president has been a leader." He said that if Mr Putin offered him compliments, he was happy to accept them.
"Every Republican holding or seeking office in this country should be asked if they agree with Donald Trump about these statements," Ms Clinton said on the airport tarmac.
The Democrat also strongly chastised Mr Trump for talking openly at the forum about the two intelligence briefings he has received as the Republican nominee and suggesting that he had inferred from them that the intelligence community was angry with Mr Obama and Ms Clinton because they had regularly refused to heed their advice.
Mr Trump said he was "shocked" by what he heard at the briefings. "What I did learn is that our leadership, (President) Barack Obama, did not follow what our experts ... said to do," he said.
Ms Clinton called the comment "totally inappropriate and undisciplined," adding: "I would never comment on any aspect of an intelligence briefing I received".
Join our new commenting forum
Join thought-provoking conversations, follow other Independent readers and see their replies