Colin Kaepernick's legal team to subpoena Trump and Pence in case against NFL
The quarterback alleges teams colluded not to sign him due to kneeling during the national anthem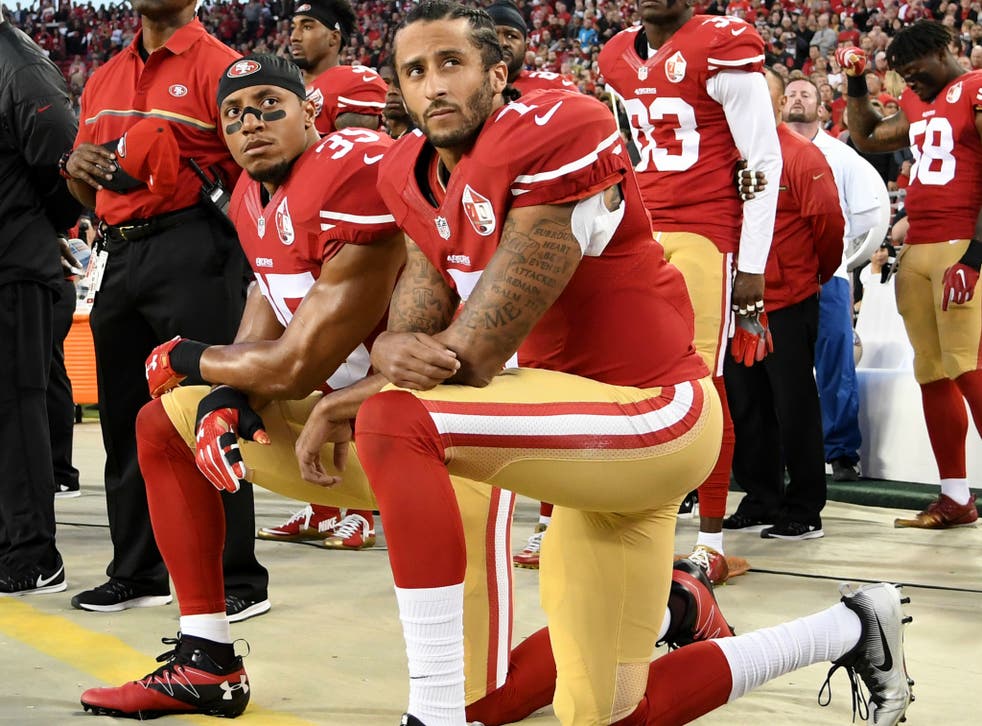 Colin Kaepernick's legal team is expected to request subpoenas for President Donald Trump, Vice President Mike Pence, and other campaign officials in his case against the NFL.
The former San Francisco 49ers quarterback is alleging that after he opted out of his contract with his former team and became a free agent, no other team signed him as a result of colluding with each other to avoid controversy.
Mr Kaepernick began refusing to stand, and instead took a knee, during the national anthem ahead of games in 2016 as a form of peaceful protest against the slew of police-involved shooting deaths black men and boys in the US. The move caused an uproar and prompted the president to label players who kneeled as an unpatriotic "son of b****" who were insulting the American flag and US military at a rally late last year in Louisville, Kentucky.
Mr Kaepernick's legal team wants to investigate the ties between NFL team owners and the Trump administration - specifically to see if there was political pressure not to sign Mr Kaepernick amid the race and police violence debate he, in part, ignited.
They will seek federal subpoenas to compel testimony from anyone with knowledge of the president's agenda opposing these players who take a knee. "The content of those conversations between Trump and owners – as well as any forms of pressure directed at the league by the administration – are expected to shape the requests to force the testimony," the Huffington Post reported.
Trump: NFL owners are scared of their players
The issue has become a sticking point for Mr Trump who has brought it up on Twitter on numerous occasions. Mr Pence left an NFL game between the 49ers and Indianapolis Colts last October because some players knelt and tweeted that he would not "dignify any event that disrespects our soldiers, our Flag, or our National Anthem".
The NFL appeared to perhaps cater to political pressure and issued a ruling last month that required players to stand, and only stand, during the national anthem ahead of games or face fines. However, it did give players the option to remain in the locker room during that time.
American sportspeople kneel in protest

Show all 14
However, Mr Trump tweeted that staying in locker rooms "was as disrespectful" as taking a knee and even rescinded his invitation to the Philadelphia Eagles to come to the White House and celebrate their Super Bowl victory as is custom.
A source told CNN that NFL Commissioner Roger Goddell and some team owners have been deposed in the case already.
Due to the nature of the free agent agreement between the league and NFL Players' Union, there are additional steps Mr Kaepernick's legal team will have to take in order to introduce outside depositions and testimony. The designated arbitrator in the dispute will have to approve the legal reason given for wanting the president and other officials to testify, but if approved the team can pursue the matter in a district court per the Federal Arbitration Act.
Mr Trump can choose to ignore any possible subpoena and it is up to the justice system to either enforce them for the president or not.
Register for free to continue reading
Registration is a free and easy way to support our truly independent journalism
By registering, you will also enjoy limited access to Premium articles, exclusive newsletters, commenting, and virtual events with our leading journalists
Already have an account? sign in
Register for free to continue reading
Registration is a free and easy way to support our truly independent journalism
By registering, you will also enjoy limited access to Premium articles, exclusive newsletters, commenting, and virtual events with our leading journalists
Already have an account? sign in
Join our new commenting forum
Join thought-provoking conversations, follow other Independent readers and see their replies