Donald Trump nominates man whose firm tripled price of insulin to regulate drug companies
Alex Azar would be 'a star for better healthcare and lower drug prices', Mr Trump said
Chantal da Silva
Sunday 19 November 2017 00:57 Comments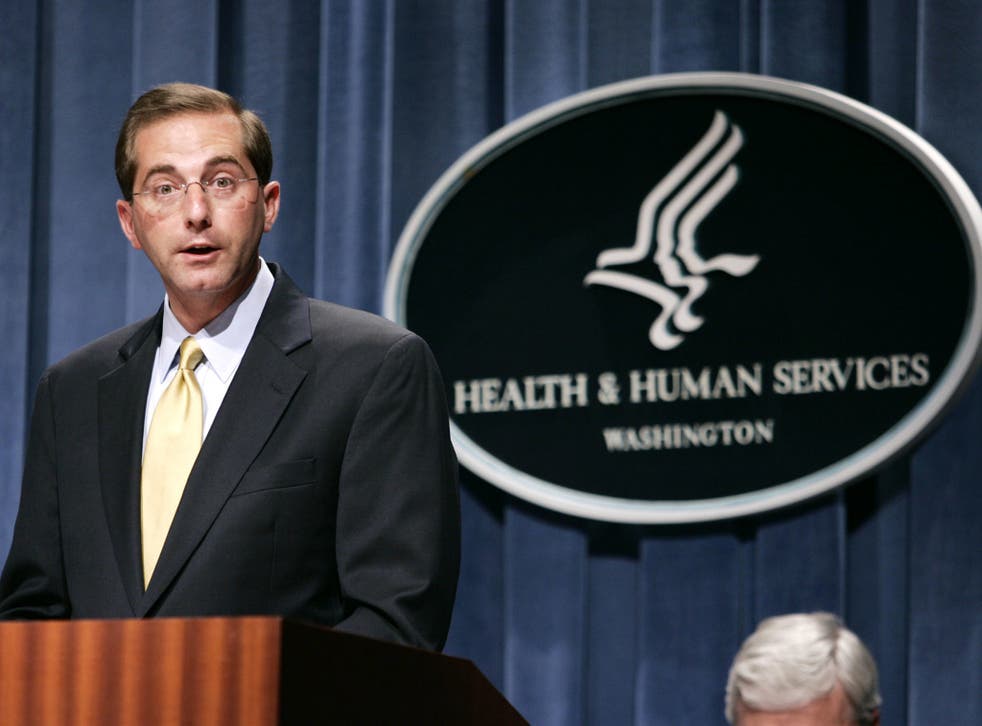 Donald Trump's pick for health secretary, Alex Azar, was previously an executive at a pharmaceutical company that repeatedly raised the prices of its drugs and tripled the cost of its top-selling insulin over the five years he served as a company president, it has emerged.
Mr Trump announced his choice on Monday, tweeting that Mr Azar would be a "star for better healthcare and lower drug prices".
If Mr Azar becomes Health and Human Services (HHS) secretary, he will oversee a $1tr (£760bn) department responsible for America's major insurance programmes, including Obamacare, public health, medical research and food and drug safety.
He would succeed Tom Price, who resigned in September after allegedly using private and government planes at the expense of taxpayers.
The nomination has sparked criticism, however, over Mr Azar's own track record at Eli Lilly, a pharmaceuticals giant that was one of several to repeatedly increased the price of insulin, a life-saving drug used to treat diabetes.
Mr Azar worked as HHS deputy secretary under President George W Bush from 2005 to 2007 before joining drugmaker Eli Lilly as a senior vice president of corporate affairs and communications, according to his LinkedIn profile.
He served as a high-ranking executive at the company for ten years, becoming the president of Lilly USA in 2009, and was with the company as it tripled the price of its insulin product, Humalog.
Just over a year ago, the Washington Post reported that the price of Humalog had risen from $21 (£16) a vial to more than $250 (£190) over the past 20 years.
The Trump Organization is worth one tenth of value previously reported
Democratic Senator Bernie Sanders condemned the nomination on Twitter, writing: "Trump was clearly never serious about this promise to lower drug prices.
"We need an HHS secretary who will take on the drug industry's greed, not someone who has financially benefited from it."
Last year, Mr Sanders called for a federal probe into whether Eli Lilly, Sanofi SA, Merck & Co Inc and Novo Nordisk colluded to raise prices on insulin and other drugs used to treat diabetes.
Democratic Senator Jeff Merkley was also critical of the nomination, tweeting: "If my priority were bringing down RX prices, I probably wouldn't tap a pharmaceutical industry exec accused of colluding to drive up the cost of insulin."
Mr Azar's nomination is unusual because HHS secretaries have previously come from the ranks of elected officials, such as governors, or top executive branch managers, rather than coming from the industry meant to be regulated by the department.
The pharmaceuticals executive has been critical of Obamacare in the past. In a May interview with Fox Business Network, Mr Azar said Obamacare was "circling the drain" and was part of a "fundamentally broken system". "It's certainly circling the drain," Mr Azar said of the Affordable Care Act.
"Obamacare plans are following the laws of economics. First, if you're running an insurance company, you've got to be able to make money, and in order to make money, you've got to be able to predict risk.
Trump has his own awkward water bottle moment
"The Obamacare system has made it impossible to predict risk." The HHS secretary nominee added: "There's actually fairly few levers that the government can do at this point to stabilise this broken system."
World news in pictures

Show all 50
Protect Our Care campaign director Brad Woodhouse also criticised the nomination, writing in a statement: "President Trump has nominated in Mr Azar someone who shares his misguided and factually flawed views on the Affordable Care Act.
"Mr Azar, a drug industry lobbyist, has been a harsh critic of the ACA and has gone so far as to say the law is 'circling the drain' despite evidence to the contrary.
"In fact, the ACA is working despite President Trump and former HHS Secretary Tom Price's repeated efforts to repeal and sabotage it – open enrolment is off to a strong start, plans remain affordable and every county in the country is covered."
"The nomination of a new HHS Secretary could be an opportunity for Trump and Republicans to turn the page on their repeal and sabotage agenda," Mr Woodhouse said.
'Cards Against Humanity Saves America' advert fights Trump's Mexico border wall
"Sadly, we know President Trump will never turn the page, and in Mr Azar, he appears to be looking for a willing partner in his spiteful ongoing campaign to deny affordable health care to millions of Americans."
Before Mr Azar can take up the role as HHS secretary, his nomination must be approved by the Republican-controlled US Senate.
The Independent has reached out to Mr Azar and Eli Lilly for comment.
Register for free to continue reading
Registration is a free and easy way to support our truly independent journalism
By registering, you will also enjoy limited access to Premium articles, exclusive newsletters, commenting, and virtual events with our leading journalists
Already have an account? sign in
Join our new commenting forum
Join thought-provoking conversations, follow other Independent readers and see their replies