Donald Trump may launch unilateral nuclear attack, Hillary Clinton warns
Democrat says Republicans will seek to oust US President in 2020
Benjamin Kentish
Monday 16 October 2017 06:27 Comments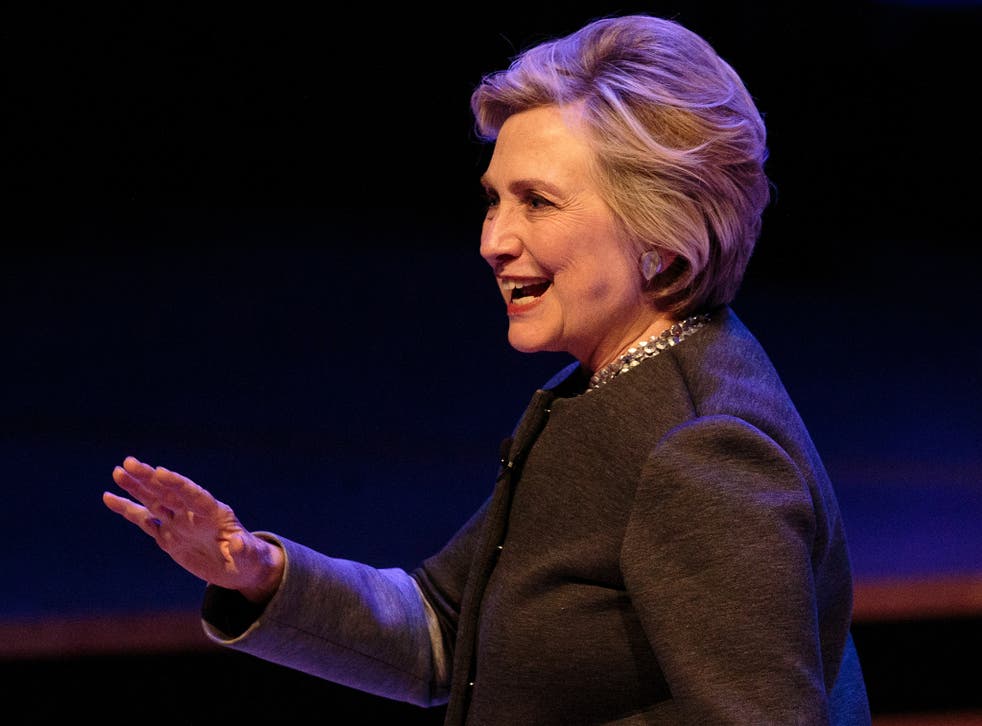 Hillary Clinton has said she fears Donald Trump may try to launch a nuclear strike and that no one would be able to stop him.
The former secretary of state and Democratic presidential candidate admitted she worries that the US President may launch a first strike in a fit of anger and said senior members of Mr Trump's cabinet are plotting to introduce new rules that would prevent him unilaterally ordering an attack.
Speaking at London's Southbank Centre as part of the London Literature Festival, which runs until 1 November, Ms Clinton said: "There is such potential for miscalculation."
She referenced an advert her team ran during last year's presidential campaign that featured a former military member of staff whose job was to take the order from the White House to launch a nuclear missile. In the advert, the veteran warned against giving Mr Trump access to the nuclear codes.
Ms Clinton said: "A lot of people thought I was probably exaggerating it, but now we are worried and Congress is worried about whether they can take that power away from Trump so that in a moment of pique he doesn't pick up that phone and call whoever is sitting in the control centre today."
"I tried to raise it before and I'm raising it again here. It's why members of Congress on both sides are trying to work out how they can contain [Mr Trump]. There was a recent bit of reporting which said that [Secretary of State Rex] Tillerson, [National Security Adviser HR] McMaster, [White House Chief of Staff John] Kelly, [Defence Secretary James] Mattis – they're all trying to figure out how they prevent this.
Asked whether she thought Mr Trump may order a nuclear strike, she said: "I'm worried about that now. I had big differences with so many of the other people who have been President during my lifetime, but I never worried about that.
"Republicans and Democrats are scratching their heads trying to figure out how they interpose – maybe they'll say [a nuclear attack] has to be jointly signed off by the secretary of defence and the secretary of state. Some are even saying there should have to be a declaration of war [by Congress]."
Amid polls showing plummeting public support for Mr Trump, Ms Clinton said she believes Republicans will seek to challenge the billionaire businessman in 2020 in a bid to stop him winning a second term in office.
Hillary Clinton's life in pictures

Show all 10
And she claimed Mr Trump's team are already plotting to oust US senators who have opposed or criticised him.
During an interview with BBC presenter Jim Naughtie in a packed auditorium, Ms Clinton accused the media of failing to challenge the US President's more outlandish claims.
She said: "The press has to do a better job of calling out the lies… I'm critical because I think at varying important moments, they dropped the ball on coverage and information."
The 69-year-old re-iterated her belief that she would now be US President were it not for the decision of James Comey, then director of the FBI, to announce just ten days before polling day that he was re-opening an investigation into Ms Clinton's use of a private email server.
Calling the decision "inexplicable", she said: "I absolutely think I would have won [had Mr Comey not intervened]…It stopped my momentum and critically it stopped my momentum with white women voters."
Hillary Clinton reflects on her debate tactics against Donald Trump
Ms Clinton was speaking as part of a UK tour promoting her new book, What Happened. She struck an upbeat tone, urging supporters to oppose Mr Trump and work to recapture Congress from the Republicans in the 2018 mid-term elections.
Yet for all the defiance, there were numerous signs - flashes of anger aimed at opponents such as Mr Trump, Mr Comey and Bernie Sanders, a habit of returning to remind the audience of her achievements, the sarcastic asides, the hands clasped tightly in her lap - that her shock defeat just under a year ago is still painfully raw.
Recalling the moment in the early hours of 9 November 2016 when she phoned Mr Trump to concede defeat, she said it was clear to her that the property mogul had not expected to win the election.
She said: "He sounded stunned, but incredibly ecstatic, as he should have been. You could tell that I never thought I'd be making the call and he never thought he'd be receiving it."
Having to phone Mr Trump directly was "really terrible", she said, adding: "It was just one of those surreal moments that you get through."
Register for free to continue reading
Registration is a free and easy way to support our truly independent journalism
By registering, you will also enjoy limited access to Premium articles, exclusive newsletters, commenting, and virtual events with our leading journalists
Already have an account? sign in
Join our new commenting forum
Join thought-provoking conversations, follow other Independent readers and see their replies