Donald Trump signs executive order to side-step Obamacare rules
The order will lead to higher healthcare costs for seniors and people with preexisting conditions, opponents say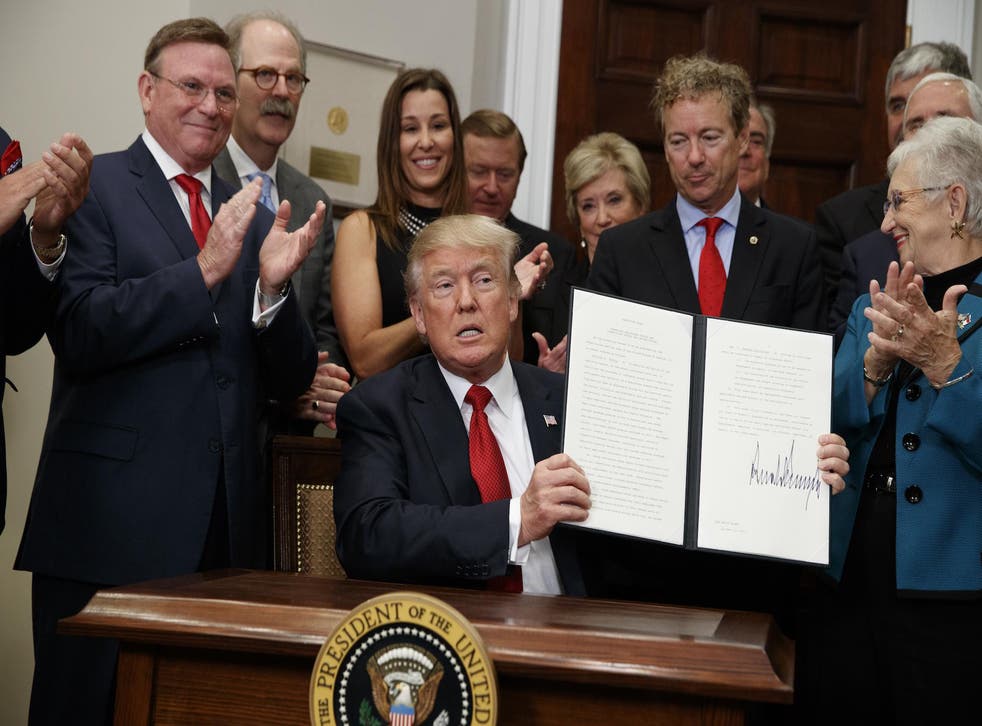 Donald Trump has signed an executive order to make it easier for Americans to buy bare-bones health insurance plans and circumvent Obamacare rules — but the action faces possible legal challenges.
Frustrated by the failure of a Republican-controlled Congress to repeal and replace Obamacare, Mr Trump issued the order as part of an effort to unravel the 2010 law without action by legislators.
"We've been hearing about the disaster of Obamacare for so long", as well as the need to repeal it, Mr Trump said at the White House alongside Republican Senator Rand Paul, Vice President Mike Pence and a couple other members of Congress. "We're starting that process and we're starting it in a very positive manner."
Mr Paul, who is an advocate for 'small government', in his opening remarks called the executive order the "biggest free-market health reform of a generation".
Mr Trump has directed three cabinet agencies to develop rules that would expand access to less expensive, less comprehensive insurance with fewer benefits and fewer protections for consumers than those mandated under Obamcare.
Most of the changes to the current system will not come until federal agencies adopt regulations, after giving the public an opportunity to make comments — a process that could take months.
The President maintained that he will still pressure Congress to repeal and replace Obamacare. But through his order, he said, his administration is aiming to "allow more small businesses to form associations to buy affordable and competitive health insurance."
"This would open up additional options for employers to purchase the health plans their workers want," he said.
Mr Trump also declared he was directing the US Secretary of Labour to consider ways to expand these associations and healthcare policies across state lines.
Republicans, especially Mr Paul, have long supported the idea to allow coverage to be sold across state lines, saying this would be the most effective way to promote competition among health insurers – particularly in areas where people buying coverage on their own only have one insurer selling plans.
"This will create tremendous competition and transformative – in so many ways – change aimed at creating more and lower prices for millions of Americans," Mr Trump touted on Thursday.
Opponents of the order have argued that it would undermine the consumer protections laid out in the Affordable Care Act, otherwise known as Obamacare.
The association health plans could be sold in a state that doesn't require policies to provide as many benefits as other states. These health insurance policies are anticipated to be cheaper than those that provide the full range of medical coverage required under Obamacare, potentially making them attractive to people across state lines.
Donald Trump's least presidential moments so far...

Show all 30
Experts have also questioned Mr Trump's authority to issue such an order that would exempt some plans but not others from Obamacare rules. By issuing an executive order on the matter instead of pursuing change through legislation, Mr Trump could open up the administration to legal challenges from Democratic state attorneys general.
The stripped-down insurance policies allowed under the order are likely to entice young and healthy people away from the individual insurance markets created by the ACA. That could further destabilise those markets because only the sickest people would likely continue purchasing insurance on the exchanges.
If this happens, experts expect premiums to rise rapidly, effectively eroding the law's protection that people with preexisting medical conditions cannot be charged more.
Senate Minority Leader Charles Schumer wrote on Twitter that the President's executive order "couldn't be further from his 'great health care' promise" and that it will increase costs for seniors and people with preexisting conditions.
"And it will add further chaos to the markets. If the system deteriorates, make no mistake about it, the blame will fall squarely on @POTUS," Mr Shumer added, using the acronym to refer to the President of the US.
Mr Trump's decision to issue an executive order on healthcare is another example of his growing impatience with Congress, particularly the Senate, for not being able to make good on his campaign promise to repeal and replace President Barack Obama's signature domestic policy achievement.
But while Republicans in the Senate haven't been able to agree on legislation that would overhaul Obamacare, Mr Trump has already attacked the law through a series or regulatory and administrative measures.
The administration has slashed the ACA advertising budget, halved the open enrollment period and cut funding to groups that help sign people up for insurance under the law.
Join our new commenting forum
Join thought-provoking conversations, follow other Independent readers and see their replies