Donald Trump fires Obamacare broadside as he struggles to salvage Florida
Polls suggest Hillary Clinton's lead is growing in the biggest of the battleground states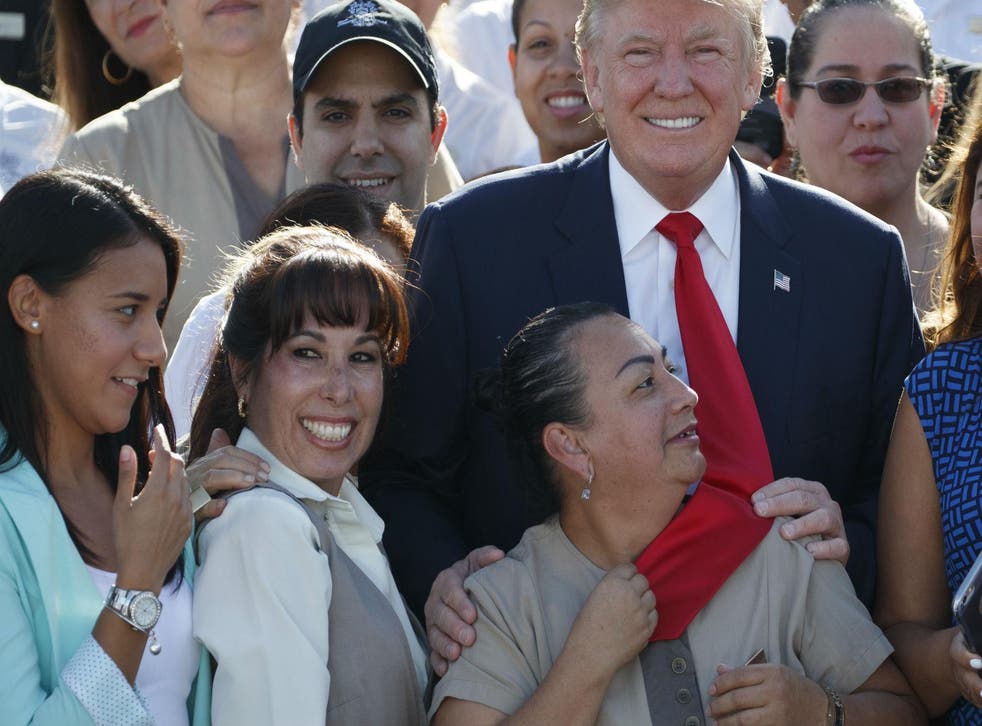 With his campaign making a major play for Florida, the presidential election's biggest battleground, Donald Trump on Tuesday turned a rally at his Miami golf club into an attack on President Barack Obama's signature legislative achievement, the Affordable Care Act (ACA).
Obamacare is "blowing up", the property developer said, referring to the recently announced price hikes on the government healthcare insurance premiums created by the ACA. Without elaborating, Mr Trump said he would replace the plan with "something much less expensive."
In an interview with Reuters following the event, Mr Trump also slammed his rival's foreign policy proposals, saying Hillary Clinton's Syria plan could "lead to World War Three" by causing direct conflict between US and Russian forces.
The former Secretary of State has called for the establishment of a no-fly zone in the region, for the removal of Syrian president Bashar al-Assad, a Kremlin ally. "What we should do is focus on ISIS. We should not be focusing on Syria," Mr Trump said.
The rally in Miami was just one stop on a swing through seven Florida cities, as Mr Trump sought to revive his drooping poll numbers in the Sunshine State, whose 29 electoral votes he must win in November to be in with any serious chance of reaching the Oval Office.
Mr Obama carried Florida in both 2008 and 2012, and Mr Trump has trailed his Democratic rival in 10 of the past 11 public polls of the state. Ms Clinton is ahead by an average of more than three points, according to Real Clear Politics.
A bullish Mr Trump nonetheless told the crowd at a rally near Naples, Florida on Sunday that his numbers in the state were "looking phenomenal". Meanwhile, in a tweet, he alleged Democrats were "making up phony polls in order to suppress" his prospective share of the vote.
The Republican nominee's attack on Obamacare came a day after the administration announced that insurers would raise premiums on some of its most popular healthcare plans by around 25 per cent next year.
In his speech, Mr Trump appeared confused about specifics, saying "all" his employees at the National Doral golf course were "having a tremendous problem with Obamacare," even though his company provides health coverage for 95 per cent of Doral employees, according to Politico.
Despite his last-ditch effort to salvage the state, Ms Clinton may already be ahead in Florida. By 42 to 40 percent, Republicans have cast more than Democrats of the 1.2 million absentee ballots submitted so far, but that lead is significantly smaller than in 2012, when GOP absentee ballots were more than five points ahead of Democrats – in a state Mr Obama went on to win.
Ms Clinton planned to spend Tuesday and Wednesday in Florida, where her campaign has outspent Mr Trump's on television ads by more than $20m. The Democrat's surrogates, including her running mate Tim Kaine and Mr Obama himself, have also held events there.
Ms Clinton's chances have also been boosted by an influx of Puerto Ricans settling in Florida after escaping their island's crippling debt crisis. While the state's Cuban-American community is traditionally a swing voter bloc, Puerto Ricans are overwhelmingly registering as Democrats.
Mr Trump's Florida prospects are so gloomy that Republican Senator and former 2016 presidential hopeful Marco Rubio is also facing a difficult battle for re-election against Democratic congressman Patrick Murphy.
Mr Rubio, who has endorsed Mr Trump despite their stinging primary battle, was reportedly booed offstage at a street festival this weekend, by a largely Puerto Rican crowd. Mr Obama slammed Mr Rubio for what he saw as cynical political manoeuvring on the stump in Miami last week, saying the Republican senator was "willing to be anybody, just to be somebody."
Register for free to continue reading
Registration is a free and easy way to support our truly independent journalism
By registering, you will also enjoy limited access to Premium articles, exclusive newsletters, commenting, and virtual events with our leading journalists
Already have an account? sign in
Register for free to continue reading
Registration is a free and easy way to support our truly independent journalism
By registering, you will also enjoy limited access to Premium articles, exclusive newsletters, commenting, and virtual events with our leading journalists
Already have an account? sign in
Join our new commenting forum
Join thought-provoking conversations, follow other Independent readers and see their replies