Donald Trump on foreign policy: 'I've got no time to travel – America needs my attention now'
David Usborne asks the presidential hopeful what he stands for on the international stage
David Usborne
Friday 28 August 2015 07:33 Comments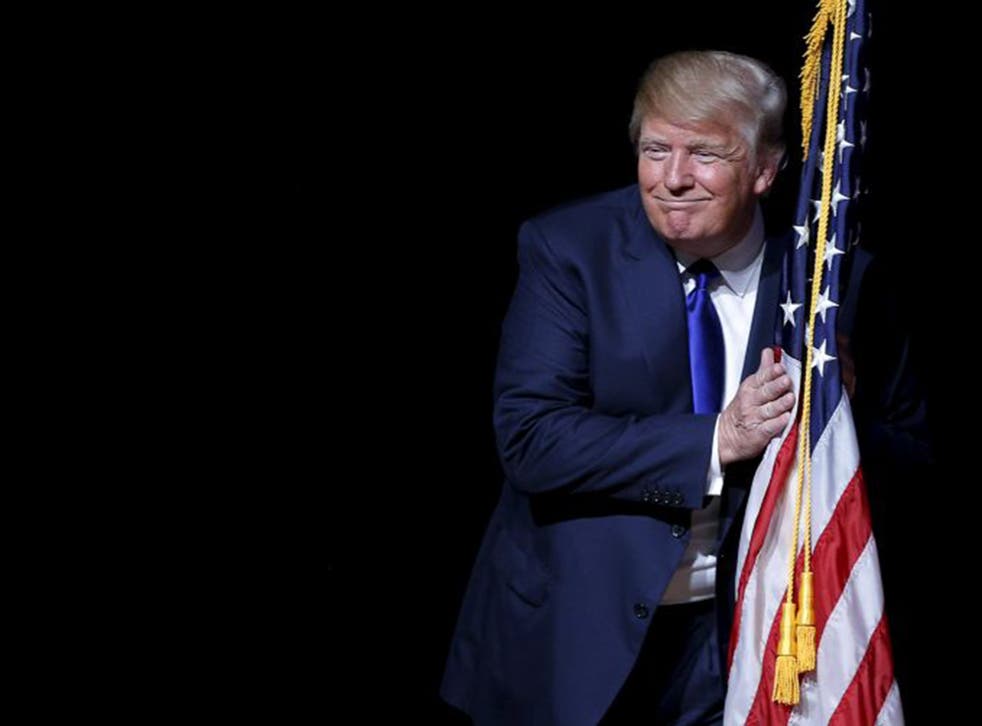 Donald Trump says he will forgo the overseas visits to allies in Europe, or even closer to home, usually made by leading Republican presidential hopefuls during their campaigns, insisting there is too much to keep him at home in the United States.
A visit abroad was still "possible", Mr Trump said in response to a question from The Independent while on the campaign trail. But he added swiftly: "To be honest with you, this country is in such bad trouble, our infrastructure is crumbling, our bridges, our airports. We are in such trouble that I am going to spend a lot of time here … we are going to fix our country."
Mr Trump, who has showed 28 per cent support among Republicans in a new poll by Quinnipiac University – 16 points ahead of nearest rival Ben Carson and with former Florida governor Jeb Bush on just 7 per cent – devotes large sections of stump speeches to foreign policy. He does so even as he admits that, for the time being, he retains no foreign-policy advisers.
In the exchange with The Independent, he expanded on an earlier admission that he draws some of his foreign-policy thinking from television pundits, adding that he also scours print pages for their wisdom.
"I read many, many newspapers. I read a load of magazines," he said. "I have people that I like and people I respect. You have a cross-section of really everybody because you see people that you really don't have the opportunity to see or meet… From there you go and decide what you want to do."
He will name one or more foreign-policy advisers in "two or three weeks", he added.
At each campaign appearance – in Iowa on Tuesday and today in South Carolina – Mr Trump offers sometimes jumbled glimpses of what his foreign-policy vision will be. He brags that he will build up the US military – "I will have the best of everything" – but also distances himself from Republican hawks, excoriating the 2003 invasion of Iraq and arguing that the US should pick its fights and targets more carefully. "If you're strong enough, you don't have to attack anybody, because nobody's going to mess with you," he said this week.
As he shows he has staying power in the race, some of America's brightest will surely be sitting up to take notice. Just as he promises to shake up the status quo at home, so he would on the world's diplomatic stage.
Mr Trump has called into question Washington's military commitments to Japan and South Korea, scolded Germany's leaders for thinking the US would take on Vladimir Putin in Ukraine, chastised China for currency manipulation and criticised Japan for its trade imbalance with the US.
Donald Trump's most controversial quotes

Show all 14
"You know, she's a great leader," he said of German Chancellor Angela Merkel in an interview with NBC earlier this month. "And one of the reasons that Merkel's a great leader is she sort of says, 'Oh, good. Let the United States handle it'." At every stop, he claims the US has been taken to the cleaners in trade deals. He doesn't say how he could undo or renegotiate them.
"We don't have victories any more. We used to have victories but we don't have them," he said. "When was the last time anybody saw us beating, let's say, China in a trade deal? They kill us. I beat China all the time, all the time. Who's tougher on the Chinese than me? I love them and I have respect for them. I just hate what they do to [their currency]."
Mr Trump lambasts the nuclear deal negotiated with Iran but, unlike his rivals, stops short of vowing to rip it up. "Look at this deal. It is going to, in my opinion, lead to an arms race the likes of which there has never been. Countries are going to line up for nukes. You're going to have, perhaps, nuclear proliferation. You're going to see things that you have never seen take place in a short period of time."
But Mexico may have the biggest cause for anxiety. Mr Trump draws some of his most reliable applause promising literally to wall the country off and return millions of its citizens residing in the United States illegally.
Register for free to continue reading
Registration is a free and easy way to support our truly independent journalism
By registering, you will also enjoy limited access to Premium articles, exclusive newsletters, commenting, and virtual events with our leading journalists
Already have an account? sign in
Join our new commenting forum
Join thought-provoking conversations, follow other Independent readers and see their replies