Angela Merkel better placed than Donald Trump to solve world's problems, people in G20 countries say
Only Russia and India have more confidence in the US President than in the German Chancellor, poll found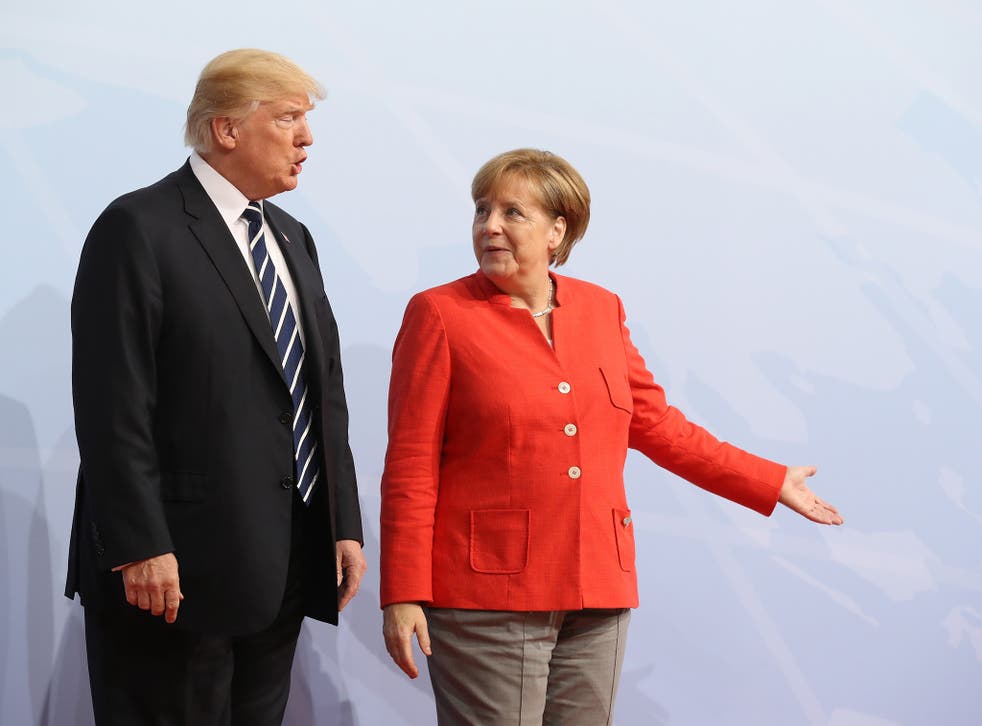 As the leaders of the world's largest economies meet in Hamburg, people living in G20 countries have more confidence in German Chancellor Angela Merkel than in Donald Trump when it comes to sorting out the world's problems, a poll has found.
The survey carried out by the Pew Research Centre found that among G20 countries only Russia and India have substantially more confidence in Mr Trump than in Ms Merkel over world affairs.
In Germany, France, South Korea, the UK, Canada, Japan and Australia, two thirds or more of the public said they trusted Ms Merkel compared with about three in ten or fewer who said the same of Mr Trump.
The survey was carried out in 37 nations, including 17 of the 19 members of the G20, in February and March. It did not include China and Saudi Arabia, which are also members of the G20.
The US President has tried to gloss over his image as head of state in Poland ahead of the G20 summit as crowds cheered him on during his speech in Warsaw.
Polish leaders previously promised the White House Mr Trump would receive a warm welcome and some people were reportedly bussed to Warsaw for the occasion.
But the US President's protectionist policies have appeared to damage his influence on the world stage with many reports President Xi Jinping of China is keen for his country to fill that gap.
In Italy, Brazil and Mexico up to 40 per cent of respondents said they had confidence in Ms Merkel but that was still more than for Mr Trump.
In the US, the survey found that more people had confidence in Ms Merkel, with 56 per cent approval, over their own leader, who trailed behind at 46 per cent.
But the results showed the public was split along partisan lines with 64 per cent of Democrats trusting Ms Merkel and 89 per cent of Republicans having more confidence in Mr Trump.
World news in pictures

Show all 50
Meanwhile, in Turkey, the survey found that residents have little confidence in either leaders.
In India, Mr Trump had the advantage over Ms Merkel although 63 per cent said they did not have an opinion of the German leader.
Public opinion was more clear cut among Russians with 53 per cent of respondents saying they have confidence in Mr Trump compared with 31 per cent for Ms Merkel.
Russia and Israel were the only two countries where the survey was carried out which found positive opinions of Mr Trump were higher than they were for Barack Obama at the end of his presidency.
Join our new commenting forum
Join thought-provoking conversations, follow other Independent readers and see their replies