Donald Trump tells Republicans to 'forget the little s***' amid healthcare bill humiliation
President was speaking to hard-right Freedom Caucus, whose votes he needed to push his American Health Care Act through Congress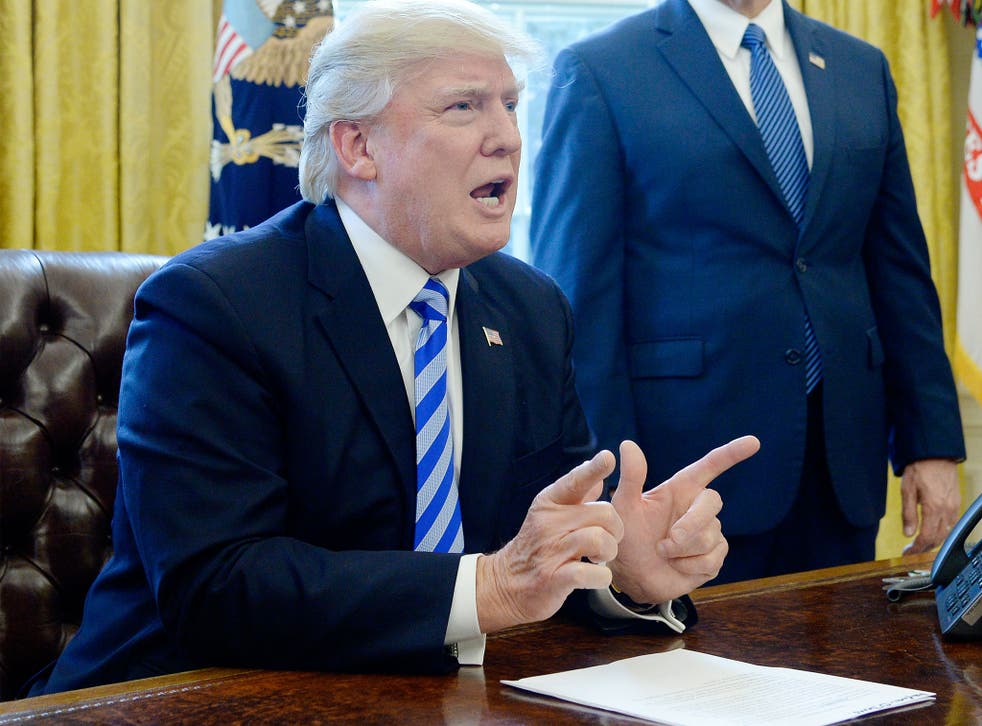 President Donald Trump reportedly told a meeting of Republican politicians to "forget about the little s***" and "focus on the big picture" of his American Health Care Act, a day before his attempt to repeal Obamacare collapsed.
The Act was intended to follow through on a key campaign pledge and strip back healthcare coverage for American citizens, but was withdrawn at the eleventh hour after it became apparent not enough Republicans were supporting the bill.
According to Politico, when touting for votes with an influential group of conservative Representatives known as the Freedom Caucus on Thursday, Mr Trump urged them to ignore the "little s***" of the policy detail and give him the support he needed.
That did not happen, and by Friday it was apparent Mr Trump would not be able to reach the 215 votes he needed to pass the bill through the lower House of the US legislature.
No Democrats were won over to the bill, while Mr Trump faced opposition from both centrist Republicans concerned at its rolling back of healthcare protection and hardliners like the Freedom Caucus, many of whom felt it did not go far enough.
The caucus has a reputation for intransigence and rebellion against the party line, notably pushing for the resignation of House Speaker John Boehner in 2015.
Trump defeated: President remains bullish despite failure to repeal Obamacare
During the electoral cycle which saw Mr Trump elected, members of the caucus faced opposition from lobbying and funding organisations.
Members of the Republican Party establishment attacked the group for being more concerned with criticism and opposition than actual government, and money was pumped into the campaigns of rival candidates.
Mr Trump also angered the group earlier in the week, according to Politico, by singling out caucus head Mark Meadows.
Sevnica: Melania Trump's home town

Show all 18
Joking he would "come after" Mr Meadows if he did not fall in line, he said: "I think Mark Meadows will get on board."
The jibe did not have the desired effect of goading Mr Meadows and the rest of the Caucus towards a 'yes' vote, and as centrist lawmakers also moved away from the bill Speaker Paul Ryan was forced to announce.
Register for free to continue reading
Registration is a free and easy way to support our truly independent journalism
By registering, you will also enjoy limited access to Premium articles, exclusive newsletters, commenting, and virtual events with our leading journalists
Already have an account? sign in
Register for free to continue reading
Registration is a free and easy way to support our truly independent journalism
By registering, you will also enjoy limited access to Premium articles, exclusive newsletters, commenting, and virtual events with our leading journalists
Already have an account? sign in
Join our new commenting forum
Join thought-provoking conversations, follow other Independent readers and see their replies