Donald Trump 'knew about porn star Stormy Daniels hush money months before he denied it'
Payment could be viewed as illegal campaign expenditure if it was done so to bolster head of state's election prospects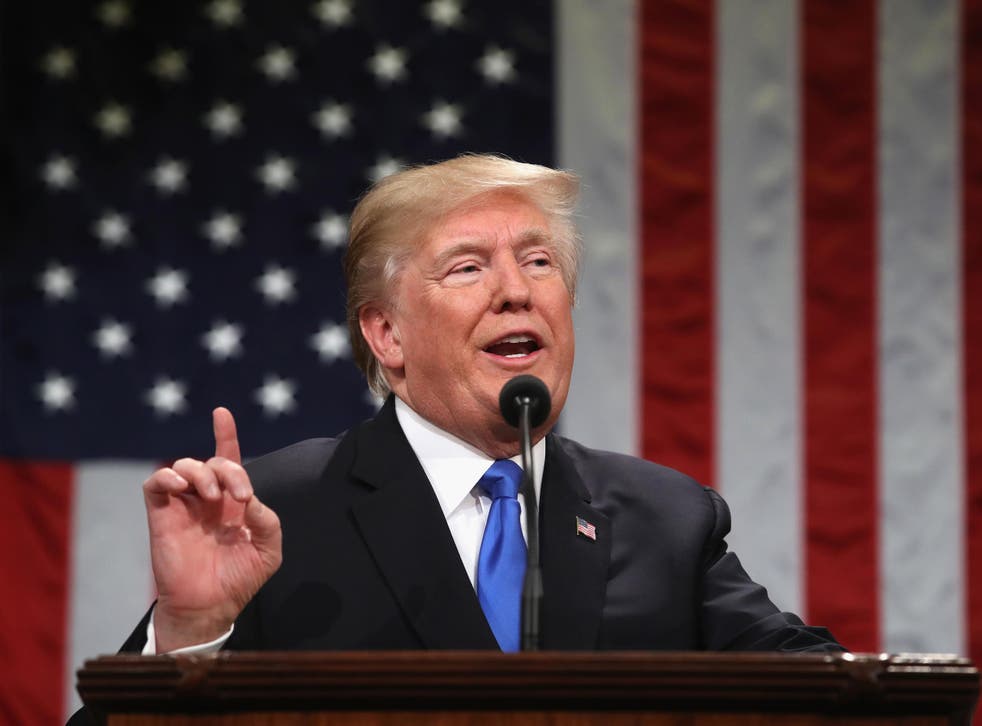 Donald Trump knew about a six-figure payment that Michael Cohen, his personal lawyer, made to a pornographic film actress several months before he denied any knowledge of it to reporters aboard Air Force One in April, according to two people familiar with the arrangement.
How much Mr Trump knew about the payment to Stephanie Clifford, the actress and who else was aware of it have been at the centre of a swirling controversy for the past 48 hours touched off by a television interview with Rudy Giuliani, a new addition to the president's legal team. The interview was the first time a lawyer for the president had acknowledged that Mr Trump had reimbursed Mr Cohen for the payments to Ms Clifford, whose stage name is Stormy Daniels.
It was not immediately clear when Mr Trump learned of the payment to Ms Clifford, which Mr Cohen made in October 2016, at a time when media outlets were poised to pay her for her story about an alleged affair with Mr Trump in 2006. But three people close to the matter said Mr Trump knew that Mr Cohen had succeeded in keeping the allegations from becoming public at the time the president denied it.
Ms Clifford signed a non-disclosure agreement and accepted the payment just days before Mr Trump won the 2016 presidential election. Mr Trump has denied he had an affair with Ms Clifford and insisted that the non-disclosure agreement was created to prevent any embarrassment to his family.
Ms Giuliani said this week that the reimbursement to Mr Cohen totalled $460,000 (£340,000) or $470,000, leaving it unclear what else the payments were for beyond the $130,000 that went to Ms Clifford. One of the people familiar with the arrangement said that it was a $420,000 (£310,000) total over 12 months.
Allen Weisselberg, chief financial officer of the Trump Organisation, has known the details of how Mr Cohen was being reimbursed since last year, which was mainly through payments of $35,000 per month from the trust that contains the president's personal fortune, according to two people with knowledge of the arrangement.
One person close to the Trump Organisation said people with the company were aware that Mr Cohen was still doing "legal work" for the president in 2017, but another person familiar with the situation said Mr Weisselberg did not know Mr Cohen had paid Ms Clifford when the agreement was struck and when the payments went through.
Ms Weisselberg's knowledge of the retainer agreement could draw Mr Trump's company deeper into the federal investigation of Mr Cohen's activities, increasing the president's legal exposure in a wide ranging case involving the lawyer often described as the president's "fixer" in New York City.
In interviews, Mr Giuliani had insisted that the president had reimbursed Mr Cohen for the $130,000 hush payment – and then paid him another $330,000, if not more – which was in direct conflict with the long-standing assertion by Mr Trump and the White House that he did not know about the hush money or where it came from.
In an interview with The New York Times on Friday, Mr Giuliani sought to clarify his statements by saying that he did not know whether Mr Trump had known that some of the payments to Mr Cohen had gone to Ms Clifford. "It's not something I'm aware of, nor is it relevant to what I'm doing, the legal part," Mr Giuliani said.
Mr Giuliani acknowledged that "politically", it could be troublesome. "Politically, everything matters, but I don't see a problem here, at least not" legally, he said.
A lawyer for the Trump Organization declined to comment and a spokeswoman for the organisation did not respond to an email about Mr Weisselberg.
The president has said that he would view any investigation into his finances or those of his family as "a violation", though he was referring to the investigation into Russia by the special counsel, Robert Mueller. The investigation into Mr Cohen is being run by federal prosecutors in the Southern District of New York.
World news in pictures

Show all 50
The payment to Ms Clifford is a part of that investigation. The circumstances surrounding it had become all the murkier this week after Mr Giuliani gave an explanation of how the funds to Ms Clifford were accounted for that contradicted all those that came before it.
After initially appearing to back Mr Giuliani's assertions in a series of Twitter messages on Thursday, Mr Trump reversed course on Friday, after a series of headlines suggesting that the president had lied about knowing of the hush payment. In remarks to reporters on Friday, Mr Trump criticised Mr Giuliani and said he would eventually "get his facts straight".
"Virtually everything said has been said incorrectly and it's been said wrong or it's been covered wrong by the press," Mr Trump told reporters, though he excused Mr Giuliani by explaining he had "just started a day ago."
In a written statement later in the day, Mr Giuliani said that he had not been "describing my understanding of the president's knowledge". And he reversed a previous suggestion that the payment to Ms Clifford was motivated by the election. Mr Giuliani said on Friday that the payment was personal in nature and "would have been done in any event, whether he was a candidate or not." Mr Giuliani told The New York Times that he had "confused" the two factors, but that it was irrelevant since Mr Trump had repaid Mr Cohen.
The nature of the payments is significant because of campaign finance laws that regulate who may contribute to candidates and how much they can give.
If Mr Cohen or others paid to silence Ms Clifford primarily out of fear that a public airing of her story would have harmed Mr Trump's election prospects – rather than to keep it from his family for personal reasons – then the payment would most likely be viewed as an illegal campaign expenditure. Mr Giuliani said on Friday that the issue was "primarily" about keeping Mr Trump's wife, Melania Trump, from being embarrassed by the claim, which Mr Trump has maintained was false.
But if investigators determine that the hush payment was in effect a campaign expenditure, then how the funds were distributed could take on added legal significance. Mr Cohen had been careful to say that neither the campaign nor the Trump Organisation was involved in the deal or any effort to reimburse him.
Under campaign finance law, Mr Trump would have been within his rights to pay Ms Clifford himself as a way to protect his presidential prospects – though he would have had to have formally made note of it in his public campaign filings, which had no accounting for the payment. If he directed Mr Cohen to pay it on his behalf, then that could qualify as an illegal, coordinated campaign expenditure, even if Mr Trump later paid him back.
The New York Times
Register for free to continue reading
Registration is a free and easy way to support our truly independent journalism
By registering, you will also enjoy limited access to Premium articles, exclusive newsletters, commenting, and virtual events with our leading journalists
Already have an account? sign in
Register for free to continue reading
Registration is a free and easy way to support our truly independent journalism
By registering, you will also enjoy limited access to Premium articles, exclusive newsletters, commenting, and virtual events with our leading journalists
Already have an account? sign in
Join our new commenting forum
Join thought-provoking conversations, follow other Independent readers and see their replies