Donald Trump gets historically low approval ratings after first quarter as President
President's ratings remain high with Republicans but are lowest in history among political independents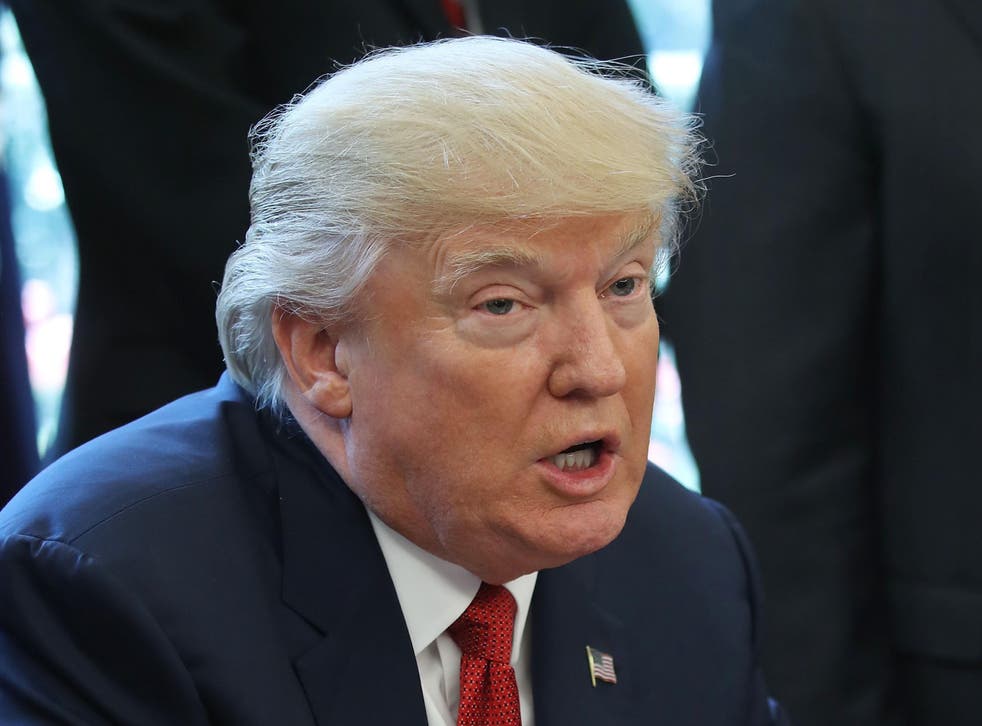 Donald Trump's average approval rating as president thus far is 41 per cent, which is the lowest rating of any President in their first quarter according to survey firm Gallup.
The results are based on the average of daily survey results taken from 20 January through 19 April of a random sample of approximately 45,000 adults. The poll has a margin of error of one per cent.
All other US presidents since 1953, when Gallup began taking polls on approval ratings, remained above the 50 per cent mark at 10 months after taking office.
Mr Trump hit a low of 35 per cent in the wake of his failure to repeal and replace the Obamacare health care legislation due to lack of Republican support. It was a core campaign promise of his in 2016.
He was at his highest marks right after his January inauguration at 46 per cent.
Gallup reports that Mr Trump's rating fell below the 40 per cent mark earlier than any president before him as well, dipping in February 2017. He was consistently below this threshold throughout March 2017.
Former President Bill Clinton was the only president to have similarly consistent low approval ratings in the wake of the recession in the early 1990s.
A positive point for the Trump administration is their support within the Republican party, even despite the health care legislation failure. Gallup said Mr Trump has the support of 87 per cent of voters who self-identified as Republicans.
However, Mr Trump also has historically low rates from those that identify as politically independent, meaning they are neither fully Republican or Democrat. Only 37 per cent of independents have approved of the job he is doing within the first quarter of his presidency.
Previously, the historical job approval rating average among this group of voters was 61 per cent.
Mr Trump, predictably, polls at 10 per cent approval with Democrats. Former Democrat President Barack Obama had similar ratings with Republicans throughout his first year in office, however.
A look at the many, repeated promises Mr Trump made on the campaign trail may reveal insight into his low ratings.
His "travel ban" on people from many Muslim-majority countries entering the US was met with thousands of protestors at nearly every airport in the country as well as federal judges putting the order on hold. The failure to replace Obamacare was seen as political in-fighting.
He did manage to place a conservative justice on the Supreme Court in Neil Gorsuch, but it only happened after Senate Republicans were forced to permanently change Senate rules through the "nuclear option" to hold a vote to confirm him.
Mr Trump could be heading for former president Harry S Truman's job approval rating – the lowest in US history at 45.5 per cent average for his whole term in office.
Register for free to continue reading
Registration is a free and easy way to support our truly independent journalism
By registering, you will also enjoy limited access to Premium articles, exclusive newsletters, commenting, and virtual events with our leading journalists
Already have an account? sign in
Register for free to continue reading
Registration is a free and easy way to support our truly independent journalism
By registering, you will also enjoy limited access to Premium articles, exclusive newsletters, commenting, and virtual events with our leading journalists
Already have an account? sign in
Join our new commenting forum
Join thought-provoking conversations, follow other Independent readers and see their replies