Donald Trump mostly avoided discussing key policies during National Prayer Breakfast speech
He appeals to his base of evangelical voters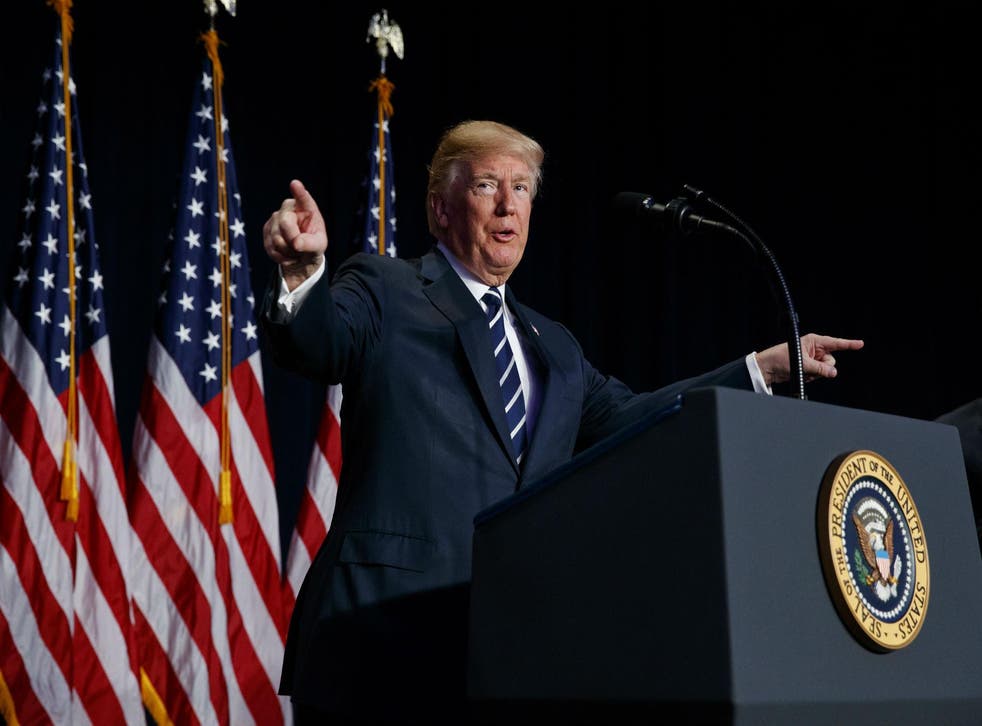 President Donald Trump at the annual National Prayer Breakfast this year largely avoided discussing policy, including his controversial stance on the diplomatic status of Jerusalem – a big topic for the large number of evangelicals in the audience.
But he still made a speech that would appeal to his evangelical supporters and Christian nationalists – those that believe the US should pass laws that reflect their view of Christianity.
"In the courage of our fellow citizens, we see the power of God's love at work in our souls, and the power of God's will to answer all of our prayers," Mr Trump said. "When Americans are able to live by their convictions, to speak openly of their faith, and to teach their children what is right, our families thrive, our communities flourish, and our nation can achieve anything at all."
Mr Trump's address contained several nods to the idea of protecting religious liberty, an idea that resonates with many evangelicals in his base.
A topic he did not mention was his decision last year to designate Jerusalem as the capital of Israel and move the US embassy to the holy city – an announcement that was applauded by evangelicals but sparked outrage from Arab nations.
Since becoming President, Mr Trump has taken several steps to address long-held concerns that religious people could be forced to comply with laws and regulations that violate their religious beliefs.
Last month, his administration announced it was expanding religious freedom protections for doctors, nurses and other healthcare workers who object to performing procedures like abortion and gender reassignment surgery.
The move also included the creation of an oversight entity within the Department of Health and Human Services called the Conscience and Religious Freedom Division.
The department said it would create the division within its civil rights office to give it "the focus it needs to more vigorously and effectively enforce existing laws protecting the rights of conscience and religious freedom".
Mr Trump also made history in January by becoming the first sitting US president to directly address the March for Life anti-abortion rally in Washington DC as his administration continues to roll back more Obama-era abortion protections.
Donald Trump's first year: in pictures

Show all 29
On Wednesday, Mr Trump also boasted about the US's success in fighting Isis, saying that "America stands with all people suffering oppression and religious persecution".
"For years, Isis had brutally tortured and murdered Christians, Jews, religious minorities, and countless Muslims," the President said. "Today, the coalition to defeat Isis has liberated almost 100 per cent of the territory just recently held by these killers in Iraq and all throughout Syria."
"Much work will always remain, but we will never rest until that job is completely done," he continued.
Mr Trump's more traditional National Prayer Breakfast speech, according to pundits, was a departure from his remarks last year at the event, during which he bragged about his ratings on "The Apprentice" and mocked Arnold Schwarzenegger's performance as the show's host.
He had also promised to "get rid of, and totally destroy" the Johnson Amendment, a provision in the tax code that prevents churches from endorsing or opposing political candidates. Congress has still not repealed the law.
This year's breakfast was attended by thousands of people from Washington and around the world. Every president since Dwight D Eisenhower in the 1950s has attended the event, which is put on annually by a group of Christians who want to gather "in the spirit of Jesus".
The event has been criticised for not separating church and state.
Join our new commenting forum
Join thought-provoking conversations, follow other Independent readers and see their replies