Donald Trump criticised for congratulating Recep Tayyip Erdogan on winning Turkish referendum
Critics argue reforms will hand extensive power to a man with an increasingly autocratic bent and leave few checks and balances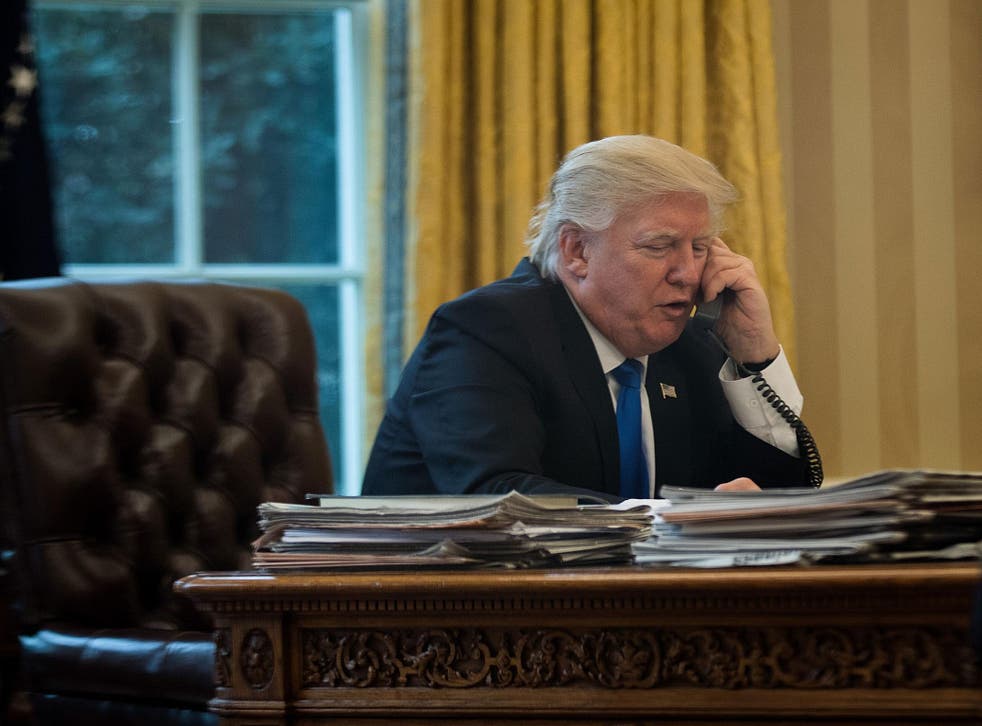 Ignoring concerns raised by international monitoring groups, President Donald Trump has called Turkish President Recep Tayyip Erdogan to congratulate him on the country's contested referendum greatly increasing presidential powers.
He made the call despite protests from opposition parties and international monitoring groups, including Mr Trump's own State Department, about voting irregularities during the referendum.
Critics argue the reforms in Turkey will hand extensive power to a man with an increasingly autocratic bent and leave few checks and balances in place.
Protests continue against Turkish referendum result
Under the new system, the president will be able to appoint ministers and senior government officials, issue decrees and declare states of emergency.
Mr Erdogan has also said he would approve the death penalty if it was supported in a referendum or a bill submitted to him through parliament, which would end Turkey's aspirations to join the EU.
Mr Trump has been criticised for congratulating Mr Erdogan, who is seen as taking Turkey in an increasingly authoritarian direction.
Evan McMullin, a former Republican who ran as an independent rival to Mr Trump in the 2016 election, wrote on Twitter: "An American president should never support a foreign dictator's power grab. A simple gesture like this can weaken liberty here and abroad."
Opposition parties have complained of a series of irregularities, including an electoral board decision to accept ballots that did not bear official stamps, as required by Turkish law.
International monitors from the Organization for Security and Cooperation in Europe (OSCE) said the move undermined safeguards against fraud.
The White House said Mr Trump and Mr Erdogan discussed the US missile strike on a Syrian regime airfield in response to a chemical attack that killed dozens, with Mr Trump thanking his Turkish counterpart for supporting the strike.
Earlier, US State Department spokesman Mark Toner echoed the concerns raised by the OSCE, pointing to "observed irregularities" on voting day and "an uneven playing field" during the campaign.
Mr Erdogan, meanwhile, called the referendum "the most democratic election... ever seen in any Western country" and admonished the OSCE monitors to "know your place."
In pictures: Turkey coup attempt

Show all 17
Underscoring the complicated relationship between the US and Turkey, the White House readout of Mr Trump's call also noted the pressing issues on which they have tried to work together, such as fighting Isis and quelling Syria's civil war.
The White House previously sidestepped questions on the referendum, with spokesman Sean Spicer saying the US wanted to let an international commission review the results.
"They have a right to have elections and their people participated in that," Mr Spicer said. "Before we start getting into their government system, let this commission get through its work."
Irregularities could have changed the outcome of the referendum, Alev Korun, an Austrian member of the Council of Europe observer mission, told ORF radio.
"There is a suspicion that up to 2.5 million votes could have been manipulated," the Austrian member of parliament said.
"This is about the fact that actually the law only allows official voting envelopes. The highest election authority decided however, as it were against the law, that envelopes without official stamp should be admitted," Ms Korun added.
Register for free to continue reading
Registration is a free and easy way to support our truly independent journalism
By registering, you will also enjoy limited access to Premium articles, exclusive newsletters, commenting, and virtual events with our leading journalists
Already have an account? sign in
Register for free to continue reading
Registration is a free and easy way to support our truly independent journalism
By registering, you will also enjoy limited access to Premium articles, exclusive newsletters, commenting, and virtual events with our leading journalists
Already have an account? sign in
Join our new commenting forum
Join thought-provoking conversations, follow other Independent readers and see their replies