Donald Trump will win Republican race - but can he become President?
The outspoken businessman won big in the New York primaries and is on course to wrap up the Republican nomination - but the White House is a different matter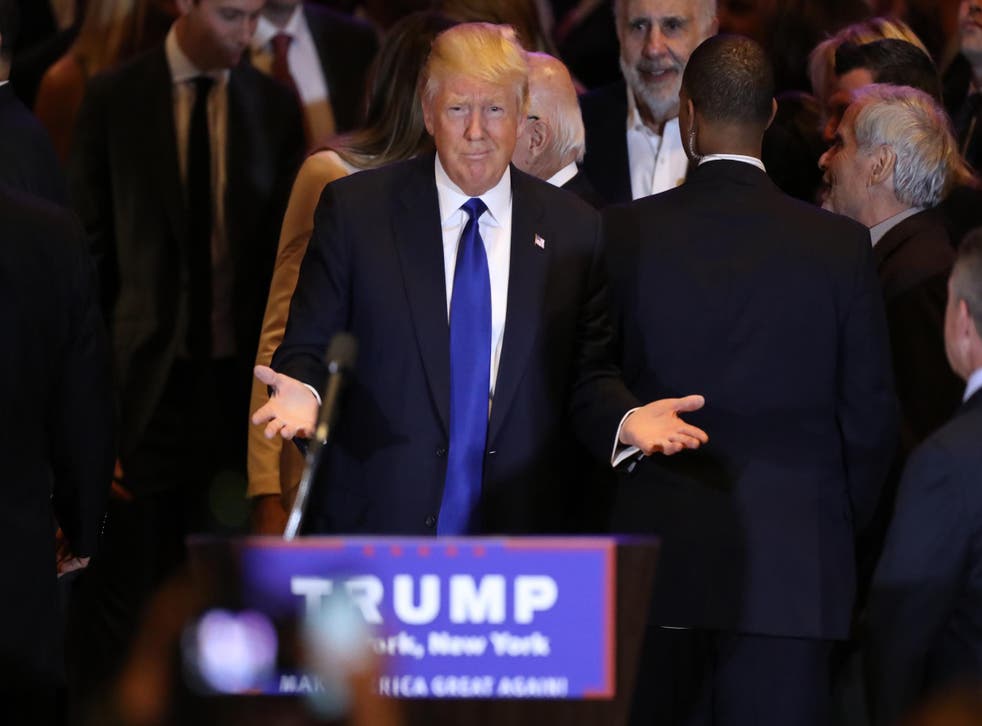 As expected, Donald Trump is going to be the Republican nominee.
His clear victory in New York on Tuesday saw him add to previous victories across the South on 'Super Tuesday' and in the key states of Florida, Illinois, Arizona and Missouri.
It was already fairly clear he would win the most votes and delegates – but the game is now whether he can win a majority of delegates (1,237).
The Republican establishment's steadfast opposition to him means he must: he has not been anointed, unlike past candidates, and Texas senator Ted Cruz and Ohio governor John Kasich continue to run against him.
His victory in New York – a 35-point victory that exceeded expectations of a 30-point win – means he has now won nearly 70 per cent of the delegates he needs to secure the Republican nomination.
His closest competitor, Mr Cruz, has not even won 45 per cent of the 1,237 any candidate needs (while Mr Kasich has won just 12 per cent, and still has fewer than Marco Rubio, who dropped out five weeks ago).
Donald Trump: What are his actual policies?
How Trump secures the nomination
Mr Trump has just under 850 delegates and is about 390 short of 1,237.
Next Tuesday, he is set to win around 100 more in primaries across the North East, in the Democrat-voting states of Maryland, Connecticut, Rhode Island, Delaware and Pennsylvania.
That takes him to nearly 950. And he would be closer to 1,000 if 50 extra Pennsylvanian delegates support him. These 50 are not bound by the result of the state's primary, which Mr Trump is expected to win.
It is unclear who they will support, but many may be inclined to support Mr Trump if he has won their state.
Then comes the critical state of Indiana on May 3, which uniquely awards all of its 57 delegates to the statewide winner. (Most states award them in a very complicated fashion.)
If Mr Trump wins here – back-of-the-envelope bets give him a 50:50 chance, as there has been literally no polling in the state – he will almost certainly be the nominee. If he does not, he still has a very good chance.
Mr Trump should pick up another 50 delegates in the rest of May, in West Virginia, Oregon and Washington, and then sweep all 50 of New Jersey's while winning 10 in New Mexico on June 7.
That would give him 1,060 if he has not won Indiana or any of Philadelphia's unbound delegates, and somewhere between 1,100 and 1,150 if he has.
It all comes down to California
California's 172 delegates will also be in play on June 7 – the last day of the Republican primaries and the epic finale to a year-long race.
Ultimately, it will all come down to the day of the California presidential primary. As electoral statician Nate Silver puts it: "The political commentariat hasn't fully woken up to how monumental a finish California will be."
If Mr Trump has won Indiana and the support of a significant chunk of Philadelphia's roaming delegates, he could clinch the nomination that day.
He is expected to win at least half of California's 172, giving him around 85 to add to the 1,150 he may have won by then. He may win more.
If he closer to 1,050, having lost Indiana, he will still end the primary season within 100 delegates of securing the nomination. He will have 90-95 per cent of the delegates he needs. Or maybe as many as 97 or 98 per cent.
He has options at that point. He will just need to win over some of the 200 or so 'uncommitted' delegates who can vote for whomever they please on the floor of the Republican convention in late July.
The closer Trump gets to 1,237 – and by all accounts he is likely to come very close – the more likely these uncommitted delegates will push him over the line if he falls short.
The betting markets now give Trump a 67 per cent chance of securing the nomination, up from 55 per cent 10 days ago.
Trump vs Clinton
On the other side, Hillary Clinton has a 96 per cent chance of winning the Democratic nomination, having beaten Bernie Sanders by 16 points in New York.
In other words, the 2016 race is almost certainly going to be Trump vs Clinton.
The betting markets give Mrs Clinton a 72 per cent chance. Mr Trump's odds? Just 17 per cent. ("Another Republican" has a 8 per cent shot and Mr Sanders, 3 per cent.)
If the 2016 race really is Trump-Clinton, it has begun as the most lopsided contest in modern history. No other race for the White House began with one candidate more than four times more likely to win than the other.
Can Trump bridge the gap? He has six and a half months to defy the odds yet again.
Join our new commenting forum
Join thought-provoking conversations, follow other Independent readers and see their replies