Donald Trump abandoned by quarter of Republican Party's top politicians, survey finds
The feeling is mutual: Trump wouldn't go in a foxhole with 'a lot of these guys'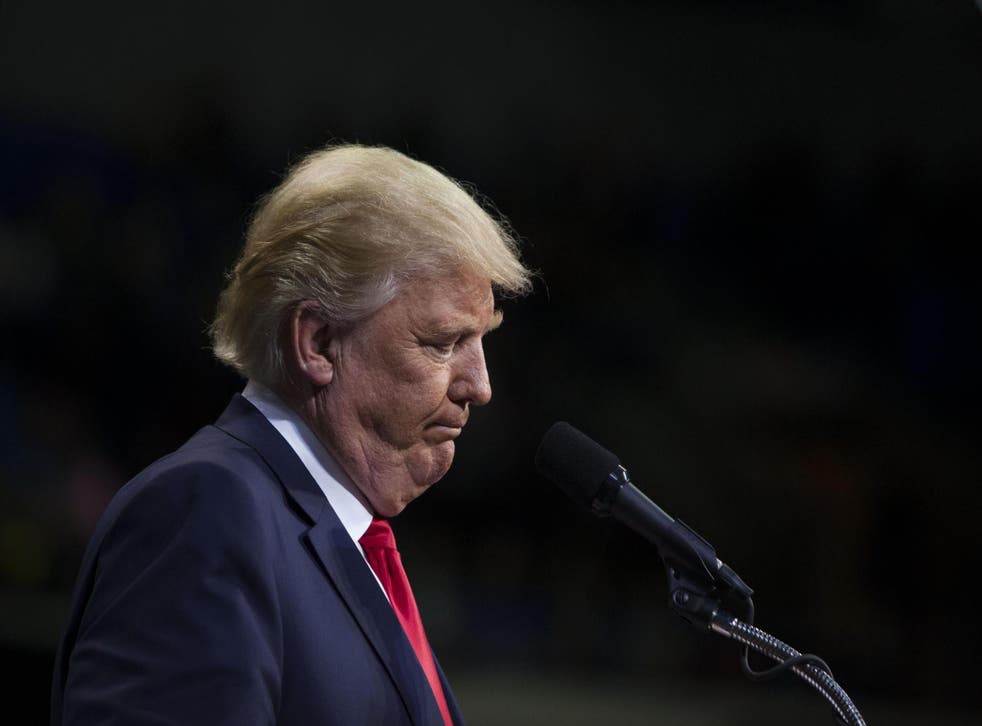 More than a quarter of the Republican Party's top ranks – members of the US Congress and state governors – are now declining to support Donald Trump, a new survey has found.
The shocking extent to which Mr Trump is being disowned by members of his own party was revealed in sharp focus by USA Today, which published its exclusive findings on Wednesday.
It is a snapshot of GOP sentiment at a time when Mr Trump is declaring himself glad to be freed of the "shackles" of the Republican apparatus as part of the fall-out from the leaking last weekend of a video showing him talking abusively about women in 2005.
While Mr Trump's relations with the GOP were uneasy even before he secured the party's nomination, the video furore has seen them descend to new lows. He was hurt in particular when House speaker Paul Ryan said on Monday that he would no longer campaign for him and was instead switching his energies to defending the Republican majorities in Congress.
After issuing occasional calls over recent months for the party to unify and rally behind him, Mr Trump seems now to have given up on the prospect entirely. Speaking to Fox News late on Tuesday, he roundly dismissed serving Republicans. "I wouldn't want to be in a foxhole with a lot of these people," he said.
The USA Today survey shows that for many in the party the feeling is now mutual. Of the 31 Republican governors, 54 GOP senators and the 246 Republican members of the House, a full 87 were not endorsing Mr Trump's candidacy as of Tuesday night, it found. That means that 26 per cent of the party's top elected officials are declining to show him support.
There is nothing in the modern political era that comes close to being comparable. Only three Republicans withheld their support for Mitt Romney when he was the nominee four years ago. It casts a spotlight on the trauma the Republican Party is going through with Mr Trump as their nominee and the depth of the damage that is being inflicted on it by his candidacy.
Whether or not Mr Trump finally prevails on 8 November, much of the attention in the political universe once the election is over will be on the Republican Party and how it will attempt to repair itself, assuming that will even be possible. Still by his side for the moment is Reince Priebus, the chairman of the Republican National Committee, who has strongly denied reports that he had ordered a halt in RNC efforts in support of him in key swing states.
The survey also echoes the deep jitters felt by many in the party about the negative consequences his candidacy could have on their down-ballot fortunes. There is clear concern that his long shadow on 8 November could cost the Republicans control of the US Senate and possibly even - though this is still regarded as unlikely - of the House of Representatives.
On Fox, Mr Trump made no secret that it was Mr Ryan's decision no longer to appear with him on the campaign trail that had prompted him finally to go all out to repudiate some members of the party, declaring himself, "just tired of non-support".
"I don't want his support, I don't care about his support," Mr Trump said. "I wouldn't want to be in a foxhole with a lot of these people, that I can tell you, including Ryan. By the way, including Ryan, especially Ryan."
While there may be still time for a truce, the USA Today survey notes that among the 87 dissenters, some had separated themselves from Mr Trump months ago, others had decided to bolt in light of his lewd comments on the leaked video while others simply declined to say whether they would or would not vote for their own presidential nominee.
Mr Trump's "offensive comments make it very difficult for any candidate to support him," Fred Malek, a longtime Republican strategist and finance chair for the Republican Governors Association told the newspaper. "Therefore you have an unheard of number looking to their own election prospects and feeling they are better served by not supporting him."
Register for free to continue reading
Registration is a free and easy way to support our truly independent journalism
By registering, you will also enjoy limited access to Premium articles, exclusive newsletters, commenting, and virtual events with our leading journalists
Already have an account? sign in
Register for free to continue reading
Registration is a free and easy way to support our truly independent journalism
By registering, you will also enjoy limited access to Premium articles, exclusive newsletters, commenting, and virtual events with our leading journalists
Already have an account? sign in
Join our new commenting forum
Join thought-provoking conversations, follow other Independent readers and see their replies