RNC 2016: When is it, who is attending and what will happen with Donald Trump?
Batten down the hatches: The Trump coronation at this year's Republican National Convention in Cleveland is just around the corner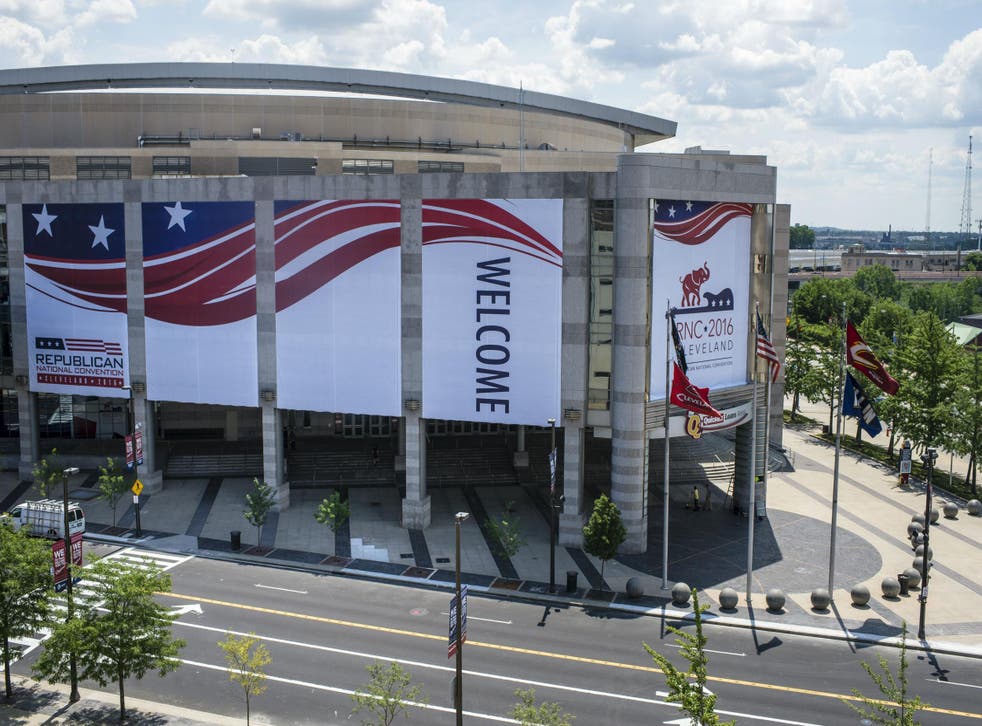 What is it?
A giant jamboree that is part official business - selecting the presidential and vice presidential nominees and adopting a policy platform on everything from trade to abortion rights - and part high-energy party political broadcast complete with the usual balloon-and-confetti hoopla.
When is it?
With 2,472 delegates due to show up (and tens of thousands of other party supporters and journalists), the circus opens inside the cavernous Quicken Loans Arena (usually reserved for basketball games) in Cleveland, Ohio, on Monday 18 July and concludes on Thursday 21 July.
What will happen?
The Republican presumptive nominee Donald Trump has promised a "spectacular" with celebrity speakers, musical performances and whatever else he can think of to make his crowning into a ratings bonanza. There are, however, rumblings of a rebellion among a rump of disgruntled delegates, aimed at derailing his nomination. Will the mutineers get media attention? Yes. Will they succeed? Highly doubtful.
Donald Trump praises Saddam Hussein for his ability to kill terrorists
Who will be there?
Primetime hours will feature a parade of speakers selected by the Republican National Committee and Trump. That probably means his wife, Melania, and his eldest kids, Donald Jr, Ivanka, Eric and Tiffany. Celebrities are likely to include former star basketball coach Bobby Knight and possibly one-time boxing promoter Don King. Expect speeches by House speaker Paul Ryan and Senator Ted Cruz, who was Trump's closest rival in the primary elections.
Who will not be there?
There are lots of top-ranking Republicans dismayed by the choice of Trump who will be notable by their absence, including both former Presidents Bush and 2012 nominee, Mitt Romney.
Donald Trump's most controversial quotes

Show all 14
What will Trump be doing for four days in Cleveland exactly?
Traditionally, the nominee keeps his or her powder dry and makes a grand entrance at the end, which means a big speech on Thursday night. (In 2008, the delegates were moved to a stadium to watch Obama appear before a set of Greek columns.) But somehow Trump staying in the wings until then seems unlikely.
Which Donald Trump should we expect?
On the campaign trail, Trump has been a pantomime act, goading fans to boo and hiss at Hillary Clinton and reporters and chant for a wall at the border with Mexico. But expect the other Trump to show up in Cleveland, putting on his best presidential mien with the help of tele-prompters.
What about that rebellion?
There will be a formal vote on the convention floor to confirm Trump as the nominee. He needs half the delegates plus one. He should get at least that. (An Associated Press count shows that Trump has 1,543 delegates ready to back his nomination.) But in these last days running up to the Convention, anti-Trumpistas are trying to force changes in the rules to allow delegates to unbind themselves from the results of primary elections in their respective states and vote according to their consciences. Even if they get the rule changes, it is unclear whether they could persuade enough delegates to go against The Donald.
And trouble outside the arena?
The Cleveland police say they are prepared for whatever happens. Let's hope so. But the security concerns are real, with thousands expected to show up for anti-Trump protests. It is worrying to some that Ohio has laws that allows for the concealed carrying of guns.
What happens next?
Cue Hillary and whomever she chooses as her running mate. It's the Democrats' turn the week after in Philadelphia. In the meantime Trump and his running mate will hit the road fully aware that the media attention will be off them for a few days at least.
Join our new commenting forum
Join thought-provoking conversations, follow other Independent readers and see their replies