Donald Trump warns Robert Mueller not to probe his family's finances beyond Russia investigation
'I'm not under investigation. For what? I didn't do anything wrong'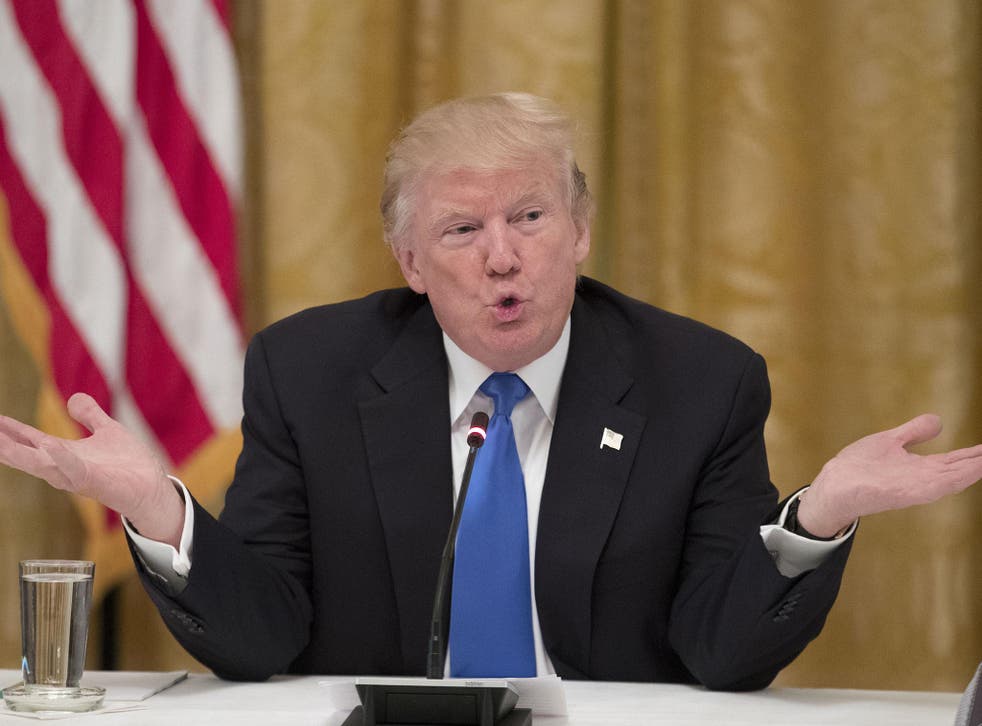 Donald Trump has warned his special counsel from looking into his family's finances beyond the scope of his investigation into Russian interference in last year's election.
In an interview with The New York Times, the US President was asked if Robert Mueller would be crossing a red line by investigating his family finances.
"I would say yes," Mr Trump replied.
However, the President would not be drawn on what he would do about it. "I think that's a violation. Look, this is about Russia," he said.
Trump and Putin shared second undisclosed meeting at G20
Mr Mueller's investigation into Russian meddling in the 2016 election and potential ties between the Russian government and Trump campaign aides has cast a growing cloud on the Trump administration.
But Mr Trump went on to say he didn't think he was under investigation.
"I don't think we're under investigation," he said. "I'm not under investigation. For what? I didn't do anything wrong."
Mr Trump appeared to threaten Mr Mueller, suggesting he had damaging information on the former FBI director.
He said Mr Mueller's selection for the job was a conflict of interest because he had interviewed him to serve as the replacement FBI director.
"There were many other conflicts that I haven't said, but I will at some point," Mr Trump said.
Donald Trump's international Presidential trips

Show all 22
The President also said he would never have appointed Jeff Sessions as attorney general had he known Mr Sessions would recuse himself from overseeing the Russia investigation.
In an extraordinary denouncement of one of his earliest backers in Washington, Mr Trump said Mr Sessions' decision to recuse himself from all matters related to Russia was "very unfair to the president."
"Sessions should have never recused himself," he told the paper, "and if he was going to recuse himself he should have told me before he took the job and I would have picked somebody else."
Mr Sessions' recusal, announced following revelations that he had failed to disclose meetings with Russia's ambassador to the US, effectively paved the way for the appointment of Mr Mueller as special counsel.
Register for free to continue reading
Registration is a free and easy way to support our truly independent journalism
By registering, you will also enjoy limited access to Premium articles, exclusive newsletters, commenting, and virtual events with our leading journalists
Already have an account? sign in
Register for free to continue reading
Registration is a free and easy way to support our truly independent journalism
By registering, you will also enjoy limited access to Premium articles, exclusive newsletters, commenting, and virtual events with our leading journalists
Already have an account? sign in
Join our new commenting forum
Join thought-provoking conversations, follow other Independent readers and see their replies