Donald Trump says 'leak' of Robert Mueller's Russia probe questions is 'disgraceful'
Special counsel's nearly four dozen questions ask about Mr Trump's ties to Russia and whether US president obstructed inquiry
Samuel Osborne
Tuesday 01 May 2018 19:41 Comments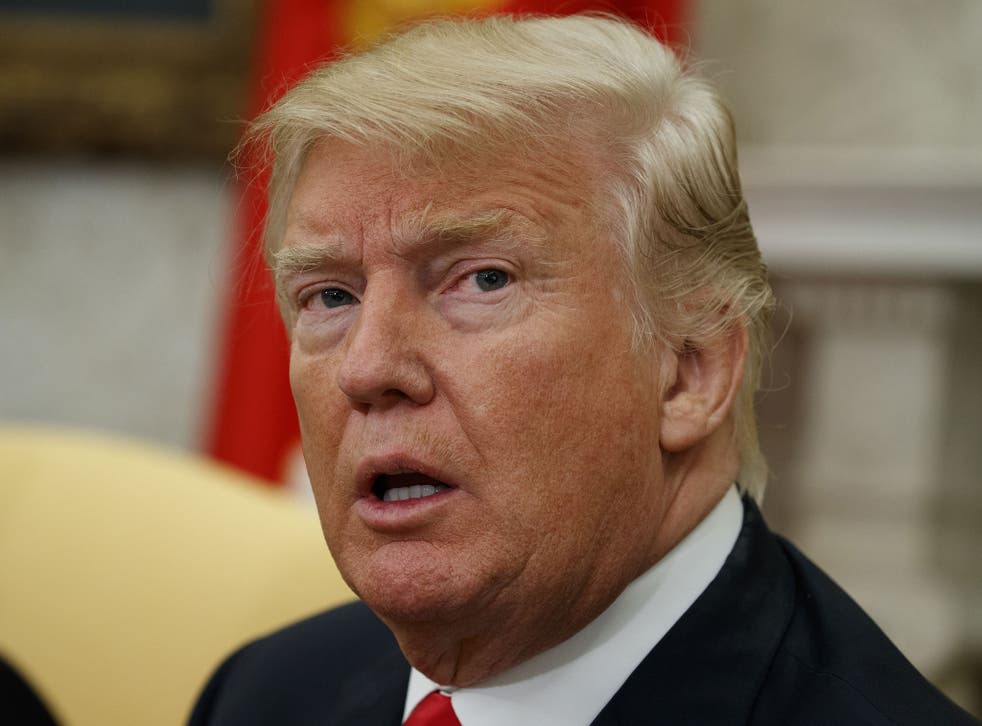 Donald Trump has said it is "disgraceful" a list of questions from the special counsel, Robert Mueller, investigating Russian interference in the US election was "leaked" to the media.
The New York Times published nearly four dozen questions given to the US president's attorneys.
They include questions on Mr Trump's ties to Russia, his motivations for firing James Comey from his post as FBI director, and contacts between Trump campaign officials and Russians.
Mr Mueller is probing Russia's alleged interference in the 2016 presidential election, whether Moscow colluded with the Trump campaign and if the president has unlawfully tried to obstruct the investigation.
"So disgraceful that the questions concerning the Russian Witch Hunt were 'leaked' to the media," Mr Trump tweeted.
"No questions on Collusion. Oh, I see...you have a made up, phony crime, Collusion, that never existed, and an investigation begun with illegally leaked classified information. Nice!"
In a second tweet, he added: "It would seem very hard to obstruct justice for a crime that never happened."
However, the questions do appear to indicate Mr Mueller is looking into possible collusion.
While the questions do not use the term "collusion", they ask what the president knew about Russian hacking, the use of social media and "other acts aimed at the campaign".
Another question asks what Mr Trump knew about campaign staff, including his former campaign chairman, Paul Manafort, reaching out to Moscow.
Mr Trump has repeatedly called the investigation a "witch hunt" and insists there was no collusion between his campaign and Russia.
The biggest names involved in the Trump-Russia investigation

Show all 17
Although Mr Mueller's team has indicated to Mr Trump's lawyers that the president is not considered a target, investigators remain interested in whether his actions constitute obstruction of justice and want to interview him about several episodes in office.
Many of the questions obtained by the Times centre on the obstruction issue, including his reaction to attorney general Jeff Sessions' recusal from the Russia investigation, a decision Mr Trump has angrily criticised.
The queries also touch on Trump's businesses and his discussions with his personal lawyer, Michael Cohen, about a possible Moscow real estate deal. Cohen's business dealings are part of a separate FBI investigation.
Donald Trump asked about Mueller probe after signing order imposing $60bn in tariffs on Chinese imports
One question asks what discussions Mr Trump may have had regarding "any meeting with Mr Putin", referring to the Russian president, Vladimir Putin. Another question asks what the president may have known about a possible attempt by his son-in-law, Jared Kushner, to set up a back channel with Russia before Trump's inauguration.
Additional questions centre on Michael Flynn, Mr Trump's former national security adviser, who has pleaded guilty to lying to the FBI about his discussions on sanctions against Russia with the Russian ambassador, Sergey Kislyak, during the presidential transition period. Mr Flynn is now cooperating with Mr Mueller's investigators.
"What did you know about phone calls that Mr Flynn made with the Russian ambassador, Sergey Kislyak, in late December 2016?" reads one question.
Another asks if there were any efforts to reach out to Mr Flynn "about seeking immunity or possible pardon".
Mr Flynn resigned in February 2017 after White House officials said he had misled them about his Russian contacts during the transition period by saying he had not discussed sanctions.
The following day, according to memos written by Mr Comey, Mr Trump cleared the Oval Office of other officials and encouraged him to drop the investigation into Mr Flynn.
Register for free to continue reading
Registration is a free and easy way to support our truly independent journalism
By registering, you will also enjoy limited access to Premium articles, exclusive newsletters, commenting, and virtual events with our leading journalists
Already have an account? sign in
Join our new commenting forum
Join thought-provoking conversations, follow other Independent readers and see their replies