Donald Trump demands journalist is fired for 'fake' photo tweet in row over Florida crowd size
Washington Post reporter apologises and admits mistake after Trump accuses media of 'never apologising'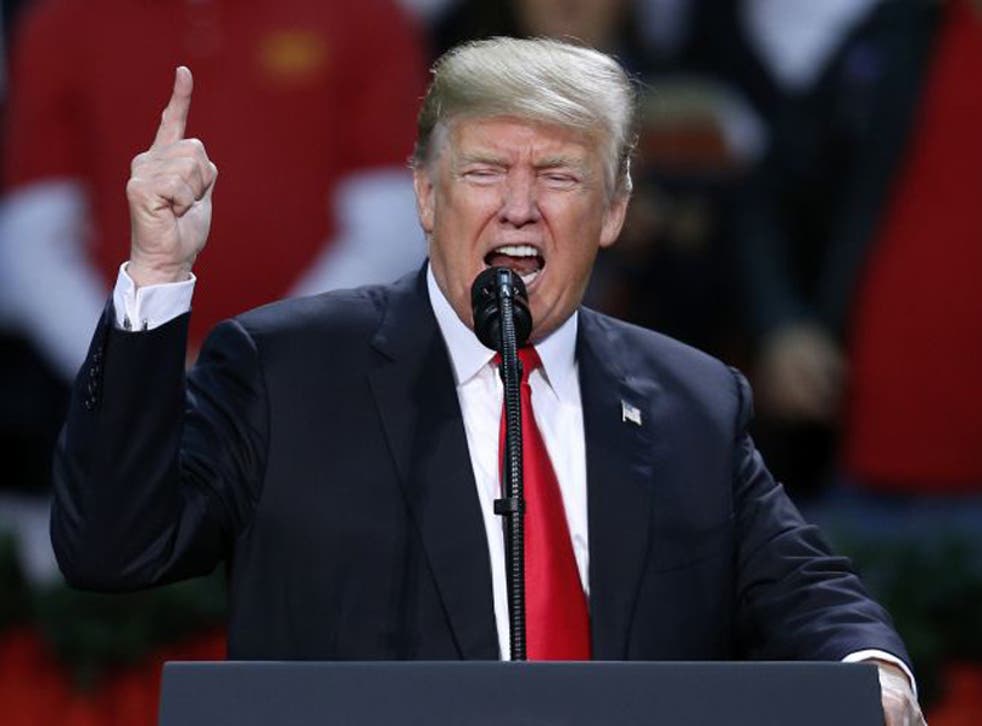 President Donald Trump is embroiled in another row with the press, calling for a Washington Post journalist to be fired after the reporter admitted tweeting a inaccurate image of an empty arena the President was due to speak at.
Journalist Dave Weigel apologised on Twitter and deleted the photo of Mr Trump's Florida rally, saying he had been "confused".
Mr Trump seized upon the admission, saying: ".@daveweigel of the Washington Post just admitted that his picture was a FAKE (fraud?) showing an almost empty arena last night for my speech in Pensacola when, in fact, he knew the arena was packed (as shown also on T.V). FAKE NEWS, he should be fired."
The President had earlier told his 45 million followers: "Packed house, many people unable to get in. Demand apology and retraction from FAKE NEWS WaPo!"
The much shared photograph claimed to show a largely empty stadium at the Pensacola Bay Centre where Mr Trump urged voters in Alabama to "get out and vote" for Senatorial candidate Roy Moore – who is accused of molesting several underage girls.
After the rally, the President tweeted a "Thank You Pensacola" message, claiming that the arena was "packed to the rafters".
In response, political correspondent Mr Weigel shared the photograph of a decidedly un-packed stadium – which he has now admitted was taken earlier in the evening before the Republican rally.
After the President demanded an apology, the reporter responded promptly, tweeting directly to the President: "Sure thing. I apologize. I deleted the photo after @dmartosko told me I'd gotten it wrong. Was confused by the image of you walking in the bottom right corner."
The journalist defended his newspaper, pointing out the tweet from his personal account was "not a Washington Post story".
Donald Trump's first 100 days: in cartoons

Show all 33
Mr Weigel's tweeting has previously landed him in hot water with the newspaper, with bosses issuing a reminder to its reporters that their online behaviour is an extension of their professional lives after the journalist branded defeated congressional candidate Dan Bangino a "lying, pathetic loser".
Mr Trump has locked horns with the press on numerous occasions, repeatedly accusing large sections of the media of producing "fake news" – particularly in relation to the Russia investigation.
He has previously taken issue with reports over the size of crowds, notably following his inauguration ceremony, when his now deposed Press Secretary Sean Spicer accused journalists of reporting inaccurate numbers and using misleading photographs "to minimise the enormous support" he claimed Mr Trump has received at the January swearing-in.
Mr Spicer said at the time the actual number who attended was unknown – before insisting nonetheless that the new President had attracted "the largest audience ever to witness an inauguration" anywhere in the world.
During the Pensacola rally, the President once again went on the offensive over the media, asking the crowd: "Did you see all the corrections the media has been making? They're saying sorry – they've been doing that all year. They never apologise."
Join our new commenting forum
Join thought-provoking conversations, follow other Independent readers and see their replies