Donald Trump will not campaign for Roy Moore in Alabama senate race, says White House
Numerous Republicans have called on Roy Moore to leave the race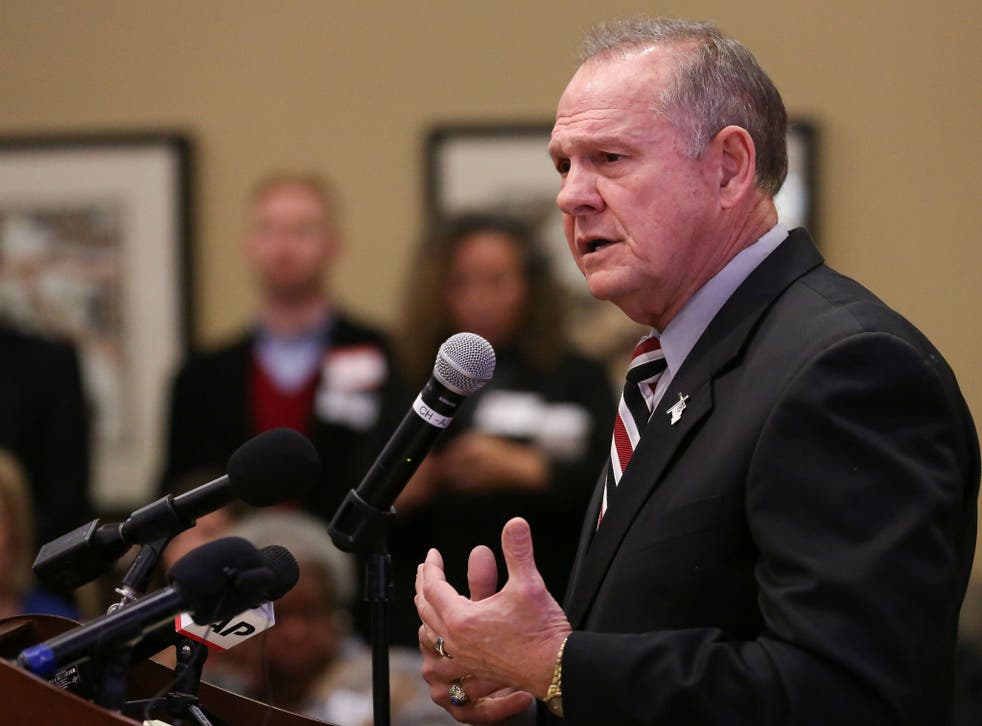 Donald Trump will not campaign for the controversial Alabama Senate candidate Roy Moore, multiple outlets have cited White House officials saying.
The decision to stay away from a race that is key to maintaining Republicans' Senate majority — an already-narrow margin that is crucial for the Republican effort to pass a sweeping tax overhaul bill — demonstrates how politically risky Mr Moore has become, even for a President who has not joined other Republicans in calling on Mr Moore to exit the race.
A swirl of sexual misconduct allegations, including multiple women who have accused Mr Moore of having made advances when they were teenagers, has imperiled the former judge's election prospects and forced the Republican Party into a difficult political situation.
Mr Moore has denied any wrongdoing, saying in a statement that "I have never engaged in sexual misconduct" and saying allegations against him are politically motivated. His campaign doubled down on that line with a new advertisement dismissing "false allegations" as part of "a scheme by liberal elites and the Republican establishment to protect their big government trough."
Despite those disavowals, Republican senators who would be Mr Moore's colleagues have distanced themselves and called upon him to leave the race.
But Mr Trump has not done so, and this weekend he weighed in on the race with a series of tweets warning against electing Mr Moore's Democratic opponent — effectively giving his backing to the embattled Republican.
World news in pictures

Show all 50
While Senate Republicans have said they believe Mr Moore's accusers to be credible, Mr Trump has been reluctant to do the same. He has noted that Mr Moore has been consistent in denying misconduct.
"He totally denies it. He says it didn't happen. And you know, you have to listen to him also," Trump told reporters last week, adding that "He's run eight races and this has never come up, so 40 years is a long time".
The Alabama race has also exposed wider fissures among Republican voters. Mr Moore prevailed in the primary over a more centrist Republican, Sen Luther Strange, whom Mr Trump had endorsed.
Join our new commenting forum
Join thought-provoking conversations, follow other Independent readers and see their replies