Roy Moore: Trump backs alleged child sex abuser despite daughter Ivanka saying he has a 'special place in hell'
'I mean, if you look at what is really going on, and you look at all the things that have happened over the last 48 hours, he totally denies it'
Ryan Butcher
Wednesday 22 November 2017 14:36 Comments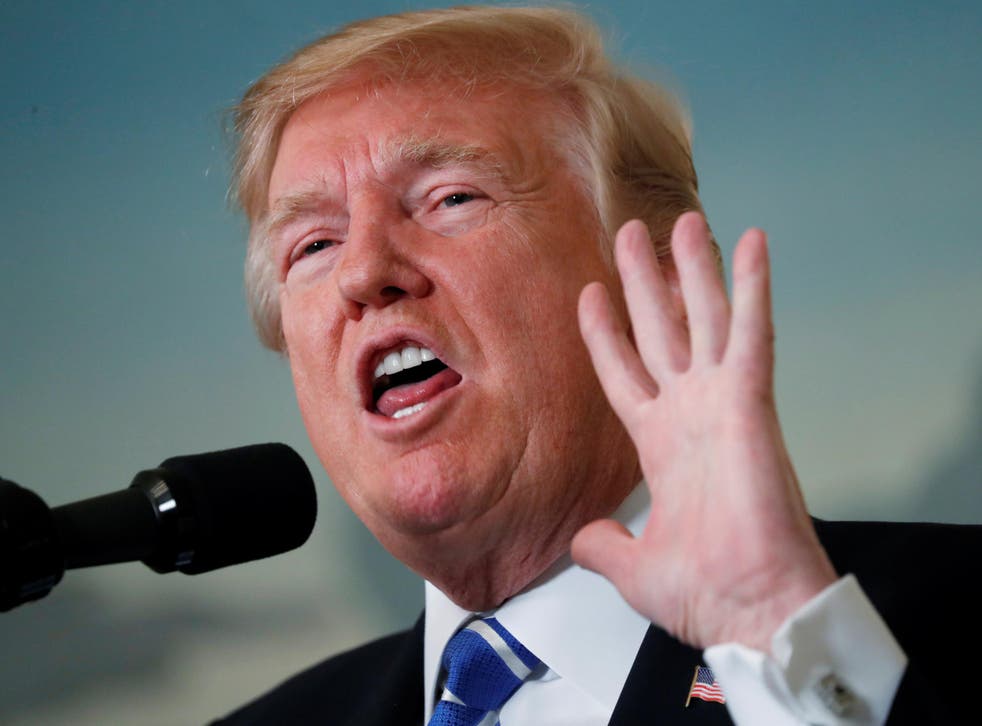 Donald Trump appears to have backed Roy Moore just days after his daughter Ivanka said there was a "special place in hell" for the senate candidate if historic sex allegations against him are true.
After weeks of uncharacteristic silence about the claims of sexual misconduct and predatory behaviour levelled against Mr Moore, the President has finally weighed in with what is being interpreted by many as an endorsement.
"I can tell you one thing for sure: we don't need a liberal person in there, a Democrat – [Doug] Jones," Mr Trump told reporters at the White House on Tuesday, after being pressed on Mr Moore.
"[Mr Moore] denies it. Look, he denies it. I mean, if you look at what is really going on, and you look at all the things that have happened over the last 48 hours, he totally denies it."
It's a far cry from the position being taken by the first daughter and presidential adviser Ivanka Trump, who is resolute in her disgust and disapproval of Mr Moore.
"There's a special place in hell for people who prey on children," she told the Associated Press last week.
"I've yet to see a valid explanation and I have no reason to doubt the victims' accounts."
Allegations against the Republican nominee for Alabama's open seat first surfaced earlier this month when four women told the Washington Post that he had pursued them when they were teenagers and he was in his thirties. One of them was just 14 at the time.
Multiple other women between the ages of 16 and 22 have since come forward and accused him of unwanted sexual contact.
Many of the allegations occurred in the late seventies when Mr Moore was an assistant district attorney in Alabama, while one allegation of groping a 28-year-old woman is said to have taken place in 1991.
Mr Moore has ardently denied all allegations against him, saying he has "not been guilty of sexual misconduct with anyone".
According to Politico, Mr Trump has been very vocal behind the scenes about his scepticism towards the allegations and questions why they are coming to light just weeks before the election.
But White House press secretary Sarah Huckabee Sanders reportedly declined to comment when asked whether Mr Trump has privately expressed scepticism towards the women accusing Mr Moore.
White House aides even claim that the president draws parallels between Mr Moore and his own election campaign in 2016, when a long line of women accused Mr Trump of harassment.
Mr Trump's public and private views represent a break from many heavyweights in his party. More than a dozen Senate Republicans have urged Mr Moore to drop out of the Senate race, while the Chairman of the National Republican Senatorial Committee has threatened to expel him from the Senate if he wins.
Donald Trump's least presidential moments so far...

Show all 30
Senate majority leader Mitch McConnell also turned up the heat on Mr Moore this week saying that he should "step aside" from the race and that he "believed the women".
All but one of the US senators who have previous backed Mr Moore have now withdrawn their endorsement, including Texan Republican Ted Cruz.
"I can't urge the people of Alabama to support a campaign in the face of these charges without serious persuasive demonstration that the charges are not true," he said.
Further weight from the President's office was thrown behind Mr Moore when Mr Trump went on to further disparage the Democrat candidate for the seat.
"I've looked at his record. It's terrible on crime. It's terrible on the border. It's terrible on the military," Mr Trump said of former US attorney Mr Jones.
"I can tell you for a fact, we do not need somebody that's going to be bad on crime, bad on borders, bad with the military, bad for the Second Amendment."
It came after Mr Trump gave approval for presidential counsellor Kellyanne Conway to go after Mr Jones during an interview on Fox & Friends.
Mr Moore has twice been elected and twice been removed from the Alabaman Supreme Court for failing to uphold the United States constitution.
The first time was in 2003 after being elected to the position of Chief Justice. Mr Moore refused to remove a monument of the Ten Commandments commissioned by him from the Alabama Judicial Building despite orders from a federal court.
He was re-elected to Chief Justice in 2013 but suspended in 2016 after directing judges to enforce the state's ban on same-sex marriage, despite a ruling deeming the ban unconstitutional.
He resigned from the role in April this year when he announced he would run for the Senate seat vacated by Jeff Sessions.
Polling from Fox News revealed that Mr Jones is currently eight points ahead of Mr Moore in the race, with the election set to take place on 12 December.
Register for free to continue reading
Registration is a free and easy way to support our truly independent journalism
By registering, you will also enjoy limited access to Premium articles, exclusive newsletters, commenting, and virtual events with our leading journalists
Already have an account? sign in
Join our new commenting forum
Join thought-provoking conversations, follow other Independent readers and see their replies