Donald Trump allies should not expect pardons over Russia investigation, Democrat senator warns
'Trump's loyalty is limited', warns Richard Blumenthal after President pardons controversial former sheriff 
Chris Baynes
Sunday 27 August 2017 12:59 Comments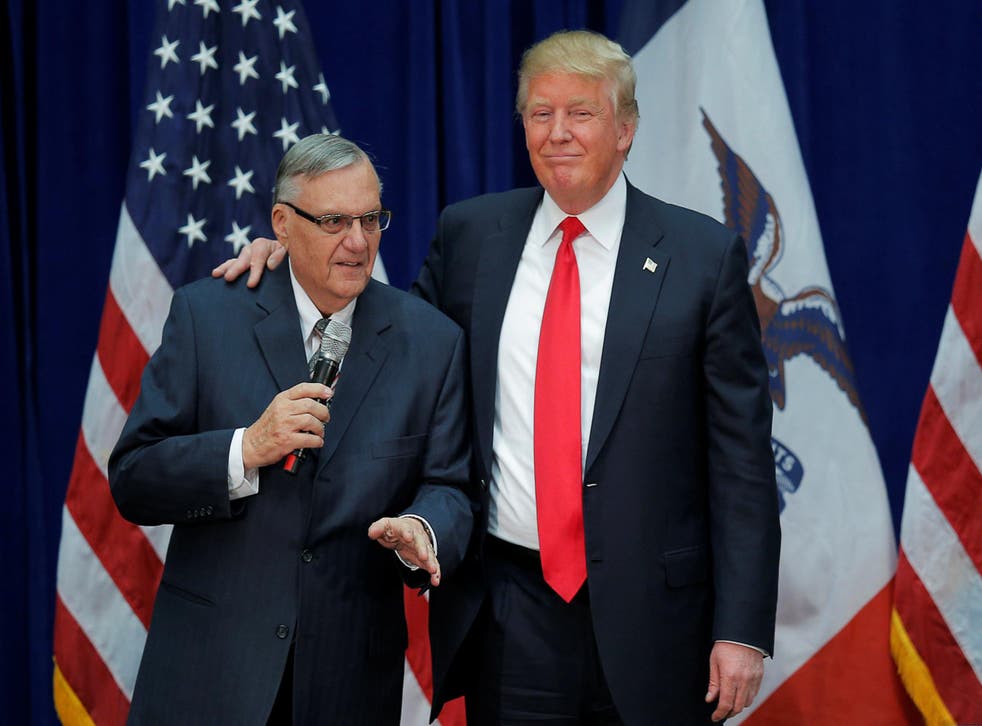 Donald Trump's allies should not expect to be pardoned if they are convicted of colluding with Russia during the US election, a senior Democratic senator has warned.
Richard Blumenthal dismissed the suggestion that controversial ex-sheriff Joe Arpaio's reprieve could send a signal those under investigation over allegations of meddling by Moscow.
Democrat Congressman Adam Schiff had said the "appalling and political" pardon "sent a message" to witnesses in the Russia investigation to "keep quiet, stay loyal".
Special counsel Robert Mueller, who is probing the election allegations, has empanelled a grand jury to pursue the investigation.
The President's son Donald Jr, son-in-law Jared Kushner, and former campaign manager Paul Manafort are also expected be summoned for questioning over a meeting with a Kremlin-linked Russian lawyer who claimed to have damaging material on Hillary Clinton.
Mr Mueller is also reported to have asked the White House for documents relating to Mr Trump's former national security adviser, who resigned after it emerged he had concealed the extent of his contact with Moscow.
Mr Schiff suggested the pardon of Mr Arpaio, convicted of criminal contempt after ignoring a court order to stop racially profiling Latino motorists, could undermine the Russia investigation.
"Arapio action was appalling and political. It also sends a message to the witnesses in the Russia investigation to keep quiet, stay loyal and get pardon," he tweeted.
National security lawyer Bradley Moss said Mr Trump "undoubtedly is attempting to forestall [his allies] co-operating with Mueller beyond what's legally required".
"By demonstrating his willingness to issue pardons without bothering with the trouble of bureaucratic due diligence or concerns about political backlash, President Trump has sent out a subtle and implicit message to Flynn and Manafort: hang tight, I have your back," he wrote for the Huffington Post.
World news in pictures

Show all 50
But Mr Blumenthal, who sits on the Judiciary Committee, said: "Any witness counting on a Russia investigation pardon should think again.
"Trump's loyalty is limited, witnesses can still be compelled to testify, and the pardons apply only to federal crimes."
Senior Republicans including veteran senator John McCain and House of Representatives speaker Paul Ryan, have criticised Mr Arpaio's pardon.
Mr McCain said the President's decision "undermines his claim for the respect of rule of law".
Register for free to continue reading
Registration is a free and easy way to support our truly independent journalism
By registering, you will also enjoy limited access to Premium articles, exclusive newsletters, commenting, and virtual events with our leading journalists
Already have an account? sign in
Join our new commenting forum
Join thought-provoking conversations, follow other Independent readers and see their replies