Democrat calls for probe into Donald Trump's ties to Blackwater founder Erik Prince after Russia meeting exposed
'He is the kind of unvetted, unscrupulous person that seems to fit very nicely, especially into the kinds of operations that they want done'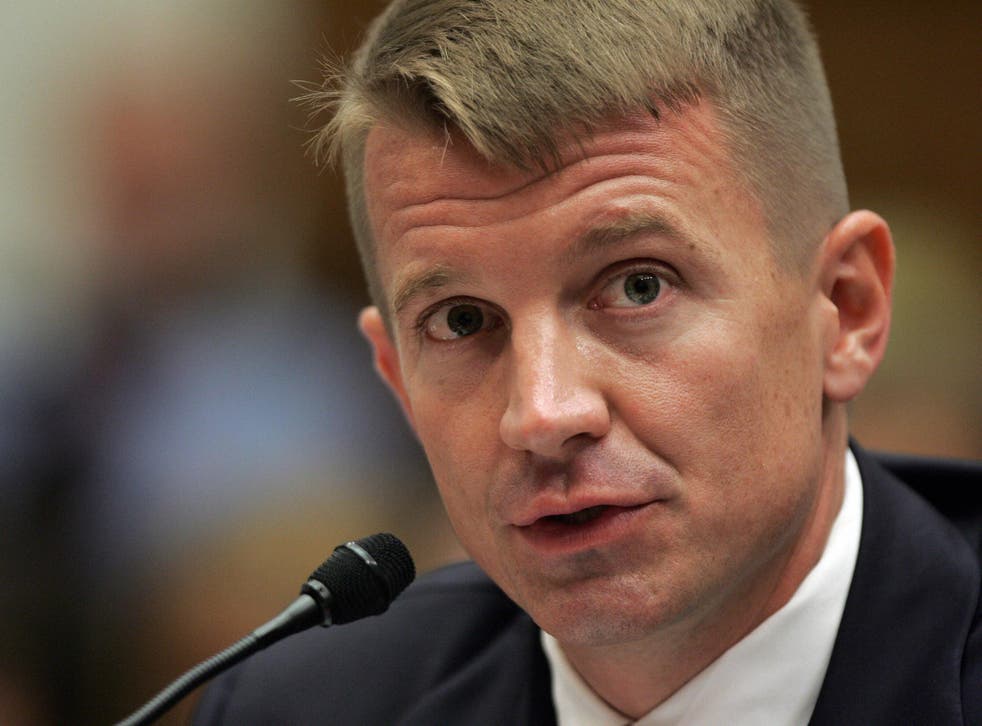 A Congresswoman has called for an investigation into the Donald Trump administration's links with the "mercenary" founder of Blackwater private security firm, Erik Prince.
Mr Prince has a long history of being involved in private security projects, most recently in China, according to reports.
This week, it was revealed Mr Prince met with Russian representatives in the Seychelles, in a meeting facilitated by the United Arab Emirates, in order to establish an unofficial line of communication with Moscow prior to Mr Trump's inauguration.
Four US Blackwater guards jailed for deaths of 14 Iraqi civilians
There have also been claims Mr Prince acted as an informal adviser to Mr Trump, in addition to donating at least $250,000 to his campaign. Mr Prince has had a long relationship with Mike Pence and Steve Bannon, and his sister, Betsy DeVos, is Education Secretary.
The allegations are likely to cause a further headache to the President, for whom questions remain about his links to Russia.
Democratic Representative Jan Schakowsky told the Intercepted podcast the US intelligence community should tell Congress what they know about Mr Prince. The US public had a "right to know" about his activities, Ms Schakowsky said.
She added: "What are the things he is engaged in? What are the things the American people need to know about his activities and how can we disassociate ourselves from him? And how can he be held accountable by the United States for some of the activities he's been engaged in?"
A former Navy Seal, Mr Prince set up Blackwater in 1997, which won numerous government contracts. But it came under intense criticism following the 2007 Nisour Square massacre, in which 17 Iraqi civilians were killed at the hands of Blackwater staff.
"He is the kind of unvetted, unscrupulous person that seems to fit very nicely, especially into the kinds of operations that they [the Trump administration] want done," Ms Schakowsky said.
Mr Prince later sold Blackwater but continued to be involved in private security in Africa and Asia. He also reportedly helped establish a private security force in the UAE and most recently, Hong Kong.
Ms Schakowsky added: "I think more and more Americans are disturbed, and, it's been focusing on Russia, but this with Erik Prince goes way beyond that, and I think more significantly beyond that."
World news in pictures

Show all 50
"This is a mercenary that liked to disguise himself during the Iraq war as some kind of uber patriot of the United States of America … Well it seems he's given up that façade, working with the Chinese, the Sudanese, and now, we find out, facilitating backchannels to Russia."
A spokesman for Mr Prince said: "Erik had no role on the transition team. This is a complete fabrication. The meeting had nothing to do with President Trump. Why is the so-called under-resourced intelligence community messing around with surveillance of American citizens when they should be hunting terrorists?"
"This proves once again the disastrous folly of allowing permanent seditious bureaucrats to be empowered with intelligence gathering tools with which they cannot be trusted to defend America. They are violating their oath to defend the constitution. They must be rooted out and fired".
"If it really was true that President-elect Trump and President Putin have been coordinating, why would anyone need to meet me anyway?"
Join our new commenting forum
Join thought-provoking conversations, follow other Independent readers and see their replies