Donald Trump uses 'Russian propaganda' to attack Hillary Clinton's campaign
'The Republican nominee for president is standing on a stage reciting the manufactured story as truth,' says Kurt Eichenwald
Matt Payton
Wednesday 12 October 2016 13:48 Comments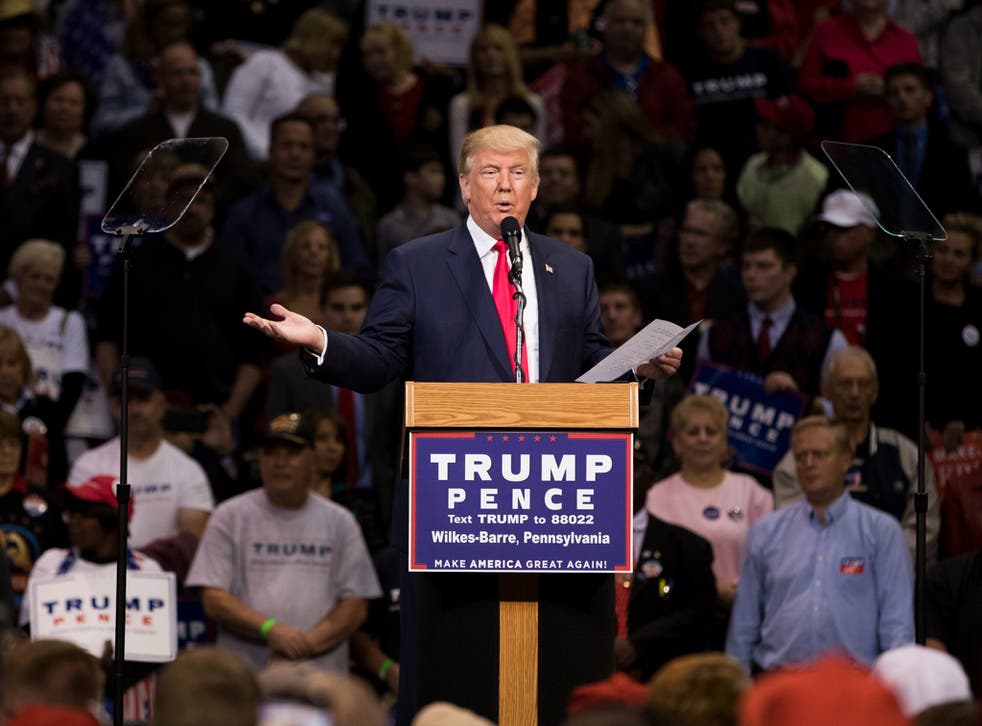 Donald Trump has quoted misinformation regarding Hillary Clinton's campaign that was seemingly first propagated by a Kremlin-run news agency.
Mr Trump told his supporters that a leaked email from Sidney Blumenthal, a close aide to both Hillary and Bill Clinton, showed that he thought the Benghazi embassy attack had been "preventable".
In reality, Mr Blumenthal was forwarding on a Newsweek article by journalist Kurt Eichenwald which included the following phrase: "One important point has been universally acknowledged by the nine previous reports about Benghazi: the attack was almost certainly preventable."
He had sent the article to John Podesta, Hillary Clinton's campaign chairman.
Trump quoted the above phrase verbatim clearly stating it belonging to Mr Blumenthal rather than its correct author, Mr Eichenwald.
The misappropriation of the statement to Mr Blumenthal was first made in an article by Sputnik, a right-wing Russian news agency sponsored by Vladimir Putin's regime. The article has since been removed.
Newsweek's Kurt Eichenwald said: "The Russians engage in a sloppy disinformation effort and, before the day is out, the Republican nominee for president is standing on a stage reciting the manufactured story as truth.
"How did this happen? Who in the Trump campaign was feeding him falsehoods straight from the Kremlin?"
Republican leaders backing away from Donald Trump after lewd remarks

Show all 12
The hacking and release of Democratic National Committee emails has been blamed on Moscow, according to the US director of national intelligence James Clapper.
Mr Clapper, speaking alongside the Secretary for Homeland Security Jeh Johnson, said last week the hacks were "intended to interfere with the US election process" and were approved by "Russia's most senior officials".
The Republican nominee has previously caused controversy by praising Vladimir Putin's leadership.
His campaign manager Paul Manafort was forced to resign in August after negative reports regarding his business and political links with the Moscow-backed deposed Ukrainian president Viktor Yanukovych.
Register for free to continue reading
Registration is a free and easy way to support our truly independent journalism
By registering, you will also enjoy limited access to Premium articles, exclusive newsletters, commenting, and virtual events with our leading journalists
Already have an account? sign in
Join our new commenting forum
Join thought-provoking conversations, follow other Independent readers and see their replies