Donald Trump lashes out over special counsel appointed to investigate his Russia links and misspells counsel
'This is the single greatest witch hunt of a politician in American history,' President claims
Lizzie Dearden
Thursday 18 May 2017 12:40 Comments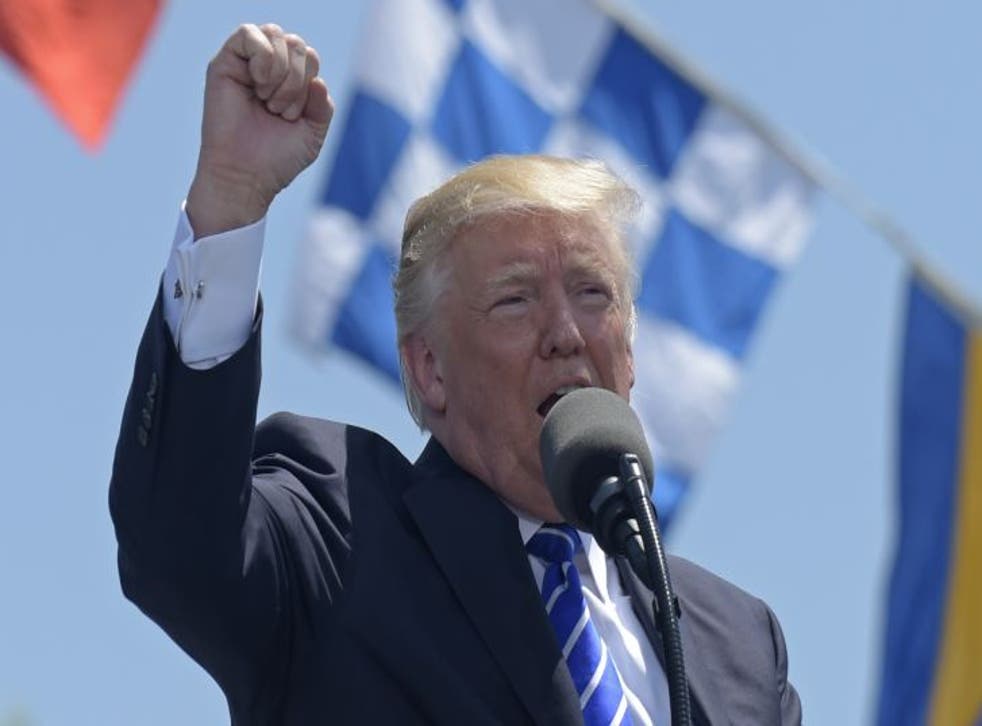 Donald Trump has attacked the appointment of a former FBI director to investigate alleged ties between his campaign team and Russia.
"With all of the illegal acts that took place in the Clinton campaign & Obama Administration, there was never a special councel [sic] appointed!" the President wrote on Twitter.
"This is the single greatest witch hunt of a politician in American history!"
Mr Trump did not elaborate on the "illegal acts", but appeared to be referring to the closed investigation into Hillary Clinton's use of a private email server for government communications, including classified information.
He was reacting to the Justice Department's appointment of James Comey's predecessor, Robert Mueller, as a special counsel to lead the federal investigation into claims the Trump campaign collaborated with Moscow to sway the 2016 election.
Mr Mueller, whose arrival came as a surprise following months of calls for an outside prosecutor, will have sweeping powers and the authority to prosecute any crimes he uncovers.
His broad mandate gives him not only oversight of the Russia probe, but also "any matters that arose or may arise directly from the investigation" - potentially including the removal of Mr Comey.
Donald Trump: No politician has been treated worse or more unfairly
Mr Mueller, a former federal prosecutor who took up his FBI days before 9/11, is highly valued by Republicans and Democrats and was asked to extend his term by Barack Obama.
Attorney General Rod Rosenstein said the appointment was "necessary in order for the American people to have full confidence in the outcome".
The Justice Department's move has escalated the legal stakes and potential damage for Mr Trump, who has repeatedly dismissed the scandal as "fake news" and a "hoax".
In a written statement, Mr Trump insisted again that there were no ties between his campaign and Russia.
"A thorough investigation will confirm what we already know — there was no collusion between my campaign and any foreign entity," he said. "I look forward to this matter concluding quickly."
His White House has been embroiled in a series of controversies that escalated last week with the dismissal of Mr Comey, who was previously leading the Russia investigation as head of the FBI.
The biggest names involved in the Trump-Russia investigation

Show all 17
A leaked memo written by Mr Comey generated further alarm after claiming the President asked him to end a probe into ex-national security advisor Michael Flynn.
His removal came shortly before Mr Trump met Russian foreign minister Sergey Lavrov and ambassador Sergey Kislyak - whose discussions with Mr Flynn resulted in the latter being fired.
Reports denied by the White House claim the President disclosed classified information from a foreign intelligence partner on Isis during the closed-door meeting.
Vladimir Putin dismissed the claims, saying he had a transcript that disproved the allegations amid concern international cooperation could be damaged.
Mr Trump has repeatedly attacked ongoing FBI and congressional investigations and blamed "leakers" inside US intelligence agencies for sabotaging him.
Addressing the US Coast Guard Academy on Wednesday, he claimed: "No politician in history, and I say this with great surety, has been treated worse or more unfairly.
"You can't let the critics and the naysayers get in the way of your dreams...the more righteous your fight, the more opposition that you will face."
Additional reporting by AP
Register for free to continue reading
Registration is a free and easy way to support our truly independent journalism
By registering, you will also enjoy limited access to Premium articles, exclusive newsletters, commenting, and virtual events with our leading journalists
Already have an account? sign in
Join our new commenting forum
Join thought-provoking conversations, follow other Independent readers and see their replies