Senator heading Trump-Russia hearings says hacking practices 'send a chill down anyone who believes in democracy'
The first hearings into possible Russian ties of the President's associates begin with a list of 20 witnesses, which will include Mr Trump's son-in-law Jared Kushner
Mythili Sampathkumar
New York
Wednesday 29 March 2017 23:34 Comments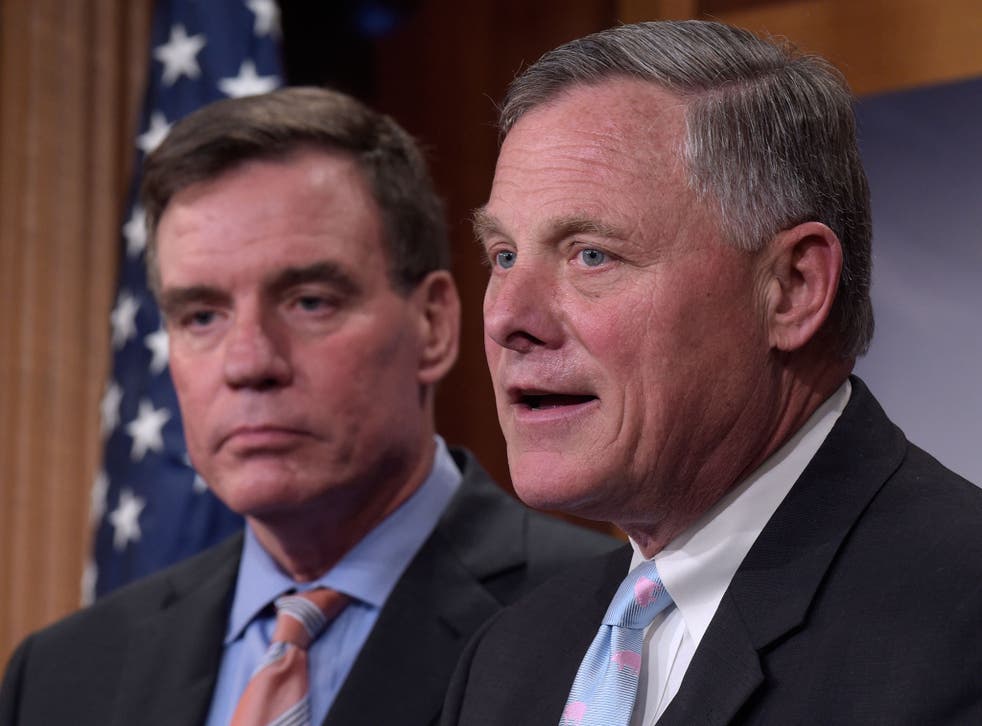 The Democrat senator charged with investigating Donald Trump team's possible ties to Russia has said the techniques used by the Kremlin "would send a chill down anyone who believes in the democratic process".
Democrat Senator Mark Warner, Vice Chair of the Senate Intelligence Committee, and Republican Senator Richard Burr, Chair of the committee, are investigating President Trump's campaign and transition team for possible ties to Russia.
The first public hearing will be held on 30 March. Jared Kushner, Mr Trump's son-in-law and appointed head of the office tasked with bringing business innovation to the government, will appear before the committee.
Mr Warner and Mr Burr said further questioning of Mr Kushner would not happen until the "unprecedented amount of [intelligence] documents" have been more thoroughly reviewed.
Mr Warner warned however that "it's important to not lose sight of what this investigation is about: an outside foreign adversary sought to hijack" a crucial democratic election.
Twenty individuals have been requested to come before committee members for private interviews and five have been scheduled. No names were revealed during the press conference.
Mr Burr made it a point to say that the interviews requested were being done to determine if these individuals had any value to offer as formal witnesses.
If an ambassador or official's office calls and a member of staff answers the phone, technically he has spoken with a Russian official. However, that person likely has no information to offer beyond that. The interviews are meant to weed those people out.
Both agreed that "the investigation into Russia's involvement in the election will go wherever the intelligence leads," as Mr Burr put it.
The committee will also be talking to analysts who put reports together at various intelligence agencies and both Mr Warner and Mr Burr said the intelligence community has by and large been cooperative.
"I'm not here to re-litigate the election," Mr Warner noted. The intention of the investigation is to determine where "paid internet trolls working out of a center in Russia" sent "botnets" to populate sites and search results with fake news items, he explained.
"We are in a whole new realm around cyber…[it poses] huge new threats to democracy," Mr Warner said.
Mr Burr warned he did not want to "take snapshots" of where the investigation stands but hinted that the committee has spoken to Ret. Lieutenant General Michael Flynn, Mr Trump's former Director of National Intelligence who stepped down from his post after ties to foreign governments were revealed.
The goal of the investigation is a report with bipartisan support and raise public awareness on what Russia has done, what they are currently doing, and how they are likely influencing the elections in France, Germany, the Netherlands, and Montenegro, explained Mr Burr and Mr Warner.
The committee has shared what information with France, which has elections coming up in three weeks.
On the House side, Democrats have called for intelligence committee Chairman Devin Nunes to recuse himself because of his previous ties with Mr Trump's team before Mr Trump took office. Mr Nunes came under fire by Democrats for appearing to "have the president's back," as he himself said, rather than being unbiased in the House's investigation into the matter of Russian ties.
Mr Nunes also met with a secret source on the White House grounds last week to review classified material, which he says indicates that Mr Trump associates' communications were captured in "incidental" surveillance of foreigners. Mr Trump has used Mr Nunes' revelations to defend his claim that former President Barack Obama tapped phones at Trump Tower in New York, though Mr Nunes and his committee's top Democrat, Adam Schiff of California, say there is no such evidence.
Mr Burr said he had not personally coordinated with the White House in shaping the scope of the Senate committee's investigation. Asked if he could promise to oversee an impartial probe, Mr Burr responded: "Absolutely. I'll do something I've never done. I'll admit I voted for him [Mr Trump]... But I've got a job in the US Senate and ... it overrides any personal beliefs that I have or loyalties that I might have."
Mr Warner said he had seen no evidence the White House was interfering and would complain publicly if he did.
According to Mr Warner, Russia and President Vladimir Putin's goal is a weaker America - a bipartisan concern. "It's the most important thing i've ever taken on in my life," he added.
Register for free to continue reading
Registration is a free and easy way to support our truly independent journalism
By registering, you will also enjoy limited access to Premium articles, exclusive newsletters, commenting, and virtual events with our leading journalists
Already have an account? sign in
Join our new commenting forum
Join thought-provoking conversations, follow other Independent readers and see their replies