Veteran spy alleges Russia tried to woo Trump to bring down US democracy
'Russian regime has been cultivating, supporting and assisting Trump for at least 5 years'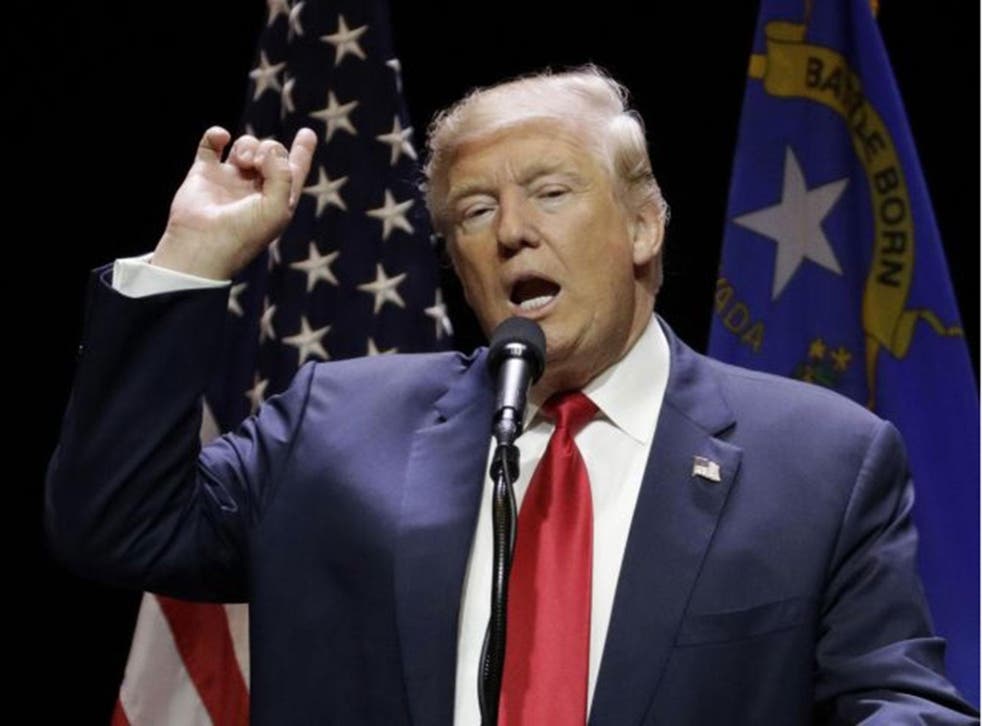 Russia has spent the last five years trying to cultivate Donald Trump as an asset in a bid to undermine Western democracy, according to some extraordinary claims made by a veteran of the spying community.
The allegation is the latest in a series of purported links between the Republican candidate and the Kremlin, which the FBI has been investigating in an ever-widening probe over the course of the summer.
But the accusations came to a head this week, after Democrat Senate leader Harry Reid responded to a new probe into Hillary Clinton's emails by saying the FBI should go public with "explosive information" linking Mr Trump to Russia.
According to the news site Mother Jones, a former Western security official with decades of experience in Russian counterintelligence has handed the FBI a series of memos suggesting there was "an established exchange of information between the Trump campaign and the Kremlin of mutual benefit".
The spy claimed, after consulting with Russian sources, that: "Russian regime has been cultivating, supporting and assisting Trump for at least 5 years. Aim, endorsed by Putin, has been to encourage splits and divisions in western alliance."
The memos also claim, according to Mother Jones, that the Trump campaign "accepted a regular flow of intelligence from the Kremlin", that Russia had enough information from Trump visits to Moscow to "blackmail" him, and that the Kremlin had been feeding him information about Ms Clinton based on her own trips as Secretary of State.
The FBI responded by asking for all the spy's information on Mr Trump, and how he had obtained it, according to the site. It is not clear whether the spy's claims form part of a formal FBI investigation.
But senior agency officials have told the New York Times there are aspects of Mr Trump's alleged relationship with Russia that are still being looked into.
In apparent response to Senate minority leader Mr Reid's fiery letter, the FBI has moved to play down most of the claims made about a Trump-Kremlin collaboration in recent months.
Just hours after a Slate investigation was published suggesting contact between a major Russian bank and a server run by the Trump Organisation, the New York Times reported that the FBI had spent weeks analysing the computer logs and "ultimately concluded that there could be an innocuous explanation".
The FBI has also not deemed it necessary to interview two Trump aides who have been accused of being conduits for Kremlin support, Carter Page and Roger Stone. Both have stringently denied the claims against them as partisan and based simply on their policy views on Russia.
And the FBI has also all-but absolved Mr Trump of any blame in relation to the hacking of senior Democrat figures and web assets, which the White House has described as being carried out by Russia.
Agency officials, again unnamed, told the Times the hacking represented Russia's desire to disrupt and undermine US elections generally, and Moscow's growing adeptness in cyber-attacks, rather than support for any one candidate.
Donald Trump's most controversial quotes

Show all 14
"It isn't about the election," an official was quoted as saying. "It's about a threat to democracy."
Mr Trump has famously praised Mr Putin and aspects of Russian foreign policy during the election campaign, but insists the relationship goes no further than that.
Asked in July whether Russia was trying to help him get elected, he told CBS News: "I don't know anything about it. I can tell you, I think if I came up with that, they'd say, 'Oh, it's a conspiracy theory,' it's ridiculous.
"I mean, I have nothing to do with Russia. I don't have any jobs in Russia. I'm all over the world but we're not involved in Russia."
Responding to the Slate investigation and other more recent allegations late on Monday, Trump campaign spokeswoman Hope Hicks said: "The Trump Organisation is not sending or receiving any communications from this email server. The Trump Organisation has no communication or relationship with this entity or any Russian entity."
Join our new commenting forum
Join thought-provoking conversations, follow other Independent readers and see their replies