Donald Trump's golf course in Scotland loses tax breaks
The Trump Turnberry complex in South Ayrshire was able to claw back around £110,000 in business rates relief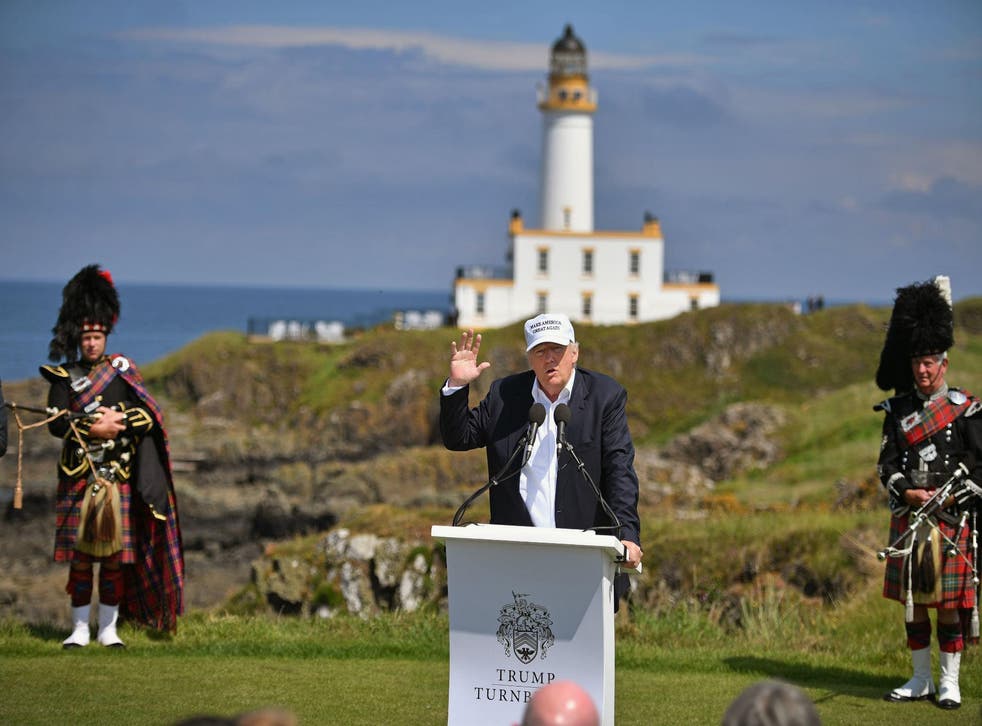 Donald Trump's Scottish golf resort will no longer qualify for a controversial tax break, after a change in the rules by the country's government.
The Trump Turnberry complex in South Ayrshire was able to claw back around £110,000 in business rates relief after the Scottish National Party altered measures in February to help the hospitality sector.
Finance secretary Derek Mackay brought the measures in to aid struggling restaurants and hotels cope with the first revaluation of the rateable value of businesses that had been made since 2010.
However, a change in the Scottish Government's recent budget will rule out Trump Turnberry from the rates relief, the Sunday Herald reported.
Following a wider review of the business rates system, Mr Mackay announced in September that the transitional scheme would continue next year for "all but the very largest hospitality properties".
Documents published alongside the draft Scottish budget in December say the change would only apply for hospitality properties with a rateable value up to £1.5m.
But according to the Scottish Assessors Association website, Trump Turnberry is now above the cut-off point, with a rateable value of £1.65m.
Donald Trump's least presidential moments so far...

Show all 30
Mr Trump bought the property in 2014. Shortly before he was inaugurated as US President last January, he transferred control of the companies which own the resort to his sons Eric and Donald Jr.
His other Scottish golf course, located in Aberdeenshire, did not qualify for relief because it is defined as a golf course instead of a hotel.
A Scottish Government source told the Sunday Herald: "Companies like the Trump Organisation are well able to manage – and these changes mean the budget is prioritising support for smaller firms which most need help in tough economic conditions."
Register for free to continue reading
Registration is a free and easy way to support our truly independent journalism
By registering, you will also enjoy limited access to Premium articles, exclusive newsletters, commenting, and virtual events with our leading journalists
Already have an account? sign in
Register for free to continue reading
Registration is a free and easy way to support our truly independent journalism
By registering, you will also enjoy limited access to Premium articles, exclusive newsletters, commenting, and virtual events with our leading journalists
Already have an account? sign in
Join our new commenting forum
Join thought-provoking conversations, follow other Independent readers and see their replies