Trump criticised by Jewish leaders after breaking with tradition and skipping Holocaust memorial visit
Every US President who has visited the Polish capital since 1989, has paid their respects at the monument for the 1943 Warsaw Ghetto uprising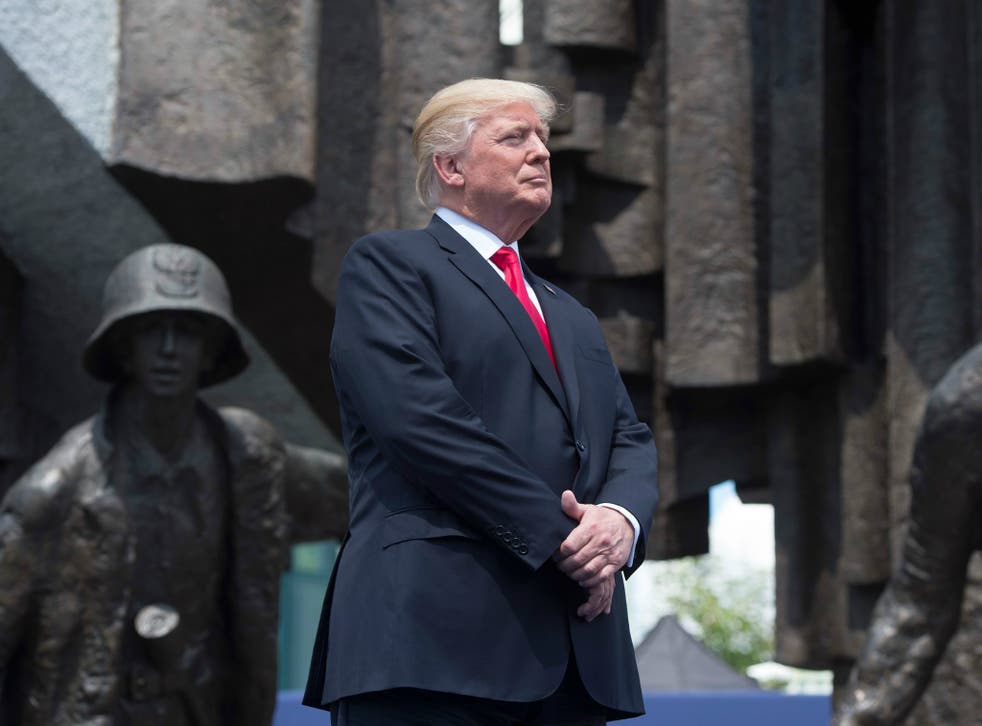 Jewish leaders in Poland have criticised Donald Trump after he broke with decades of tradition and missed a visit to a Holocaust memorial.
Every US President who has visited the country since the Soviet Union was overthrown in 1989 has paid their respects at the monument for the 1943 Warsaw Ghetto uprising.
Commemorating Jewish resistance fighters who took up arms to battle Nazi oppressors, the memorial is only a mile away from the spot where the US leader delivered a speech during his visit to the Polish capital earlier this week.
The President's address in Krasinski Square made reference to the uprising, in which hundreds of Jews took up arms to fight their Nazi oppressors, as he paid tribute to "the triumph of Polish spirit over centuries of hardship".
But he was accused of a "slight" against Poland's Jews in a joint statement issued by community leaders, including the country's chief rabbi.
"Ever since the fall of Communism in 1989, all US presidents and vice-presidents visiting Warsaw had made a point of visiting the Monument to the Heroes of the Warsaw Ghetto," they said in a statement.
They added: "For the Jews of Poland, rebuilding in a democratic Poland their communal life, after the horror of the Shoah and the devastation of Communism, this gesture meant recognition, solidarity and hope.
"We deeply regret that President Donald Trump, though speaking in public barely a mile away from the Monument, chose to break with that laudable tradition. We trust that this slight does not reflect the attitudes and feelings of the American people."
Donald Trump arrives in Poland ahead of G20 in Germany
The rebuke was signed by Anna Chipczynska, president of the Jewish Community of Warsaw, Lesław Piszewski, president of the Union of the Jewish Communities in Poland, and Michael Schudrich, Poland's chief rabbi.
After the statement was issued ahead of the President's stopover in Poland, Mr Trump dispatched daughter Ivanka to visit the monument.
In a later Facebook post she described laying flowers at the memorial as "a deeply moving experience".
She added: "It was a privilege to be able to pay my respects and remember with gratitude those who fought with such tenacity against all odds."
Mr Trump delivered his speech just a few streets away at the foot of a memorial to another doomed World War 2 uprising, in which the Polish Home Army resistance group fought for two months in 1944 to liberate the city from German occupation.
He was in Warsaw for less than 24 hours before flying to Hamburg ahead of the G20 summit.
Join our new commenting forum
Join thought-provoking conversations, follow other Independent readers and see their replies