Donald Trump said 'Boy, that is just not good' about slavery, Martin Luther King's niece claims
Ms King says president's visit sends positive message to black Americans
Samuel Osborne
Thursday 23 February 2017 14:39 Comments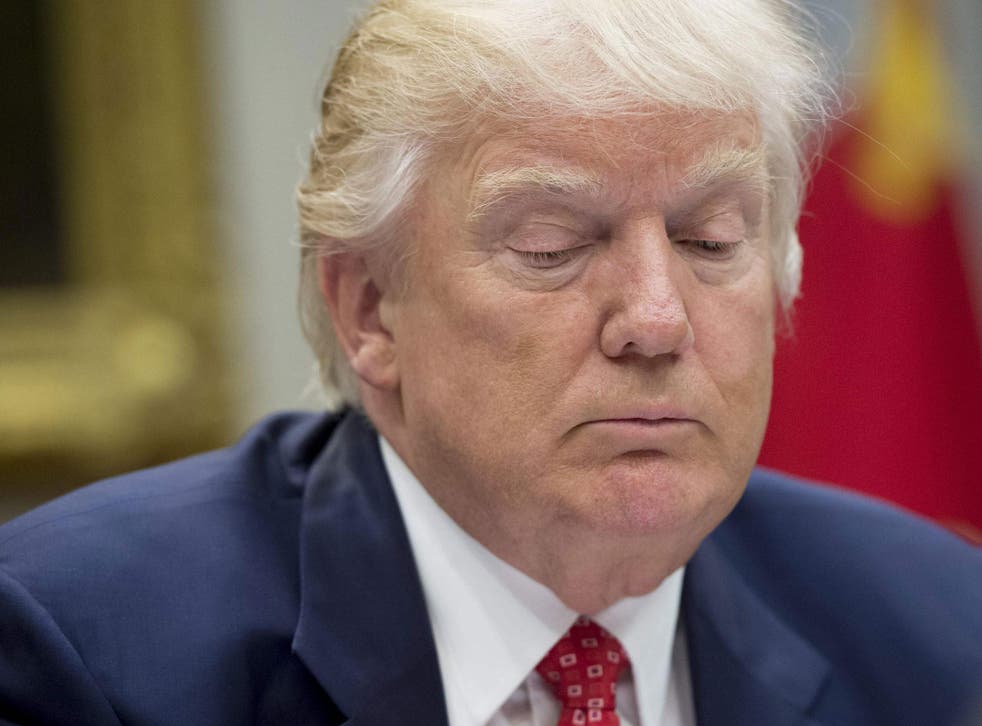 US President Donald Trump said "boy, that is just not good" when he was shown a stone block on which slaves were sold, Martin Luther King's niece has claimed.
Alveda King described Mr Trump as appearing "visibly moved" at two moments during his tour of the National Museum of African American History and Culture.
She told The Atlanta Journal-Constitution she heard Mr Trump say "Boy, that is just not good. That is not good," when he saw a stone auction block from Hagerstown, Maryland.
When they later came across a set of shackles used to restrain children, Mr Trump reportedly said: "That is really bad. That is really bad."
Donald Trump's Black History Month speech
The US president was making his first visit to the new Smithsonian along with Ms King, Ben Carson, Senator Tom Scott and his daughter Ivanka.
After the tour, Mr Trump said: "Today and every day of my presidency, I pledge to do everything I can to continue that promise of freedom for African-Americans, and every American. Nothing is more important."
"This tour was a meaningful reminder of why we have to fight bigotry, intolerance and hatred in all of its very ugly forms."
Ms King told the paper his visit sent a positive message to black Americans.
In pictures: Martin Luther King Jr's campaign for civil rights

Show all 10
However, Janice Mathis, executive director of the National Council of Negro Women, said: "History is always instructive and the museum tells a powerful story, so it is unlikely that he wouldn't be moved by his visit.
"Now, it is my hope that the visit will move beyond a celebration of Black History Month and that he will now consider public policy that is appropriate for a culturally and racially diverse nation today."
The Independent has contacted the White House for a statement.
Register for free to continue reading
Registration is a free and easy way to support our truly independent journalism
By registering, you will also enjoy limited access to Premium articles, exclusive newsletters, commenting, and virtual events with our leading journalists
Already have an account? sign in
Register for free to continue reading
Registration is a free and easy way to support our truly independent journalism
By registering, you will also enjoy limited access to Premium articles, exclusive newsletters, commenting, and virtual events with our leading journalists
Already have an account? sign in
Join our new commenting forum
Join thought-provoking conversations, follow other Independent readers and see their replies