Trump tariffs are 'like first shot in a war', says Nobel prize-winning economist
The economist says these tariffs on steel and aluminium will have an 'immediate disruption effect'
Mythili Sampathkumar
New York
Saturday 03 March 2018 01:45 Comments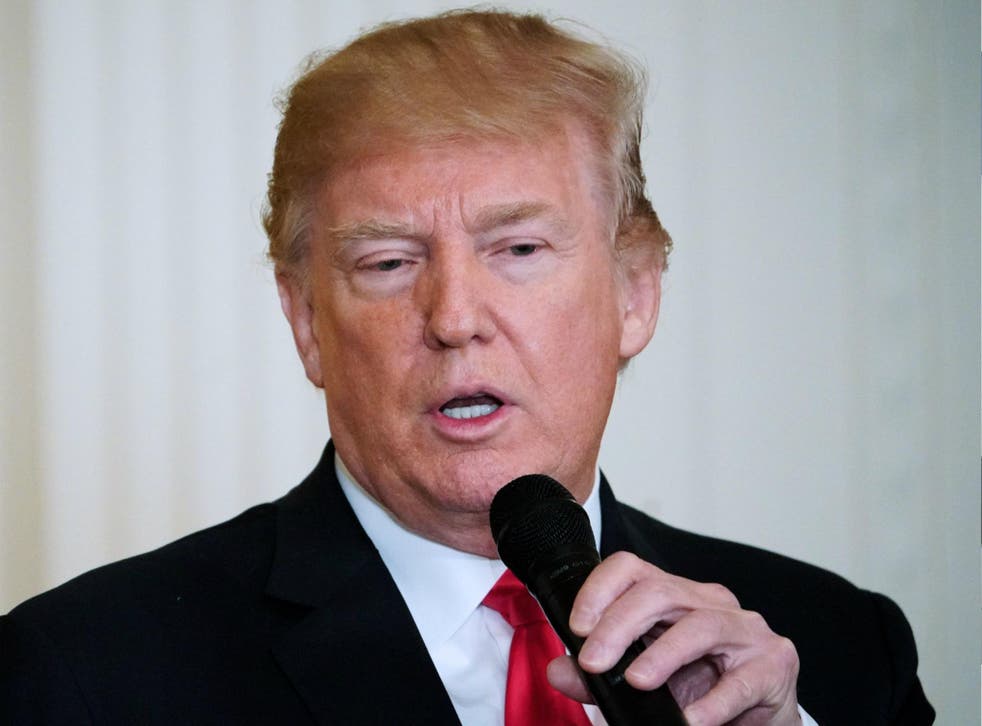 A Nobel-prize winning economist said President Donald Trump's tariffs on steel and aluminium imports are like the "first shot in a war".
Robert Shiller, a 2013 winner and Yale University professor, said: "I'd wonder if this isn't just a first step, that Trump has in mind raising other tariffs. Even if he doesn't there will be other countries who will retaliate and they'll get bigger".
He told CNBC there is going to be an "immediate disruption effect" across the globe due to Mr Trump's tariffs hike.
"That's what happened in the Great Depression," he said referring to the economic downturn in the US in the 1930s.
Companies like Sweden's Electrolux has already announced it would delay a $250m investment in the US state of Tennessee because of the 25 per cent tariff on steel and 10 per cent import duty on aluminium.
Foreign leaders from Canada, the UK, and the EU have criticised the President for his decision.
Canadian Foreign Minister Chrystia Freeland said retaliation may be in order, adding in a statement: "It is entirely inappropriate to view any trade with Canada as a national security threat".
Donald Trump unveils new tariffs on steel and aluminium imports to US
Adding insult to injury, Mr Trump had already threatened to withdraw the US from the North American Free Trade Agreement (Nafta), but for now has a team of negotiators. There are reports, however, that the negotiators are uncomfortable and confused about what the administration actually wants from the deal.
The EU is also thinking of placing tariffs on certain US goods as a result of the latest move. Quintessential American-made goods like Kentucky bourbon, Levi's jeans, and Harley-Davidson motorcycles are on the list of possibilities.
"Trade wars are good, and easy to win," Mr Trump wrote on Twitter in the wake of the announcement. The President made the decision while angry and "unglued," according to an administration official who spoke to NBC News.
"The two officials said, was angry and gunning for a fight, and he chose a trade war, spurred on by Commerce Secretary Wilbur Ross and Peter Navarro, the White House director for trade — and against longstanding advice from his economic chair Gary Cohn and Treasury Secretary Steve Mnuchin," NBC News reported.
World news in pictures

Show all 50
Mr Ross had planned a meeting with executives from the steel and aluminium industries without informing or preparing the White House and Mr Trump "was said to be furious".
The Commerce Secretary then told CNBC that the tariffs are "no big deal" and only have a "trivial" impact.
Even Republicans have slammed the President for the decision.
A spokesperson for House Speaker Paul Ryan, who has proven to be a fairly reliable ally to the President, said: "the Speaker is hoping the President will consider the unintended consequences of this idea and look at other approaches before moving forward".
Governor Scott Walker of Wisconsin, Mr Ryan's home state, tweeted that he hoped the President would reconsider the tariffs because "they will lead to the exact opposite outcome of the administration's stated objective, which is to protect American jobs".
Senator John Thune said he was concerned the rash decision would lead to "retaliatory action" against the US.
The tariff was also called "a massive tax on American families" by Senator Ben Sasse, adding that "protectionism is weak, not strong. You'd expect a policy this bad from a leftist administration, not a supposedly Republican one".
Register for free to continue reading
Registration is a free and easy way to support our truly independent journalism
By registering, you will also enjoy limited access to Premium articles, exclusive newsletters, commenting, and virtual events with our leading journalists
Already have an account? sign in
Join our new commenting forum
Join thought-provoking conversations, follow other Independent readers and see their replies