Trump tariffs latest: US President threatens tax on cars imported from EU in angry tweet
The President has welcomed the prospect of a trade war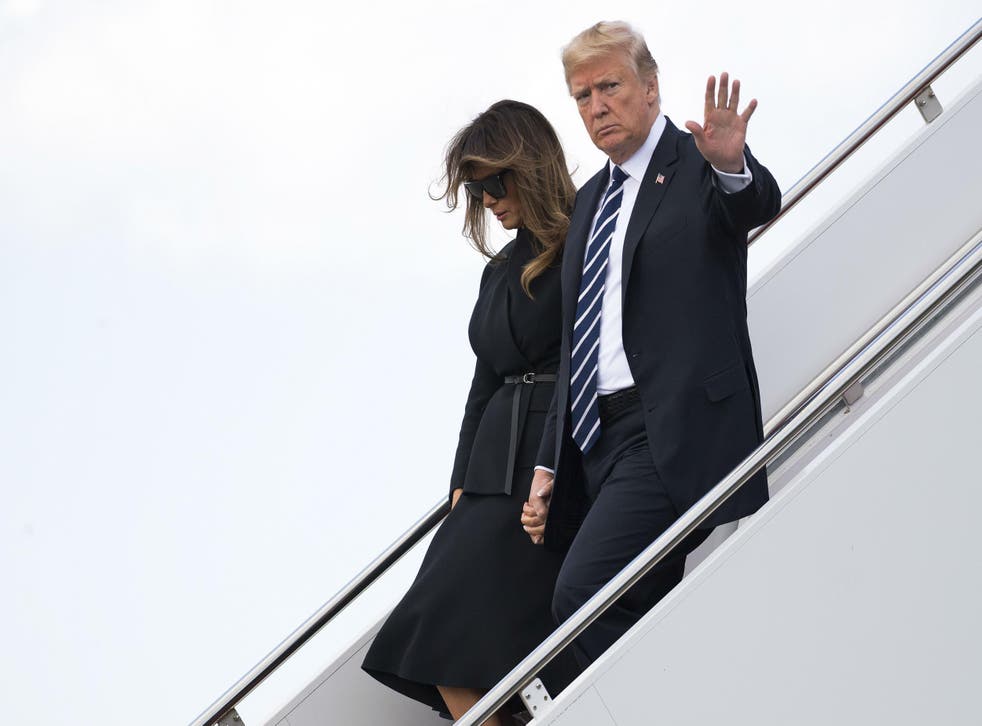 Donald Trump has threatened to impose new tariffs on EU cars as anxieties escalate over a possible trade war that the President has said would be a good thing.
Two days after he announced a 25 per cent levy on steel imports and 10 per cent tax on aluminium, Mr Trump responded to threats of retaliation from various countries by saying he would step up any tit-for-tat measures.
"If the EU wants to further increase their already massive tariffs and barriers on US companies doing business there, we will simply apply a tax on their cars which freely pour into the US," he said. "They make it impossible for our cars (and more) to sell there. Big trade imbalance!"
Donald Trump unveils new tariffs on steel and aluminium imports to US
The EU had warned on Friday it was considering imposing its own tariffs on a range of US products running from Levi's jeans to Harley-Davidson motorcycles and bourbon.
"We will put tariffs on Harley-Davidson, on bourbon and on blue jeans – Levi's," European Commission President Jean-Claude Juncker said on German television.
Mr Trump's announcement has drawn condemnation across the globe, with several countries threatening retaliation if he imposed the duties. Canada was one of several countries to promise it would enact similar measures, while China called for restraint.
Electrolux, the Swedish appliance manufacturer, announced that it was delaying a $250m (£181m) investment to expand and modernise a plant in Springfield, Tennessee, while it awaited further details of Mr Trump's proposals.
The announcement was particularly noteworthy because Electrolux already purchases all the steel it uses for its American products in the US.
"We are putting it on hold. We believe that tariffs could cause a pretty significant increase in the price of steel on the US market," said company spokesman Daniel Frykholm.
Mr Juncker of the EU said: "We would like a reasonable relationship to the United States, but we cannot simply put our head in the sand."
Mr Trump has previously spoken of what he considers an unfair imbalance on foreign-produced cars, criticising countries such as Germany and Japan for not producing more vehicles in the US.
Earlier on Saturday, Mr Trump claimed on Twitter the US had an annual $800bn deficit as a result of "very stupid" trade deals and policies.
"Our jobs and wealth are being given to other countries that have taken advantage of us for years. They laugh at what fools our leaders have been. No more," he wrote.
World news in pictures

Show all 50
While many economists have warned of the dangers of a trade war and US stock markets tumbled after Mr Trump's announcement, the President has tried to claim it would help the country.
"When a country (USA) is losing many billions of dollars on trade with virtually every country it does business with, trade wars are good, and easy to win," he tweeted on Friday.
Later, the claimed his aim was to protect US jobs in the face of cheaper foreign products, a familiar theme in the "America First" slogan he used during the 2016 presidential election campaign.
"We must protect our country and our workers. Our steel industry is in bad shape. IF YOU DON'T HAVE STEEL, YOU DON'T HAVE A COUNTRY!" he wrote.
Reuters said that many economists believe rather than increasing employment, price increases for consumers of steel and aluminium such as the auto and oil industries will destroy more US jobs than they create.
Mr Trump's threats to unleash a trade war over steel crushed any hopes of substantial progress in current talks with Canada and Mexico to rework the North American Free Trade Agreement, heightening fears for the trade deal's future.
Canadian Prime Minister Justin Trudeau said any tariffs on steel and aluminium would be "absolutely unacceptable".
Join our new commenting forum
Join thought-provoking conversations, follow other Independent readers and see their replies