Donald Trump implicated Ted Cruz's father in the JFK assassination
Mr Cruz responded by calling his opponent a 'narcissist', 'pathological liar', and a 'serial philanderer'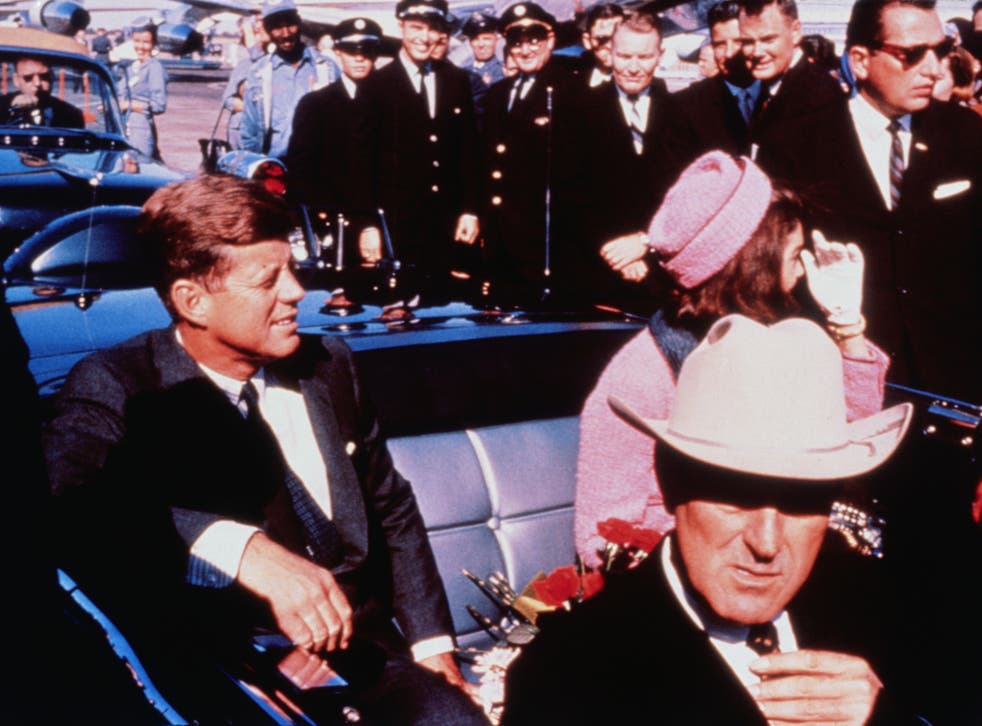 As Indiana voters cast their ballots to answer the question of whether or not Donald Trump will become the presumptive Republican nominee, the GOP front-runner has a question of his own about Sen Ted Cruz's family history.
Donald Trump implied that Ted Cruz's father was somehow involved in the assassination of President John F Kennedy.
In a phone interview with Fox News Tuesday morning, Mr Trump referenced a story run by the US tabloid, National Enquirer, that said Rafael Cruz was in a photo with the Kennedy assassin, Lee Harvey Oswald.
"His father was with Lee Harvey Oswald prior to Oswald's being — you know, shot. I mean, the whole thing is ridiculous," Mr Trump said. "What is this, right prior to his being shot, and nobody even brings it up. They don't even talk about that. That was reported, and nobody talks about it."
"I mean, what was he doing — what was he doing with Lee Harvey Oswald shortly before the death? Before the shooting?" Mr Trump added. "It's horrible."

A spokesperson for the Cruz campaign immediately rebuked the claim.
"This is another garbage story in a tabloid full of garbage," communications director Alice Stewart told the Miami Herald. "The story is false; that is not Rafael in the picture."
"It's embarrassing that anyone would enable Trump to discuss this. It's a garbage story and clearly Donald wants to talk about garbage," Ms Stewart added in a statement. "Ted Cruz will do what he's been doing, talking about jobs, freedom, and security for the American people."
Later Tuesday morning, Mr Cruz responded to Mr Trump's accusations, quipping: "While I'm at it, I guess I should go ahead and admit, yes, my dad killed JFK, he is secretly Elvis and Jimmy Hoffa is buried in his backyard."

The Texas senator went on the offensive and attacked Mr Trump on his morals, calling his opponent an "utterly amoral ... narcissist", "pathological liar", and a "serial philanderer". 

"He describes his battle with venereal disease as his own Vietnam!" Cruz said referring to a 1997 interview with radio personality Howard Stern.
In the interview, Stern asked Mr Stern about testing his partners for sexually transmitted diseases.

"I've been so lucky in terms of that whole world. It is a dangerous world out there — it's scary, like Vietnam. Sort of like the Vietnam era. ... It is my personal Vietnam. I feel like a great and very brave soldier," Mr Trump remarked, guided somewhat by Stern's interruptive interview style.
Mr Cruz imagined a future with a Trump presidency in light of his idea of his opponent's morality.
"Think about the next five years if this man were to become the next president," Mr Cruz said. "Think about your kids coming back and emulating this. For people in Indiana, who long for a day when we were nice to each other, when we treated people with respect."
When asked by reporters, Mr Cruz still declined to say whether or not he will endorse Mr Trump if he is the Republican nominee.
Register for free to continue reading
Registration is a free and easy way to support our truly independent journalism
By registering, you will also enjoy limited access to Premium articles, exclusive newsletters, commenting, and virtual events with our leading journalists
Already have an account? sign in
Register for free to continue reading
Registration is a free and easy way to support our truly independent journalism
By registering, you will also enjoy limited access to Premium articles, exclusive newsletters, commenting, and virtual events with our leading journalists
Already have an account? sign in
Join our new commenting forum
Join thought-provoking conversations, follow other Independent readers and see their replies