The best (worst) insults from the Republican debate
'You defrauded the people of Florida, little Marco'
Matt Payton
Friday 04 March 2016 15:10 Comments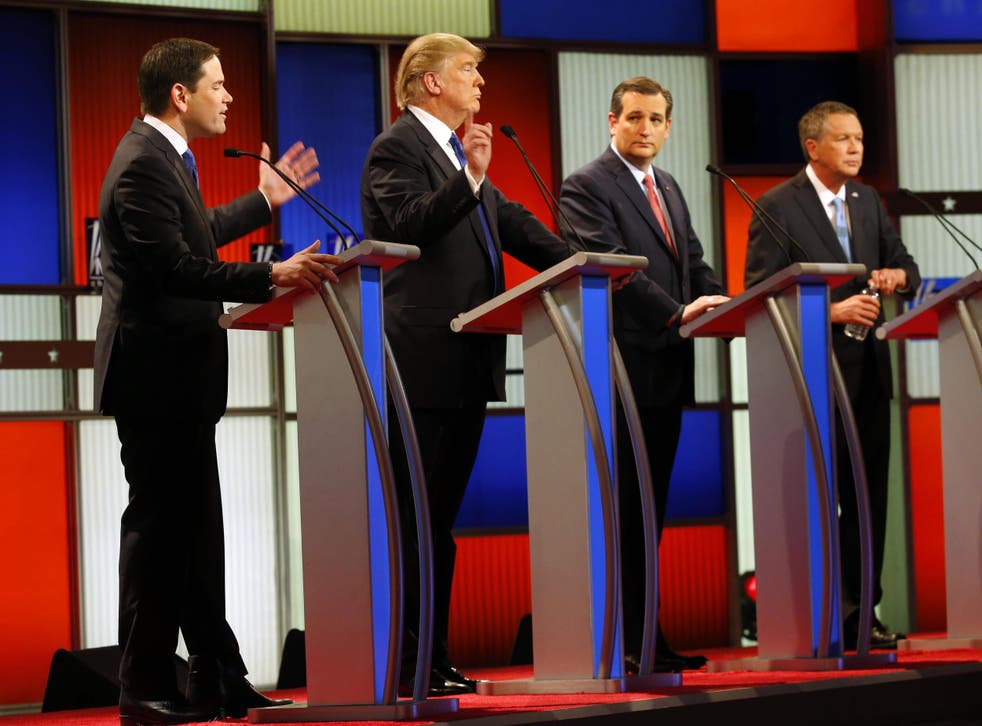 The four remaining Republican presidential candidates traded insults during the latest Republican debate on Thursday night.
Ted Cruz and Marco Rubio launched the majority of their attacks on Donald Trump in another desperate attempt to derail the favourite for the party's nomination.
For Mr Trump, what could have been an opportunity to place himself once again as a "presidential" candidate - a feat he appeared to pull off in his victory speech following a dominant Super Tuesday performance - ended up as anything but.
First, the billionaire businessman targetted Mitt Romney, who had earlier launched a scathing attack on Mr Trump in which he branded him a "fraud" and a "phony".
Responding, Mr Trump mocked Mr Romney, saying the 2012 Presidential candidate had "begged" for his endorsement and would have "dropped to his knees" if Trump had asked him to.
Next, and most unforgettably, Mr Trump turned to another pressing issue: the size of his genitals.
Here are some of the best(worst) one liners and insults:
Trump on his, er, hands:
Responding to Sen. Rubio's making comments about his hand size.
Trump: I have to say this. He hit my hands. Nobody has ever hit my hands. I have never heard of this. Look at those hands. Are they small hands?
And he referred to my hands, if they are small, something else must be small. I guarantee you there is no problem. I guarantee.
Rubio on Trump and 80s rock bands:
Rubio: Someone who last week defended Planned Parenthood for 30 seconds a debate stage.
To someone, for example, that has no ideas on foreign — someone who thinks the nuclear triad is a rock band from the 1980's.
Trump on 'little' Marco Rubio:
Fox News's Chris Wallace: Could you respond to his (Sen Rubio) specific assertion about Trump Collection clothes, which you say some of it is made in Mexico?
Trump: This little guy has lied so much...about my record
Trump: First of all, I got a call from my sister and brother tonight, and they said we had no idea Dad gave you $200 million.
Believe me, I started off with $1 million. I built a company that's worth more than $10 billion. And I say it not in a bragging way, but that's the kind of thinking we need.
Rubio: You asked him about the economy, and the first thing he does is launch an attack about some little guy thing. Because he doesn't have answers.
Rubio on Trump's 'successful' businesses
Rubio
: You ever heard of Trump Steaks? You ever heard of Trump Vodka?
Trump: Oh, you know what? You know what? Take a look at Trump Steaks.
Rubio: All of these companies he has ruined.
Trump: By the way, that's the other thing...
Rubio: Trump Steaks is gone. You have ruined these companies.
Rubio and Trump size each other up
Wallace: I have a policy question for you, sir.
Rubio: Let's see if he answers it.
Trump: I will. Don't worry about it, Marco. Don't worry about it. Don't worry about it little Marco, I will.
Rubio: All right, well, let's hear it big Donald.
Trump: Don't worry about it, little Marco.
Cruz on Trump's 'backing' for Hillary in 2008
After discussing his and Trump's immigration views.
Cruz : Donald Trump in 2008 wrote four cheques to elect Hillary Clinton as president.
Donald Trump's most controversial quotes

Show all 14
Trump on 'liar' Cruz
Cruz: You went to Manhattan and said I'm lying to the American people, then the voters have a right to know.
Trump: No, no. You're the liar. You're the lying guy up here.
Rubio on Trump University
After Trump was questioned over the legal case involving former students at Trump University
Rubio: The future of the United States and the most important election in a generation, and he's trying to con people into giving them their vote just like he conned these people into giving him their money.
Trump: Let me tell you the real con artist. Excuse me. Excuse me. The real con artist is Senator Marco Rubio who was elected in Florida and who has the worst voting record in the United States Senate
...The people in Florida wouldn't elect him dogcatcher.
You defrauded the people of Florida, little Marco.
Cruz tells Trump to calm down (Part one)
Cruz: And if we nominate Donald, we're going to spend the spring, the fall, and the summer with the Republican nominee facing a fraud trial...
Trump: Oh, stop it.
Cruz: ... with Hillary Clinton saying...
Trump: It's just a minor case. It's a minor case.
Cruz: ... why did you give my campaign and my foundation $100,000?
Trump: It's a minor civil case.
Cruz: And with Hillary Clinton...
Trump: Give me a break.
Cruz: ... pointing out that he supported her four times in her presidential race.
Trump: It's a minor civil case.
Cruz: Donald, learn not to interrupt. It's not complicated.
Trump: There are many, many civil cases.
Cruz: Count to 10, Donald. Count to 10.
Cruz tells Trump to calm down (Part two)
Cruz: But, Donald, please, I know it's hard not to interrupt. But try.
Trump: Yeah, I know it is. But it's not what you said in the op-ed.
Cruz: Breathe, breathe, breathe.
Trump: Lyin' Ted.
Cruz: You can do it. You can breathe. I know it's hard. I know it's hard. But just...
Cruz shuts down Rubio:
Rubio: When they're done with the yoga, can I answer a question?
Cruz: You cannot.
Rubio: Unbelievable.
Trump on everyone else
Wallace: Can you definitively say tonight that you will definitely support the Republican nominee for president, even if it's not you?
Trump: Even if it's not me?
Register for free to continue reading
Registration is a free and easy way to support our truly independent journalism
By registering, you will also enjoy limited access to Premium articles, exclusive newsletters, commenting, and virtual events with our leading journalists
Already have an account? sign in
Join our new commenting forum
Join thought-provoking conversations, follow other Independent readers and see their replies