The wall will stay but here's how Donald Trump might tone down his immigration stance
Sarah Palin has warned Trump not to go wishy washy or face her wrath
David Usborne
New York
Tuesday 30 August 2016 16:59 Comments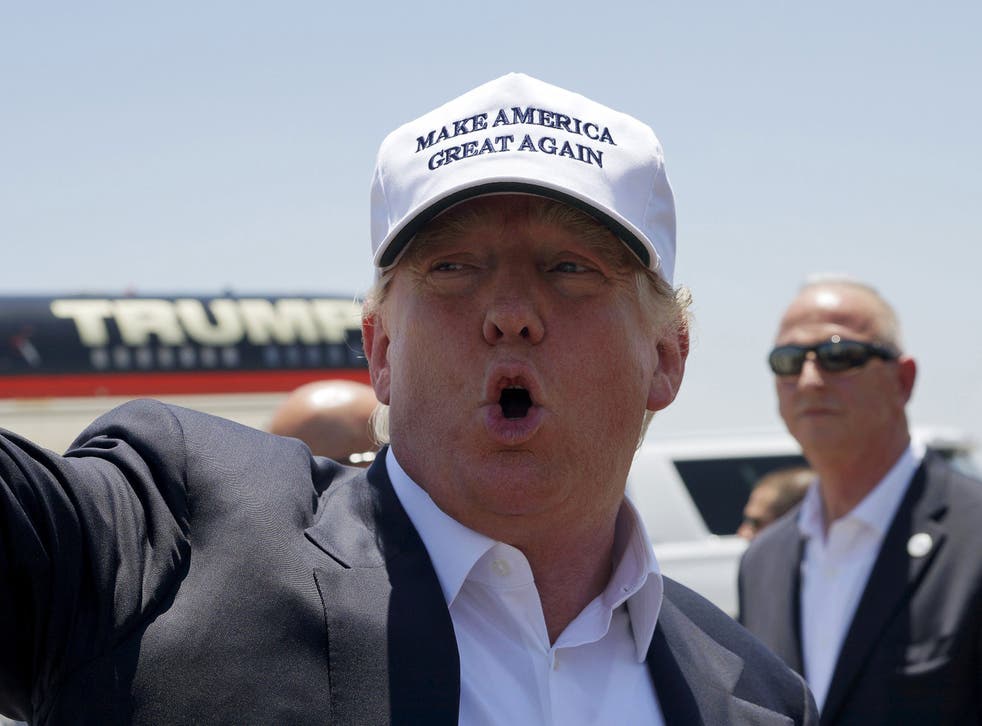 Donald Trump is at a high-stakes fork in the road in his campaign for president as he prepares to lay out his latest position on immigration law in a major speech in Arizona on Wednesday.
The New York billionaire is expected to confirm that he is abandoning some of the more extreme pledges he made during the primary election season, notably to create a "deportation force" to evict the roughly 11 million people believed to be in the United States illegally.
It will be a perilous moment for Mr Trump, who surged to capture the nomination of the Republican Party earlier this year in part on his uncompromising platform of evicting everyone in the country en masse and simultaneously building a 2,000-mile wall at the US-Mexico border.
He is now in a political pickle that was always predictable. To win the general election he must urgently repair his image with Hispanic voters in states like Arizona but also in almost every swing state. Only by softening kis anti-immigration rhetoric can he make that happen.
But if he goes too far, he risks angering the Republican Party base that precisely embraced him because of his hardline stance on illegal immigration as well as upending his carefully wrought image as a non-politician who tells it like it is and does not slither and slide on the issues.
On Wednesday, Mr Trump is likely to stick resolutely by his plan to build the wall - to abandon something that is almost tangible to his supporters and appeals to them viscerally would just seem too obviously venal with barely two months until election day.
"From day one I said that I was going to build a great wall on the SOUTHERN BORDER, and much more," Mr Trump tweeted on Tuesday. "Stop illegal immigration. Watch Wednesday!"
Similarly, one of his top spokesman, Jason Miller, took to Fox News early on Tuesday to declare that the wall plan remains fully alive and to try to tamp down the broader narrative taking hold that his boss is in full flip-flop mode on immigration.
"What you've seen with Mr. Trump is he's been remarkably consistent in his pledge to end illegal immigration," he said. "We're going to build the wall, we're going to secure our borders, we're going to enforce our immigration laws. We're going to end sanctuary cities. We're going to pass e-Verify and uphold the Constitution. That's going to make a big difference in this country."
The hope of the campaign is that by sticking with the wall - however improbable in practice its eventual construction remains - Mr Trump will catch less criticism for wavering on deportation.
He is likely on Wednesday to say that he will instead set priorities in his handling of those already in the country illegally, deporting those who have committed crimes first and looking for ways for everyone else eventually to attain permission to stay, after, for example, paying back taxes.
That would be an important shift that would make his proposals on illegal immigration almost indistinguishable from what most of his primary rivals for the nomination were making last winter, including former Governor Jeb Bush and Florida Senator Marco Rubio. It would even be hard to distinguish what he'd be proposing from what President Barack Obama is already doing.
"We already deport a lot of people every year," Mr Miller told Fox. "But what we have to do is do a much better job than what President Obama has been doing. Mr. Trump has said that we're going to start with criminal illegals. We have to go with the really bad ones and get them out of here first. That's the No. 1 priority."
How much of a difference Mr Trump's moderating would make for Hispanic voters is hard to predict. Mr Trump has unleashed rhetoric so offensive to many of them it may hardly shift the needle. It could, however, cause an eruption among those who have backed him so far.
The reaction to the speech from some of the mouthpieces of America's conservative movement will be key. If figures like Sarah Palin, Ann Coulter or Rush Limbaugh, react poorly to what he says, the damage to his base could be far greater than the good he will do among Hispanics.
Ms Palin, the former 2008 running mate, has already fired a first shot warning Mr Trump, whom she has thus far vigourously supporting against going "wishy washy" on the topic.
"If Mr. Trump were to go down a path of wishy-washy positions taken on things that the core foundation of his support has so appreciated, and that is respecting our Constitution and respecting law and order in America, then yeah, there would be massive disappointment," she told the Wall Street Journal. "Parts of that message we heard in the last week are clearly not consistent with the stringent position and message that supporters have received all along."
Register for free to continue reading
Registration is a free and easy way to support our truly independent journalism
By registering, you will also enjoy limited access to Premium articles, exclusive newsletters, commenting, and virtual events with our leading journalists
Already have an account? sign in
Join our new commenting forum
Join thought-provoking conversations, follow other Independent readers and see their replies