Donald Trump 'thanks' Anthony Weiner for his part in bringing new Clinton emails to light
On the stump in Michigan, the Republican nominee claims Ms Clinton was a 'terrible example' for American children
Tim Walker
US Correspondent
Tuesday 01 November 2016 00:14 Comments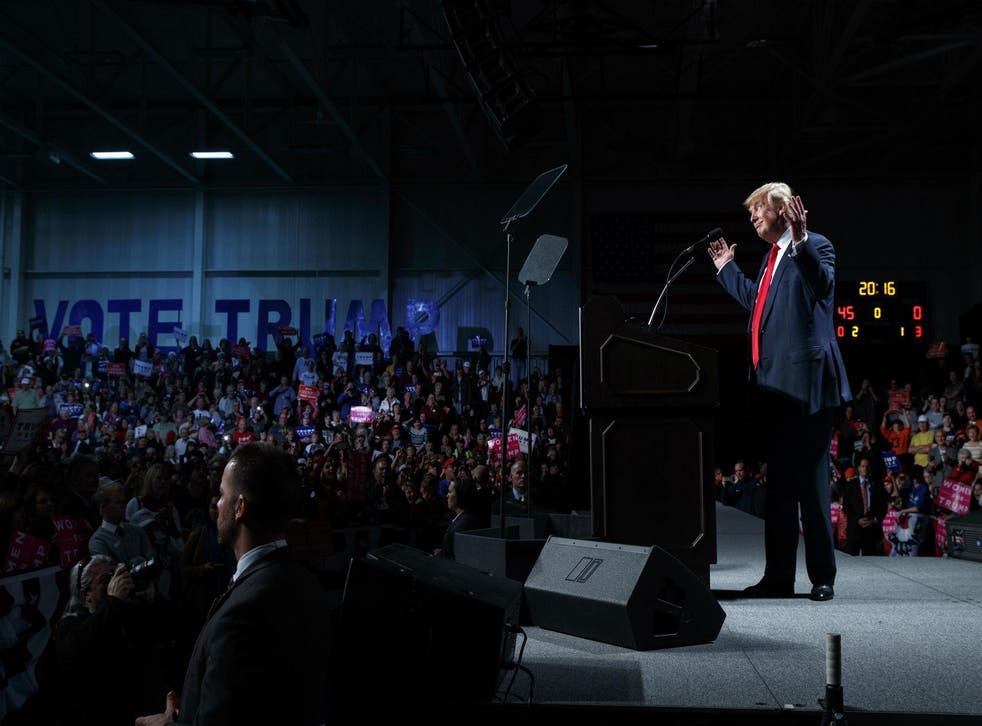 Donald Trump has "thanked" disgraced New York congressman Anthony Weiner for his part in bringing to light new emails potentially related to the FBI probe into Hillary Clinton's use of a private server during her time as Secretary of State.
Mr Weiner, 52, resigned from Congress after a sexting scandal in 2011 and is now under investigation for allegedly exchanging explicit messages with a 15-year-old girl. The FBI recently seized a laptop he shared with his estranged wife, Clinton aide Huma Abedin.
The device reportedly contains some 650,000 emails, some of which may relate to the Clinton email investigation. Speaking on the stump in Michigan on Monday, Mr Trump expressed confidence that the newly discovered messages would be "absolutely devastating" to his election rival, adding: "I think we hit the mother lode."
At two campaign appearances in the Great Lake State, Mr Trump suggested he was grateful to Ms Abedin and Mr Weiner for their involvement in the new controversy. "Thank you, Huma. Good job, Huma," the Republican nominee said in Grand Rapids.
"Thank you, Anthony Weiner," he said in Warren, adding: "I've never liked you, but thank you!" Mr Trump donated several thousand dollars to Mr Weiner's congressional races in New York in 2007 and 2010.
The property developer has spent the past few days trumpeting the email news, describing the investigation of Ms Clinton's server as "bigger than Watergate," despite the FBI having disclosed no details regarding the new emails, including whether any of them came from Ms Clinton herself, or whether they are in fact duplicates of previously examined messages.
In July, to the consternation of many Republicans, FBI director James Comey declined to recommend criminal proceedings against Ms Clinton or her staff over the few instances in which classified material had passed through the private server, saying that "no reasonable prosecutor" would pursue charges.
The Clinton campaign has said it is confident the FBI will find nothing now to contradict Mr Comey's earlier conclusion. Yet it was a letter sent by the FBI director to Republican congressional committee chairs last Friday, informing them of the discovery of more emails, that set off the current row.
Mr Comey has been criticised by Democrats and some Republicans for potentially prejudicing the results of the presidential election, by making the FBI's new findings public just days ahead of the 8 November vote. Mr Trump praised the FBI director's decision, however, saying that it "took a lot of guts."
Mr Trump, making his sixth campaign visit to Michigan, surely hopes the controversy can help him to close the poll gap with Ms Clinton in the key swing states he needs to secure just eight days from the election, and with early voting already well underway.
Polls show the race has tightened in Florida, which would give the Republican a plausible, if narrow, path to the presidency. In Warren, however, he told the crowd that he and Ms Clinton were also "even" in Michigan, despite an average of recent polls suggesting the Democrat is leading there by more than six percentage points.
Mr Trump also made hay with fresh revelations in the Wikileaks release of emails from the hacked account of Ms Clinton's campaign chair, John Podesta. On Monday, it emerged that Donna Brazile, the interim chair of the Democratic National Committee, had parted ways with CNN, for which she was a contributor, on 14 October.
Leaked emails suggest Ms Brazile had shared debate questions with the Clinton campaign ahead of a CNN primary clash between Ms Clinton and her then-rival, Bernie Sanders. The news network said it was "completely uncomfortable" with the interactions.
"If they fire Donna Brazile, why aren't they firing Hillary Clinton?" Mr Trump asked in Michigan. "Why is she allowed to run? Hillary Clinton is unfit and unqualified to be the president of the United States, and she's likely to be under investigation for criminality for a very, very long time to come."
The Clinton campaign has repeatedly painted Mr Trump as a bad role model for young Americans, an attack that the property developer turned back on his opponent on Monday. "You know, I have a son named Barron, and I want to tell you: she is a terrible example for my son and for the children in this country," he told supporters at his Warren rally.
Register for free to continue reading
Registration is a free and easy way to support our truly independent journalism
By registering, you will also enjoy limited access to Premium articles, exclusive newsletters, commenting, and virtual events with our leading journalists
Already have an account? sign in
Join our new commenting forum
Join thought-provoking conversations, follow other Independent readers and see their replies