Donald Trump's health secretary vows Obamacare replacement will see 'no one worse off', despite fears
Independent analysis suggests the poor and elderly could lose out
Andrew Buncombe
New York
Sunday 12 March 2017 16:47 Comments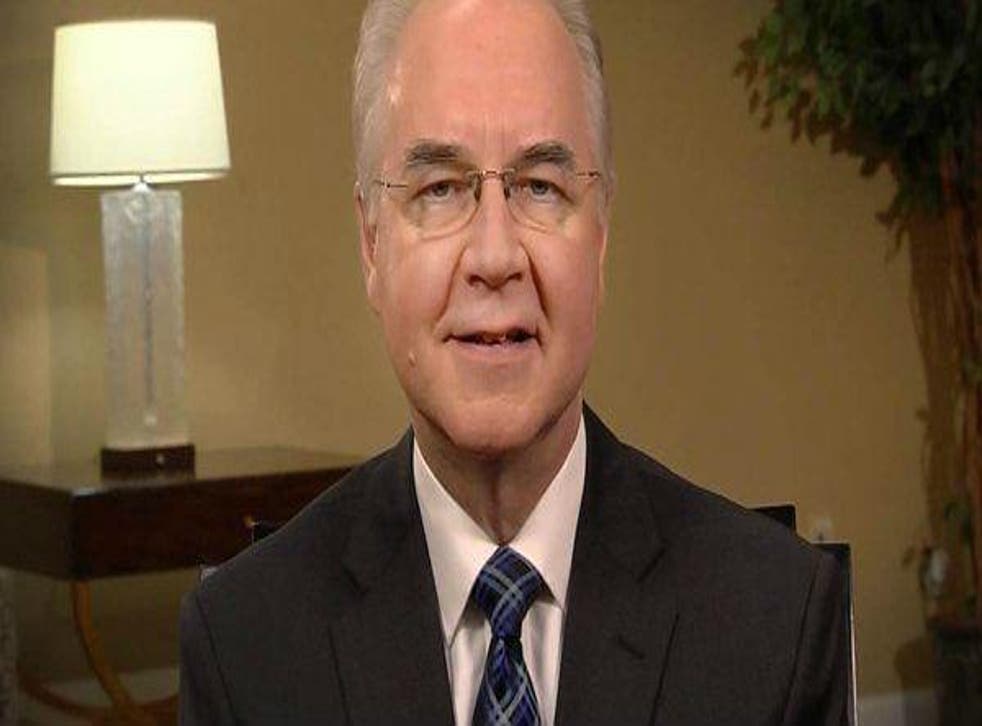 Donald Trump's health secretary has claimed "nobody will be worse off financially" under the Republicans' healthcare plan, despite independent analysis that says millions could suffer.
Republicans last week unveiled proposed legislation to repeal and replace the Affordable Care Act, better known as Obamacare. Mr Trump has thrown his support behind the plan, despite complaints from hardliners that it provides people with too many "entitlements".
The independent Kaiser Family Foundation said the bill will offer less help to Americans living in rural areas, the elderly and the poor. The Brookings Institute has projected the Congressional Budget Office will report that up to 15m fewer Americans will be covered under the Republican plan.
But on Sunday, health secretary Tom Price, a doctor who has long expressed a desire to scrap Obamacare, claimed those projections were incorrect.
"I firmly believe that nobody will be worse off financially in the process that we're going through, understanding that they'll have choices that they can select the kind of coverage that they want for themselves and for their family, not that the government forces them to buy," he told NBC.
"So there's cost that needs to come down, and we believe we're going to be able to do that through this system. There's coverage that's going to go up."
Health Secretary points to smaller stack of paper to prove new healthcare bill is better than Obamacare
The Republican plan has for different reasons been criticised by both Democrats and conservative Republicans, with the latter terming it "Obamacare-lite".
The American Medical Association, the US's largest group representing doctors, said in a letter to Congress the new plan could hurt certain groups.
"While we agree that there are problems with the ACA that must be addressed, we cannot support the AHCA as drafted because of the expected decline in health insurance coverage and the potential harm it would cause to vulnerable patient populations," it said.
The plan, formally called the American Health Care Act, has already advanced through key committees in the House of Representatives. Congressional Republicans and the White House reportedly wish to have it signed into law before Easter.
In the NBC interview, Mr Price described Obamacare as a "system that works for government or insurance" but not the American people.
"We need a system that works for people," the former Georgia congressman said.
"I believe, and the president believes firmly, that if you create a system that's accessible for everybody and you provide the financial feasibility for everybody to get coverage, that we have a great opportunity to increase coverage over where we are right now, as opposed to where the line is going right now where people are losing coverage and we're going to have fewer individuals covered than we do currently."
Register for free to continue reading
Registration is a free and easy way to support our truly independent journalism
By registering, you will also enjoy limited access to Premium articles, exclusive newsletters, commenting, and virtual events with our leading journalists
Already have an account? sign in
Join our new commenting forum
Join thought-provoking conversations, follow other Independent readers and see their replies