Donald Trump to sign new travel ban executive order 'excluding Iraq'
White House official says new order will clarify status of those with US green cards
Adam Withnall
Monday 06 March 2017 12:06 Comments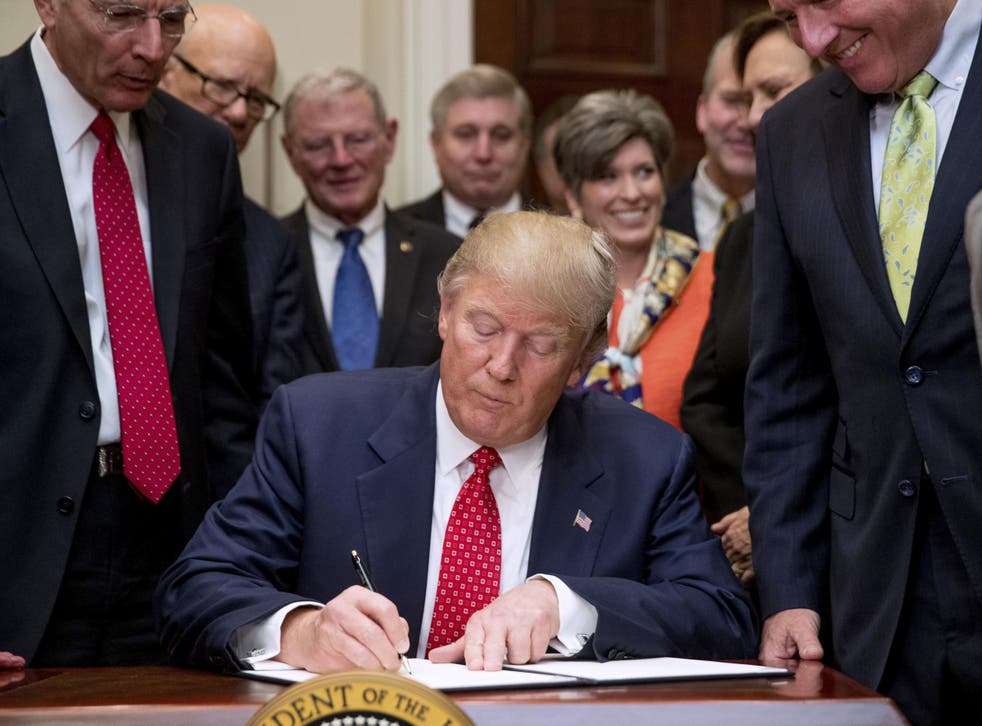 Donald Trump is poised to sign a new executive order banning travel from certain Muslim-majority countries, according to a senior White House source.
The new order, replacing an earlier version that was blocked by federal judges, will exclude Iraq from the blacklisted countries, but continues to block entry to the US for citizens of Somalia, Sudan, Syria, Iran, Libya and Yemen.
It will also clarify the status of people from these countries who have already received US green cards, specifying that they are not affected. Tens of thousands of legal permanent residents were left in limbo by Mr Trump's previous order.
The official told Reuters the new order will maintain the 90-day duration of the original ban.
The first travel ban, which included Iraq, was widely condemned in part because it appeared to target thousands of Iraqis who risked their lives working as translators alongside US troops after the invasion of Iraq in 2003.
But many contentious elements of the ban – not least the fact that it still appears to discriminate against Muslims – will remain in force.
More than two dozen lawsuits were filed in US courts against the original travel ban, and the state of Washington succeeded in having it suspended by the 9th Circuit court of Appeals by arguing that it violated constitutional protections against religious discrimination.
Iraq expressed "deep relief" at the decision to remove Iraq from the list of countries targeted in the US ban.
Trump reacts to travel ban ruling
The Iraqi foreign ministry said in a statement on Monday: "The decision is an important step in the right direction, it consolidates the strategic alliance between Baghdad and Washington in many fields, and at their forefront war on terrorism."
While the first order imposed restrictions immediately, the new directive would have an as-yet undefined implementation delay to limit the disruptions that created havoc for some travelers, the official said.
Refugees who are "in transit" and have already been approved would be able to travel to the United States.
The controversial orders Donald Trump has already issued

Show all 9
Mr Trump's original order barred travelers from the seven nations from entering for 90 days and all refugees for 120 days. Refugees from Syria were to be banned indefinitely, but under the new order they are not given separate treatment.
"This executive order has scrapped that division and the indefinite suspension, and has collapsed them into a single category of a 120-day suspension," the official said.
During the presidential election campaign last year, Mr Trump called for a temporary ban on all Muslims entering the United States. He said his initial executive order issued just a week after he took office was needed to head off attacks by Islamist militants.
Additional reporting by Reuters
Register for free to continue reading
Registration is a free and easy way to support our truly independent journalism
By registering, you will also enjoy limited access to Premium articles, exclusive newsletters, commenting, and virtual events with our leading journalists
Already have an account? sign in
Join our new commenting forum
Join thought-provoking conversations, follow other Independent readers and see their replies