Trump wishes happy Diwali to followers of various religions, but forgets Hindus
'What an embarrassment. Trump can't even get Diwali right!'
Chris Baynes
Wednesday 14 November 2018 15:38 Comments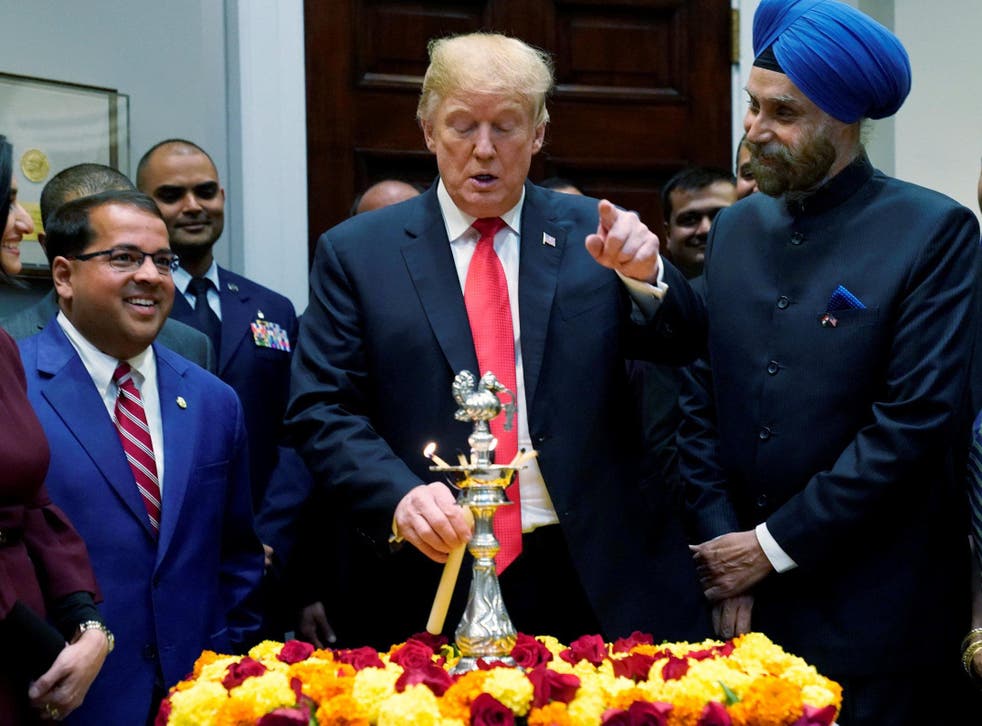 Donald Trump has been mocked for wishing a happy Diwali to Buddhists, Sikhs and Jains but omitting Hindus, whose religion spawned the holiday.
After an event to mark the Hindu festival of lights, the US president said: "Today, we gathered for Diwali, a holiday observed by Buddhists, Sikhs, and Jains throughout the United States and around the world.
"Hundreds of millions of people have gathered with family and friends to light the Diya and to mark the beginning of a New Year."
Although some Buddhists, Sikhs, and Jains celebrate or recognise Diwali, its main proponents are Hindus.
The festival, which celebrates the spiritual "victory of light over darkness, good over evil and knowledge over ignorance" each autumn, is rooted in Hinduism and is one of the faith's most important holidays.
The president omitted Hindus in his initial tweet before deleting it and posting another, which also failed to mention Hindus. The gaffe was widely mocked on social media.
Support free-thinking journalism and attend Independent events
"I thought Diwali was a Hindu festival mainly but clearly Mr Trump has been told differently," tweeted Ankit Lal, an Indian writer and social media strategist.
Craig Harrington said: "Trump blows another layup by neglecting to include more than 1 billion Hindus in what should have been an easy statement on Diwali."
Linguist Paula Chertok wrote: "What an embarrassment. Trump can't even get Diwali right!"
Mr Trump added another tweet, clarifying that Diwali was "the Hindu Festival of Lights", about 20 minutes after his initial post.
Register for free to continue reading
Registration is a free and easy way to support our truly independent journalism
By registering, you will also enjoy limited access to Premium articles, exclusive newsletters, commenting, and virtual events with our leading journalists
Already have an account? sign in
Join our new commenting forum
Join thought-provoking conversations, follow other Independent readers and see their replies