Donald Trump lashes out in series of tweets as pressure mounts over FBI probe
The President sought to focus attention on his longtime political rival Hillary Clinton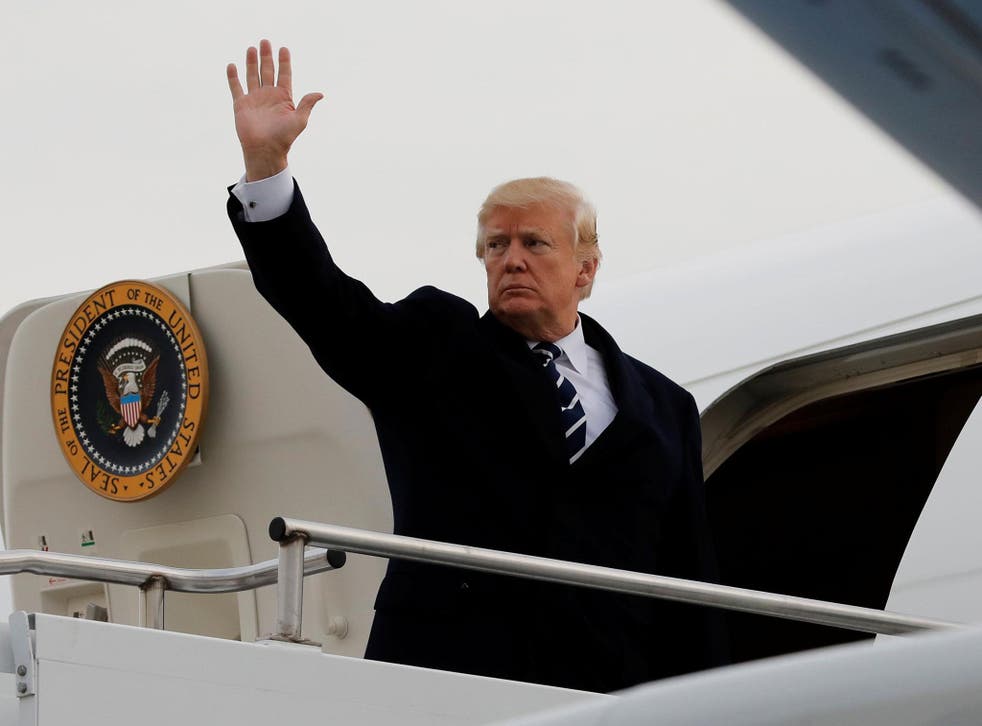 President Donald Trump is lashing out at his critics just days after a top aide of his plead guilty to charges resulting from a special investigation into Russia's alleged meddling in the 2016 election.
Mr Trump leaned on his favourite social media website on Sunday morning to try and reframe the national conversation away from analysis of what the guilty plea of former National Security Adviser Michael Flynn might mean, and toward a familiar foil of Mr Trump's: Hillary Clinton and the Washington bureaucracy he frequently dismisses as corrupt.
"After years of [former FBI Director James] Comey, with the phony and dishonest Clinton investigation (and more), running the FBI, its reputation is in Tatters – worst in History! But fear not, we will bring it back to greatness," Mr Trump wrote in one of several tweets attacking the intelligence agency.
Donald Trump insists 'no collusion' after Michael Flynn admits lying to FBI
The President appeared to be seizing on a report that a member of special counsel Robert Mueller's team was fired after it was discovered that he had sent anti-Trump tweets. That investigator reportedly also worked on the investigation into Ms Clinton's use of a private email server, which ultimately found no criminal wrongdoing on the Democrat's part.
Mr Mueller immediately removed the investigator from his team following the allegations, which were not detailed publicly. That swift action was seen as an effort by the former FBI director to insulate his team against claims of bias or favouritism.
The President devoted one of this tweets to the subject of ABC investigative journalist Brian Ross, who was suspended following his false reporting that Mr Trump had, as a candidate for president, instructed Mr Flynn to contact Russian officials. Mr Flynn was actually instructed to make contact with the Russian government after Mr Trump had won the election, and it appears that a high level official gave the order – not Mr Trump. Mr Ross later corrected his mistake.
Donald Trump's least presidential moments so far...

Show all 30
That reporting came on Friday, when Mr Flynn plead guilty to charges related to lying to the FBI about encounters with the Russian officials during the transition. His plea came as part of a deal struck with Mr Mueller's team, which ensured complete cooperation with the investigation going forward.
It's unclear what that means for the future of the investigation into the Trump campaign's potential ties to Russia during the 2016 election, and there have so far been no claims that the President himself was directly involved in any effort to collude with Russia (he did, however, admit on television that he was moved to fire Mr Comey from his position earlier this year at least in part because of the Russia investigation).
Mr Flynn's chargers were notably not for the contact with Russians, but rather for lying about the interactions to the FBI later. The State Department, then serving President Barack Obama, indicated during the transition that it had no problem with the Trump transition team reaching out to Russian officials as it prepared to take over the White House.
Register for free to continue reading
Registration is a free and easy way to support our truly independent journalism
By registering, you will also enjoy limited access to Premium articles, exclusive newsletters, commenting, and virtual events with our leading journalists
Already have an account? sign in
Register for free to continue reading
Registration is a free and easy way to support our truly independent journalism
By registering, you will also enjoy limited access to Premium articles, exclusive newsletters, commenting, and virtual events with our leading journalists
Already have an account? sign in
Join our new commenting forum
Join thought-provoking conversations, follow other Independent readers and see their replies