Donald Trump won because of voters' views on President Obama being black, experts say
Importance of race in determining how people voted 'shot through the roof' in 2016 election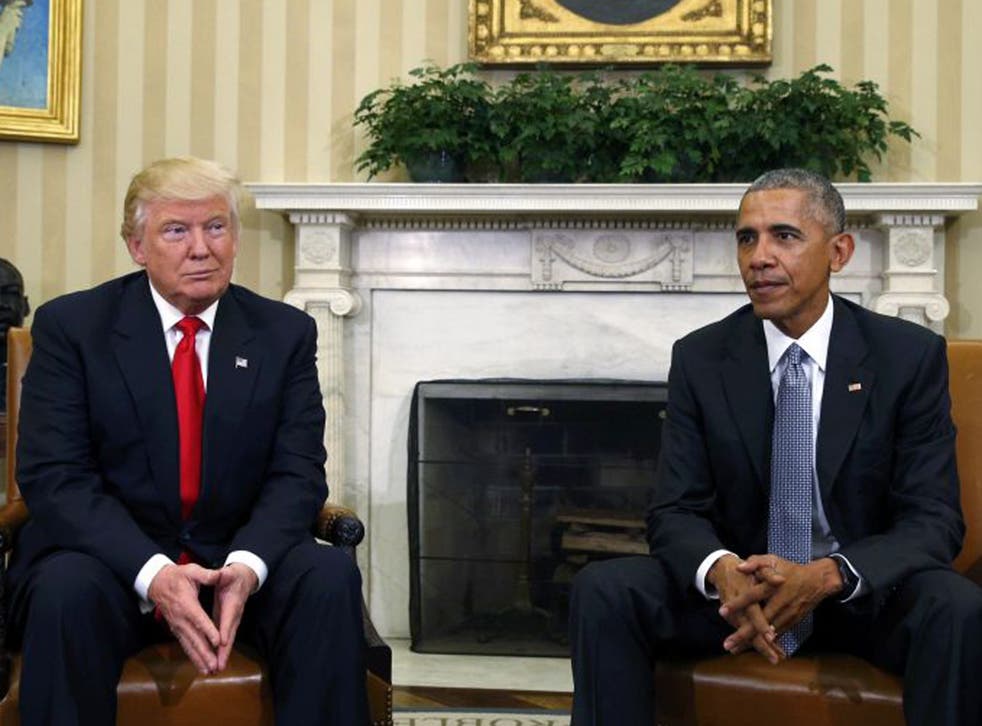 Donald Trump won the US presidency because of voters' attitudes towards the fact that current president Barack Obama is black, experts have suggested.
Eddie Glaude, chair of the Center for African American Studies at Princeton University, said a climate of "racial anxiety and anguish" was behind Mr Trump's shock victory over Hillary Clinton.
"People say it's not about race, it's about the failure of government. But the belief in the failure of government is really about the belief that the government is engaged in the redistribution of wealth from those who deserve, to those who don't deserve," he told Vox.
"Obama is a black embodiment of the racial undercurrent of the critique of big government, even though when you look at who he is and how he's governed he doesn't fit the bill."
His claims were supported by Michael Tesler, an assistant professor of political science at the University of California, who said early evidence suggests racial attitudes were more of a factor in determining how people voted in 2016 than they were in 2008 or 2012.
He said: "Obama's presidency rapidly accelerated the pre-existing relationship between party identification and racial attitudes.
"Moreover, he activated a previously non-existent partisan divide according to attitudes about Muslims – one that contributes to partisan sorting even after controlling for racial attitudes.
"Most of this growing polarisation of party identification was driven by non-college educated whites. Prior to Obama's presidency, racial attitudes were only weakly related to party identification among non-college whites, but that correlation shot through the roof during Obama's presidency."
The Obamas celebrate the Inauguration in 2009 and 2013

Show all 10
Exit polls suggest Mr Trump won the support of 58 per cent of white voters compared to just 37 per cent who backed Ms Clinton.
Meanwhile black Americans overwhelmingly backed Mrs Clinton, by a margin of 80 per cent to just 8 per cent for her Republican rival.
Mr Trump had repeatedly suggested that President Obama was not a US citizen and had instead been born abroad, despite there being no evidence that this is the case.
The new President-elect also called Mr Obama "stupid" and a "failed leader".
It comes as Mr Trump begins appointing members of his new administration ahead of formally assuming the presidency on 20 January.
His former campaign manager, Steve Bannon, has been made "chief strategist and senior counselor" and Reince Priebus, the chairman of the Republican National Committee, appointed as the President-elect's Chief of Staff.
More appointments are expected this week.
Register for free to continue reading
Registration is a free and easy way to support our truly independent journalism
By registering, you will also enjoy limited access to Premium articles, exclusive newsletters, commenting, and virtual events with our leading journalists
Already have an account? sign in
Register for free to continue reading
Registration is a free and easy way to support our truly independent journalism
By registering, you will also enjoy limited access to Premium articles, exclusive newsletters, commenting, and virtual events with our leading journalists
Already have an account? sign in
Join our new commenting forum
Join thought-provoking conversations, follow other Independent readers and see their replies