Donald Trump rolls back rules used to prevent civilian casualties from US air strikes in Somalia
The decision was made to increase chances of defeating terrorist group al-Shabaab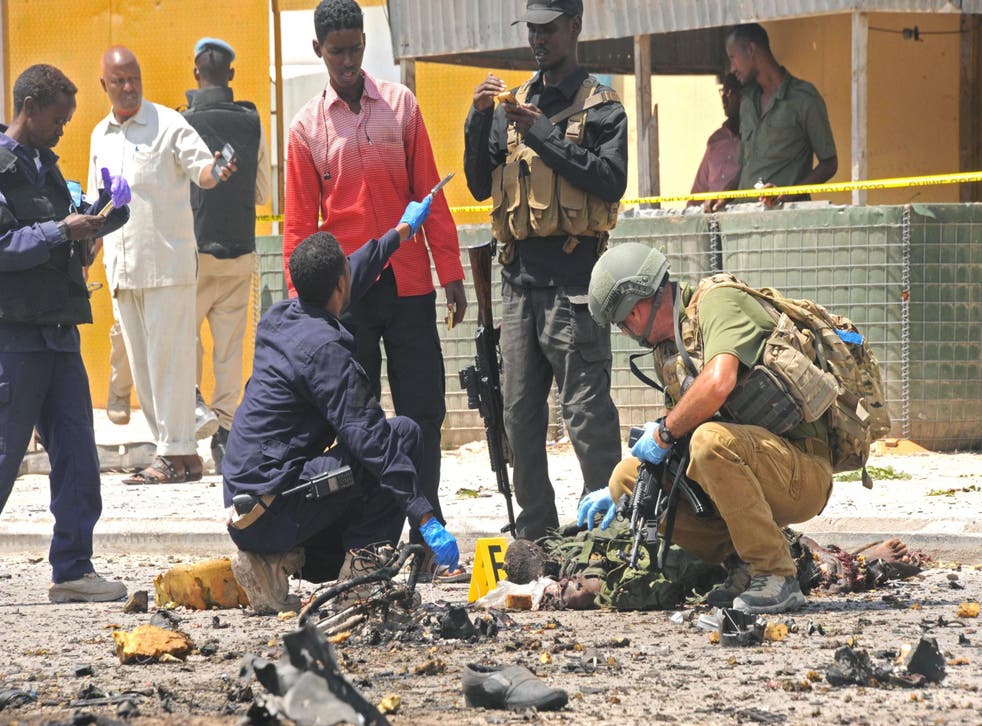 Donald Trump has authorised easing restrictions on counter-terrorism air strikes in Somalia that were put in place to prevent civilian casualties.
Pentagon spokesman Navy Capt. Jeff Davis said in a statement that the order gives more authority to the US military head in Africa command to perform "precision airstrikes" on al-Shabaab, a designated terrorist group.
The group carried out a 2013 attack on the Westgate Mall in Nairobi, Kenya resulting in 60 deaths and 175 wounded as well as several other attacks.
Somalia is currently experiencing extreme drought, famine, and cholera as well as violence from al-Shabaab.
Mr Trump has designated certain regions an "area of active hostilities" where the Presidential Policy Guidance rules do not apply. Mogadishu has been excluded from the list of regions.
The Guidance rules were put in place by former President Barack Obama in 2013 to govern "counterterrorism strikes away from conventional war zones, like those in Afghanistan and Iraq," the New York Times reports.
It required interagency vetting, that the target had to pose a direct threat to the US, and that assuredness that civilians would not be killed in any strike.
Africa Command, the US military presence on the continent, can now conduct air strikes on anyone they feel are al-Shabaab members, even if the individuals targeted do not pose a direct threat to Americans and without the requirement to make sure no civilians are in the immediate area.
US Africa Command Commander, General Thomas Waldhauser, said that "the cardinal rule in these types of engagements is to not make more enemies than you already have. And I think we go to great pains to do that."
Because easing the restrictions reduces time spent on getting approvals, it allows for targeting the terrorists in "a more rapid fashion," as Mr Waldhauser said.
A British military officer with recent experience in East Africa told The Independent that the change in restrictions does not put civilians in any more danger that what exists now.
"The process is shortened, this does not mean that the process is any less effective at mitigating against civilian casualties," the officer explained.
What the easing of restrictions will do is "improve [The African Union Mission in Somalia] AMISOM and the Somali National Army's chances of defeating" al-Shabaab, the officer said.
The key will be "good 'on the ground' intelligence."
The potential escalation of the situation in Somalia worries some based on recent events.
Mr Trump's decision to loosen terms for using force mirrors what he did for Yemen earlier in his term. A raid there resulted in scores of civilian deaths as well as the death of a Navy SEAL and losing a $75 million aircraft.
The 17 March US air strike in Mosul, Iraq may have killed as many as 200 people.
Despite lifting restrictions put in place by the Obama administration, the move by Mr Trump is not in complete opposition to his predecessor.
Mr Obama also had issued an easing of restrictions around Surt, Libya for a short period of time and also allowed some air strikes to be carried out without the restrictions and process of the Presidential Policy Guidance.
Register for free to continue reading
Registration is a free and easy way to support our truly independent journalism
By registering, you will also enjoy limited access to Premium articles, exclusive newsletters, commenting, and virtual events with our leading journalists
Already have an account? sign in
Register for free to continue reading
Registration is a free and easy way to support our truly independent journalism
By registering, you will also enjoy limited access to Premium articles, exclusive newsletters, commenting, and virtual events with our leading journalists
Already have an account? sign in
Join our new commenting forum
Join thought-provoking conversations, follow other Independent readers and see their replies