Donald Trump finally says US will defend European Nato allies as Russia stance hardens ahead of Putin meeting
President had failed make commitment on first European visit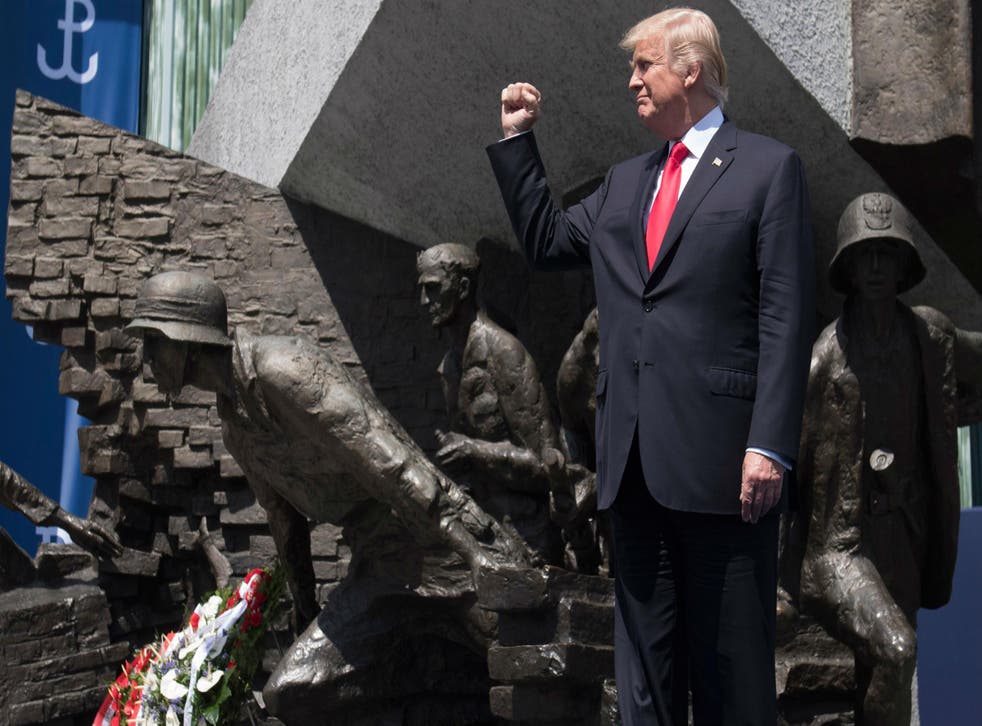 Donald Trump has made his most explicit commitment yet that America will come to the defence of its Nato allies - a day before a much-anticipated meeting with Vladimir Putin.
The US President had been criticised during his first visit to Europe when he failed to refer to Nato's Article 5, that part of its charter that commits members to the idea of mutual defence.
Yet after having defended his berating of those members of the 29-member organisation he said were not sufficiently contributing financially, he spelled out that he - in line with every other US President before him - was committed to Nato's solidarity.
"To those who would criticise our tough stance, I would point out that the United States has demonstrated - not merely with its words but with its actions - that we stand firmly behind Article 5, the mutual defence commitment," Mr Trump said.
"Words are easy, but actions are what matters. And for its own protection, Europe - and you know this, everybody knows this, everybody has to know this - Europe must do more."
Mr Trump's speech came heavy with symbolism. He spoke in Krasinski Square, just feet from a memorial to the 1944 Warsaw uprising against the Nazis. Mr Trump spent much of his speech devoted to applauding the spirit and strength of the Polish people, and talked about their repeated takeovers and occupations.
Donald Trump arrives in Poland ahead of G20 in Germany
However, on the eve of what is believed to be his first meeting with Mr Putin - and certainly his first as US President - Mr Trump also spoke about a broader threat to Western values and of the need to defend them.
"Our freedom, our civilisation and our survival depend on these bonds of history culture and memory and more than ever. Poland is in our heart and its people are in that fight," he said.
"I declare today for the world to hear the West will never, ever be broken, our values will prevail, our people will thrive and our civilisation will triumph."
World news in pictures

Show all 50
Mr Trump spoke in a country that for decades was under Soviet rule. Its turn to the West after the fall of the communist government in 1989, its joining of Nato a decade later and the increased deployment of US troops on its soil, have angered Moscow.
Ahead of his scheduled meeting with Mr Putin in Hamburg, Mr Trump - who has spent the first months of this presidency fighting off allegations of collusion with Russia - also took the opportunity to call on Moscow to stop fomenting unrest around the world.
According to Reuters, while Mr Trump stopped stopped some way short of condemning Russia for allegedly meddling in the US election, he said Western interests were being tested by "propaganda, financial crimes and cyber warfare".
"We urge Russia to cease its destabilising activities in Ukraine and elsewhere, and its support for hostile regimes including Syria and Iran, and to join the community of responsible nations in our fight against common enemies and in defence of civilisation itself," he said.
He added: "Americans, Poles, and the nations of Europe value individual freedom and sovereignty. We must work together to counter forces, whether they come from inside or out, from the South or the East, that threaten over time to undermine these values and to erase the bonds of culture, faith and tradition that make us who we are."
Register for free to continue reading
Registration is a free and easy way to support our truly independent journalism
By registering, you will also enjoy limited access to Premium articles, exclusive newsletters, commenting, and virtual events with our leading journalists
Already have an account? sign in
Register for free to continue reading
Registration is a free and easy way to support our truly independent journalism
By registering, you will also enjoy limited access to Premium articles, exclusive newsletters, commenting, and virtual events with our leading journalists
Already have an account? sign in
Join our new commenting forum
Join thought-provoking conversations, follow other Independent readers and see their replies