Donald Trump on hearing of USS John S McCain's collision: 'That's too bad'
US President offers condolences on Twitter two hours later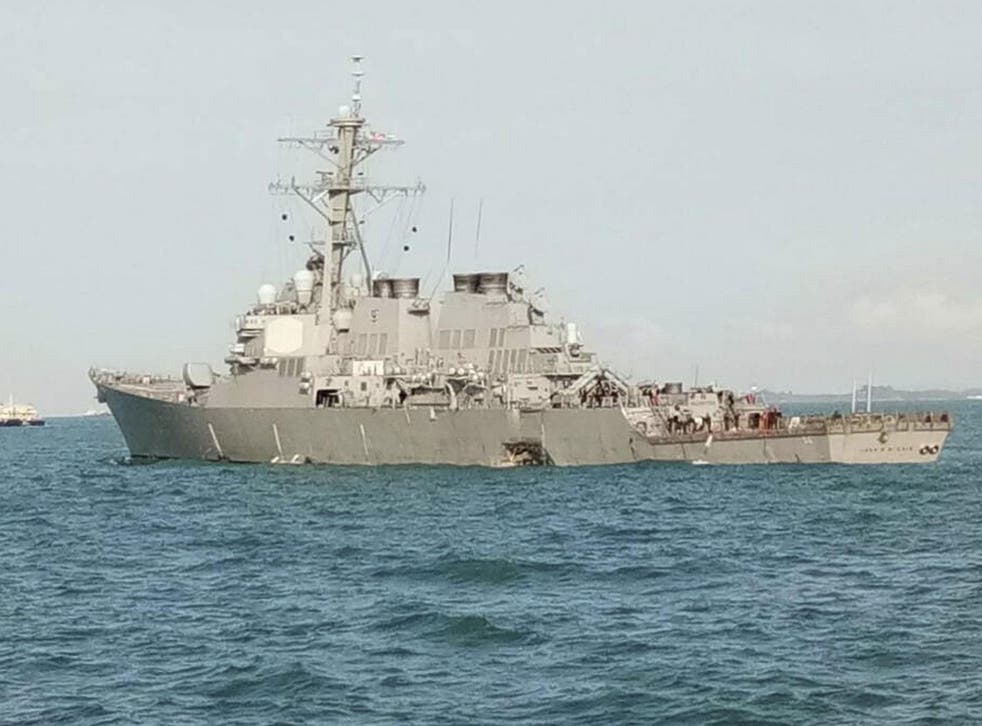 When he was asked to comment on news of a collision between the USS John S McCain and an oil tanker off the east coast of Singapore, Donald Trump told reporters: "That's too bad."
Ten US sailors are missing and five are injured after the accident between the guided-missile destroyer and the Alnic MC.
Four of the injured were evacuated by a Singaporean navy helicopter to a hospital in the city-state for treatment of non-life threatening injuries, and one did not require further medical attention.
Two hours after telling reporters who asked about the McCain "that's too bad" upon returning from his New Jersey golf club, Mr Trump tweeted to say his "thoughts and prayers" are with the sailors as search and rescue efforts continue.
The McCain had been heading to Singapore on a routine port visit after conducting a sensitive freedom of navigation operation last week by sailing near one of China's man-made islands in the South China Sea.
The destroyer was damaged on its port side aft, or left rear, from the collision, the Navy's 7th Fleet said, but was heading to port under its own power.
World news in pictures

Show all 50
The Singapore government said no crew were injured on the Liberian-flagged Alnic, which sustained damage to a compartment at the front of the ship some 7m (23 feet) above its waterline. It said there were no reports of a chemical or oil spill.
There was no immediate explanation for the collision and the Navy said an investigation would be conducted.
Singapore, at the southernmost tip of the Malay Peninsula, is one of the world's busiest ports and a US ally, with its naval base regularly visited by American warships.
The collision was the second involving a ship from the Navy's 7th Fleet in the Pacific in two months.
Seven sailors died in June when the USS Fitzgerald and a container ship collided in waters off Japan.
The Fitzgerald's captain was relieved of command and other sailors were being punished after the Navy found poor seamanship and flaws in keeping watch contributed to the collision, the Navy announced last week.
Join our new commenting forum
Join thought-provoking conversations, follow other Independent readers and see their replies