Donald Trump admits his Veterans Affairs nominee has 'lack of experience' but White House stands by him anyway
Nominee faces backlash over reports of inappropriate workplace behaviour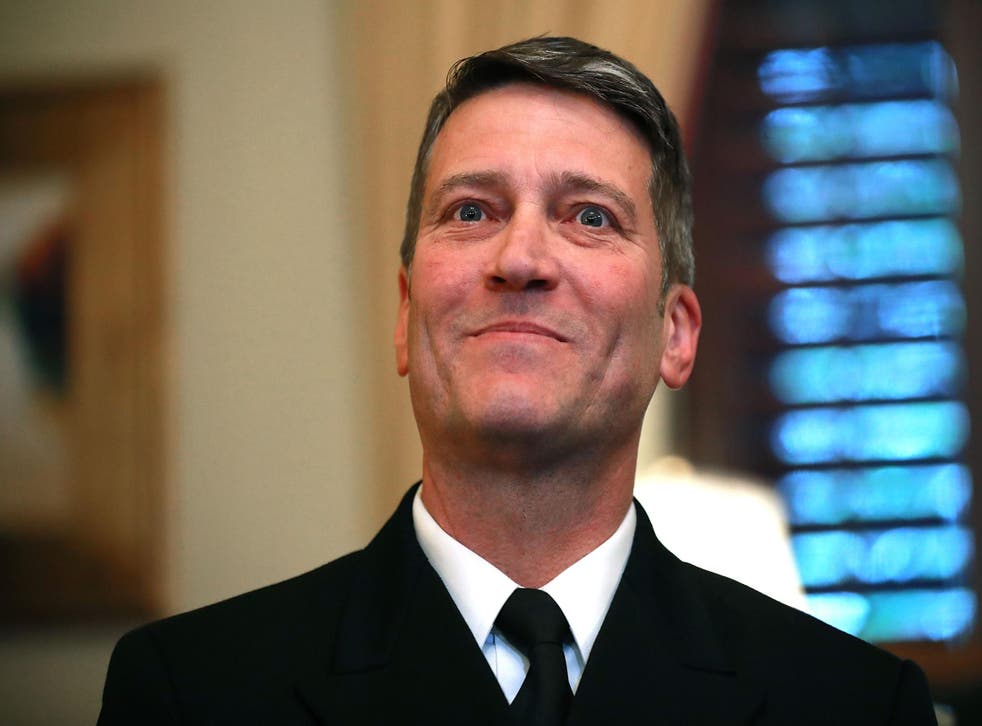 The White House is standing by Donald Trump's embattled pick to lead the Department of Veterans Affairs, despite the president's public admission that his nominee lacks experience.
The nomination of Admiral Ronny Jackson is facing growing opposition on Capitol Hill, amid recent reports of inappropriate workplace behaviour. But a senior White House official signalled on Tuesday night that the administration did not intend to withdraw the presidential physician's nomination.
"Dr Jackson's record as a White House physician is impeccable," the official said in a statement obtained by The Independent. "He has improved unit morale, received glowing reviews and promotions under Republican and Democrat presidents, and has been given a clean vet from the FBI."
The statement appeared to contradict Mr Trump's comments from earlier in the day, when he admitted to reporters that his nominee suffered from a "lack of experience".
"I told Admiral Jackson just a little while ago, what do you need this for?" Mr Trump said of the confirmation process. "This is a vicious group of people… what do you need it for?"
He added: "The fact is, I wouldn't do it."
Donald Trump: Veterans Affairs secretary-nominee Ronny Jackson should drop out
The Senate Veterans Affairs Committee postponed Mr Jackson's confirmation hearing indefinitely on Tuesday morning, after hearing from whistleblowers that the admiral had created a "toxic" work environment at the White House Medical Unit.
Senator Jon Tester, the ranking Democrat on the Veteran Affairs Committee, told NPR the group had heard from more than 20 military employees who complained Mr Jackson was repeatedly drunk on the job, and handed out drugs to staff members during work trips.
"We were told stories where he was repeatedly drunk on while duty where his main job was to take care of the most powerful man in the world," Mr Tester said. "That's not acceptable."
Donald Trump's first year: in pictures

Show all 29
The claims of drinking and drug use on the job have not been verified. But a 2012 watchdog report viewed by The Independent found that Mr Jackson exhibited "unprofessional behaviours" during a battle for control with former presidential physician Jeffrey Kuhlman.
The report suggested that the White House replace either Mr Kuhlman or Mr Jackson, who was serving as director of the White House Medical Unit at the time.
"There is a severe and pervasive lack of trust in the leadership that has deteriorated to the point that staff walk on 'eggshells,'" the report said.
The senior White House official responded to the report by saying Mr Jackson was being "railroaded by a bitter ex-colleague who was removed from his job".
Mr Jackson served as presidential physician to President Barack Obama after Mr Kuhlman departed, and continued in the role under Mr Trump.
He has never lead an agency the size of the Veterans Affairs Department, leading to complaints from some on the left and right that he is ill-equipped to lead the government's second-largest bureaucracy.
But Mr Jackson showed no intention of dropping out on Tuesday, telling reporters on Capitol Hill that he was "looking forward to the hearing tomorrow".
"Kind of disappointed that it's been postponed, but I'm looking forward to getting it rescheduled and answering everybody's questions," he said.
Join our new commenting forum
Join thought-provoking conversations, follow other Independent readers and see their replies