Donald Trump's speech in Warsaw sought to redefine the West around religion rather than democracy
Speech made no mention of religious tolerance or the right-wing Polish government's authoritarian crackdowns on judges and journalists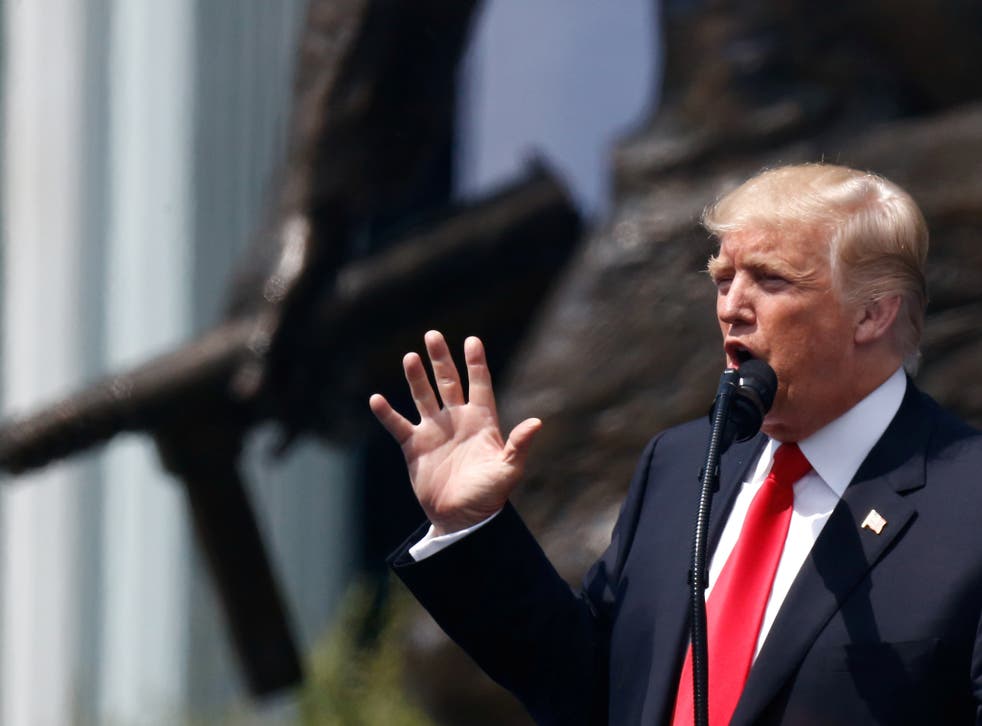 Donald Trump sought to redefine the West through religion rather than democracy as he warned Western civilisations were at risk of declining.
Speaking in Warsaw ahead of the G20 summit, Mr Trump called for the defence of Western values in terms of religion and culture against radical Islam.
In his address, Mr Trump repeatedly made references to God, faith, tradition, national sovereignty and family, themes which were likely to resonate with fervent Christian Poles.
"The people of Poland, the people of America, and the people of Europe still cry out 'We want God'," he said.
"We put faith and family, not government and bureaucracy, at the centre of our lives," he said.
The speech made no mention of religious tolerance and Mr Trump did not say anything about the right-wing government's authoritarian crackdowns on judges and journalists, which have upset EU leaders.
The EU launched an investigation into Poland last year, citing threats to the rule of law incompatible with EU values.
On Krasinski Square, a site which commemorates the 1944 Warsaw Uprising against the Nazis, Mr Trump's message was well received by cheering crowds.
Poland's right-wing nationalist ruling Law and Justice party was elected on an Eurosceptic and anti-immigration agenda, which promotes family-focused welfare spending and threatened to ban abortion and in-vitro fertilisation.
Last year, Polish President Andrzei Duda took part in a religious ceremony that officially recognised Jesus as the King of Poland.
Inside the EU, senior officials are reportedly concerned Mr Trump's speech could boost populist far-right politicians with a similar agenda across Europe.
Mr Trump's speech was a clear sign of his vision for foreign policy.
"The fundamental question of our time is whether the West has the will to survive. Do we have the confidence in our values to defend them at any costs? Do we have enough respect for our citizens to protect our borders? Do we have the desire and courage to preserve our civilisation in the face of those who would subvert and destroy it?" he said.
Former Polish foreign minister Radek Sikorski told Bloomberg the speech made reference to Samuel Huntington's "clash of civilisations" theory in which he argued that the West's ideological contest with the former Soviet Union would be followed by a growing struggle between religious blocs.
Many world leaders now see Mr Huntington's theory as something to avoid, especially when fighting Islamist terrorism. But some of Mr Trump's aides have embraced the idea of a war between the Christian West and Islam.
Mr Sikorski said: "The Polish government had reasons to be very pleased with it [Mr Trump's speech], because it very much echoes their philosophy."
World news in pictures

Show all 50
But the former head of Poland's constitutional court, Jerzy Stępień, an opponent to the ruling Law and Justice Party, told the news agency: "For me talking about Western civilisation without mentioning rule of law, democracy and human rights isn't possible. I'm not sure how President Trump defines Western civilisation but for me these attributes are indispensable."
The values outlined by the US President as representing Western civilisations are likely to clash with those promoted by German Chancellor Angela Merkel, whose differences with Mr Trump are well known.
From climate change and migration to free trade and the rule of law, Ms Merkel is expected to make her case heard at the G20 meeting.
But as he landed in Hamburg, Mr Trump reaffirmed the message he sent to Poland and tweeted: "The West will never be broken. Our values will prevail. Our people will thrive and our civilisation will triumph."
Register for free to continue reading
Registration is a free and easy way to support our truly independent journalism
By registering, you will also enjoy limited access to Premium articles, exclusive newsletters, commenting, and virtual events with our leading journalists
Already have an account? sign in
Register for free to continue reading
Registration is a free and easy way to support our truly independent journalism
By registering, you will also enjoy limited access to Premium articles, exclusive newsletters, commenting, and virtual events with our leading journalists
Already have an account? sign in
Join our new commenting forum
Join thought-provoking conversations, follow other Independent readers and see their replies