Donald Trump: Astonishing and ridiculous things the US President has done this summer that you've already forgotten
Last few weeks have seen staff infighting, dramatic congressional votes and high-profile resignations and firings 
Alex Horton
Sunday 20 August 2017 11:21 Comments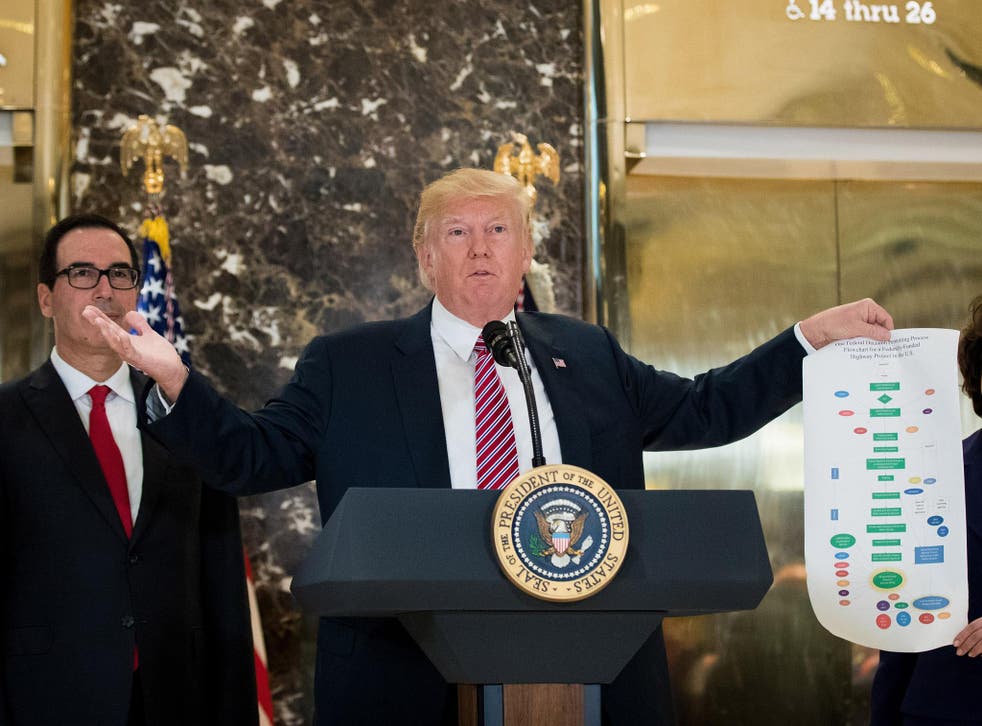 The end of summer is around the corner, with students soon returning to school and people across the country planning their fantasy football rosters.
But with the daily intrigue and drama from the White House, the summer also feels as though it stretched across years. Staff infighting, dramatic congressional votes and high-profile resignations and firings by President Donald Trump have created not only a tense season but a blurry one, where each day reveals a startling revelation or world-shifting moment.
Though the official start of summer is 21 June, we looked back to the weeks leading up to Memorial Day. Here is a partial list of huge news that you have already forgotten about.
May
May 9: Trump fired FBI Director James B Comey on the recommendation of senior Justice Department officials as he was leading a counterintelligence investigation to determine whether associates of Trump may have coordinated with Russia to interfere with the U.S. presidential election last year.
The firing sent administration officials into a frenzy to explain the sudden ousting of Comey, with then-press secretary Sean Spicer ducking among the White House bushes after a nighttime press briefing.
May 11: Trump tells NBC News that he was thinking of "this Russia thing with Trump" when he decided to fire Comey.
May 15: Trump revealed highly classified information to the Russian foreign minister and ambassador in a White House meeting, according to current and former U.S. officials. Trump's disclosures jeopardised a critical source of intelligence on the Islamic State after it was collected and tightly held by senior officials. The revelation rocked the administration, which has sought for months to defuse concerns that Russia has actively sought to disrupt political and social stability in the United States.
May 22: In March, Trump asked Daniel Coats, director of national intelligence, and Adm. Michael S Rogers, director of the National Security Agency, to help him push back against an FBI investigation into possible coordination between his campaign and the Russian government and urged them to publicly deny the existence of any evidence of collusion during the 2016 election.
'He's a showboat, he's a grandstander': Trump lays into Comey during NBC interview
June
June 11: Donald Trump Jr. - the president's eldest son - seemed to confirm Comey's version of events on Fox News as he tried to emphasise the fact that his father did not directly order Comey to stop investigating Michael Flynn after Comey said Trump told him he "hoped" he would drop the FBI's investigation into the former national security adviser.
"When he tells you to do something, guess what? There's no ambiguity in it, there's no, 'Hey, I'm hoping,' " he said.
June 12: Attorneys general for the District of Columbia and Maryland sued Trump alleging that he violated anti-corruption clauses in the Constitution by accepting millions in payments and benefits from foreign governments since moving into the White House. The lawsuit, the first of its kind brought by government entities, centres on the fact that Trump chose to retain ownership of his company when he became president.
June 13: Attorney General Jeff Sessions asked Congress to reverse laws protecting medical marijuana providers from prosecution of providing illicit drugs. Sessions cited a "historic drug epidemic" to justify a crackdown on medical marijuana despite the fact that opioids, not marijuana, are at the centre of widespread deaths in the country.
June 14: The special counsel overseeing the investigation into Russia's role in the 2016 election, headed by Robert S. Muller III, interviewed senior intelligence officials as part of a widening probe that now includes obstruction of justice, officials said. The probe includes a look at coordination between the Trump campaign and the Kremlin and possible financial crimes among Trump associates.
June 27: The Washington Post reported at least five of Trump's clubs displayed a fictitious copy of TIME Magazine featuring Trump on the cover. The magazine asked the Trump organisation to take the displays down.
"Donald Trump: The 'Apprentice' is a television smash!" the big headline said. Above the Time nameplate, there was another headline in all caps: "TRUMP IS HITTING ON ALL FRONTS . . . EVEN TV!"
July
July 2: A day after defending his use of social media as befitting a "modern day" president, Trump posted on Twitter an old video clip of him performing in a WWE professional wrestling match, but with a CNN logo superimposed on the head of his opponent.
July 11: Emails showed Trump Jr. welcomed the assistance of a "Russian government attorney" in an effort to derail the candidacy of Hillary Clinton, the clearest contradiction of the White House's denials it had sought or utilized assistance from the hostile foreign government. Trump Jr. later released an email chain that showed how the offer progressed to a meeting at Trump Tower in New York. The meeting was also attended by Jared Kushner, the president's son-in-law, and then-campaign chairman Paul Manafort.
July 21: Sergey Kislyak, Russia's ambassador to the United States, told his superiors in Moscow that he discussed campaign-related matters, including policy issues important to Moscow, with Jeff Sessions during the 2016 presidential race, contrary to public assertions by the embattled attorney general. The messages were intercepted by U.S. spy agencies. Sessions initially failed to disclose his contacts with Kislyak and then said that the meetings were not about the Trump campaign.
July 21: Sean Spicer announced he was resigning in protest following the appointment of Anthony Scaramucci as White House communications director.
July 21: Scaramucci takes his post at the White House.
July 25: After promising throngs of Boy Scouts gathered at the group's National Scout Jamboree that he would not delve into politics, Trump went on a 35-minute rant dissing his rival Clinton, marveled at the size of the crowd and warned the boys about the "fake media." He also told a rambling tale about a famous, now-deceased home builder that meandered from a Manhattan cocktail party to a yacht and then to places that the president would only allow the boys' imaginations to go.
July 26: Trump announced on Twitter that he will ban transgender people from serving in the military in any capacity, an abrupt reversal of an Obama administration decision to allow them to serve openly and a potential end to the careers of thousands of active-duty troops. The decision halts a years-long process of advancing rights for lesbian, gay, bisexual and transgender people in the U.S. military that began with the repeal of the "don't ask, don't tell" policy in 2010.
July 28: Senate Republicans and the Trump administration suffered a dramatic failure in their bid to advance a scaled-back plan to overhaul the Affordable Care Act after the dissenting vote of Sen. John McCain, R-Ariz., and two Republican colleagues. McCain, diagnosed with brain cancer the week before, delivered a stirring address calling for a bipartisan approach to overhauling the ACA while criticizing the process that produced the current legislation.
July 28: Chief of Staff Reince Priebus is replaced with John F. Kelly, who ran the Department of Homeland Security.
July 29: In two tweets, Trump called MSNBC's Joe Scarborough "Psycho Joe" and said the hosts of the "Morning Joe" news show came to Mar-a-Lago - his private club in Palm Beach, Florida - three nights in a row around New Year's Eve in 2016 "and insisted on joining me." He claimed that Mika Brzezinski "was bleeding badly from a facelift" at the time. Trump received heat from lawmakers who saw the episode as another distraction.
July 31: Following a profanity-laced tirade with a staff writer for the New Yorker, White House communications director Anthony Scaramucci is removed from his position, apparently at Kelly's request, after only 10 days on the job.
July 31: Trump personally dictated July 8 a statement in which Trump Jr. said that he and the Russian lawyer had "primarily discussed a program about the adoption of Russian children" when they met in June 2016, The Post reports. The statement, issued to the New York Times as it prepared an article, emphasised that the subject of the meeting was "not a campaign issue at the time."
Sean Spicer: I resigned to give the new communications staff 'a clean slate'
August
Aug. 3: The Post obtained transcripts of two conversations Trump had with foreign leaders shortly after he took office: One with Mexican President Enrique Peña Nieto and another with Australian Prime Minister Malcolm Turnbull. In both calls, Trump grew at some times hostile. In an acknowledgment his campaign rhetoric to build a wall between Mexico and the United States might have backed him into a political corner, Trump told Peña Nieto: "You cannot say anymore that the United States is going to pay for the wall."
Aug. 8: Trump used his harshest language yet to warn North Korea that it will be "met with fire and fury and frankly power, the likes of which this world has never seen before," if it does not stop threatening the U.S. with nuclear attacks. "North Korea best not make any more threats," Trump told reporters at his Bedminster, New Jersey, golf club, where he was vacationing.
Aug. 9: FBI agents raided the home of Trump's former campaign chairman Paul Manafort, arriving in the pre-dawn hours in late July and seizing documents and other materials related to the special counsel investigation of Russian meddling in the 2016 election.
Aug. 12: Heather Heyer is killed in Charlottesville and as many as 19 are wounded when a car rams into a group of counterprotesters during a white-supremacist rally. Police arrested the driver, an Ohio man who reportedly espoused racist and pro-Nazi sentiments. Trump did not immediately condemn hate groups, instead saying there was violence "on many sides."
Violence on the streets of Charlottesville

Show all 9
Aug. 14: Trump condemned hate groups such as the Ku Klux Klan and neo-Nazis two days after he failed to specifically target such groups in attendance at the rally.
Aug. 15: Still reeling from bipartisan criticism that he was slow to condemn white supremacists in Charlottesville, Trump revived his declaration that "both sides" were to blame for deadly violence, abandoning his message from a day earlier that had emphasized the culpability of the groups that organized and participated in the event during a combative news conference at Trump Tower.
Aug. 16: The president disbanded his two major business councils after the chief executives of Under Armour and Intel joined Merck's Kenneth Frazier in ditching the American Manufacturing Council over Trump's initial remarks on Charlottesville (though not before attacking Frazier and Merck).
Aug. 18: Susan Bro, Heyer's mother, said she would not speak with Trump or forgive his comments that appeared to equate the culpability of violence between counterprotesters with hate groups.
Aug. 18, later in the day: Trump dismissed his embattled chief strategist, Stephen K. Bannon, an architect of his 2016 general-election victory, in a major White House shake-up.
Aug. 18, later still: The combative right-wing news outlet Breitbart announced Bannon rejoined the website as an executive chairman after he gave up his position to join the administration. "The populist-nationalist movement got a lot stronger today," the company said in a release.
Let us know if we missed anything. There was a lot.
Washington Post.
Register for free to continue reading
Registration is a free and easy way to support our truly independent journalism
By registering, you will also enjoy limited access to Premium articles, exclusive newsletters, commenting, and virtual events with our leading journalists
Already have an account? sign in
Join our new commenting forum
Join thought-provoking conversations, follow other Independent readers and see their replies